USA State Payroll Rates + Resources

:
State of Oklahoma: Obtaining a TIN + Unemployment Insurance
Purpose
This documentation outlines the processes and requirements associated with becoming a new employer in the state of Oklahoma. Specifically, we will cover how to get a Tax Identification Number and Register for Unemployment Insurance. 

Good to Know!
Note: Federal Employer requirements (getting a federal identification number, withholding of federal income tax, and FICA and filing of all applicable federal returns (FUTA, 940, 941, and 1099-C) will not be covered below - just the state of Oklahoma's requirements. Click here for a basic (not all-inclusive) IRS checklist for Starting a New Business.

Obtaining a Withholding Payroll Number
Good to Know!
If you already have already established an employer withholding tax account, skip to the next section.

All employers with employees in the state of Oklahoma that receive compensation for services rendered in Oklahoma need to establish an Oklahoma employer's withholding tax account. Oklahoma employers' withholding tax accounts can be established online through the Oklahoma Taxpayer Access Point. 

Click on Register for a Business.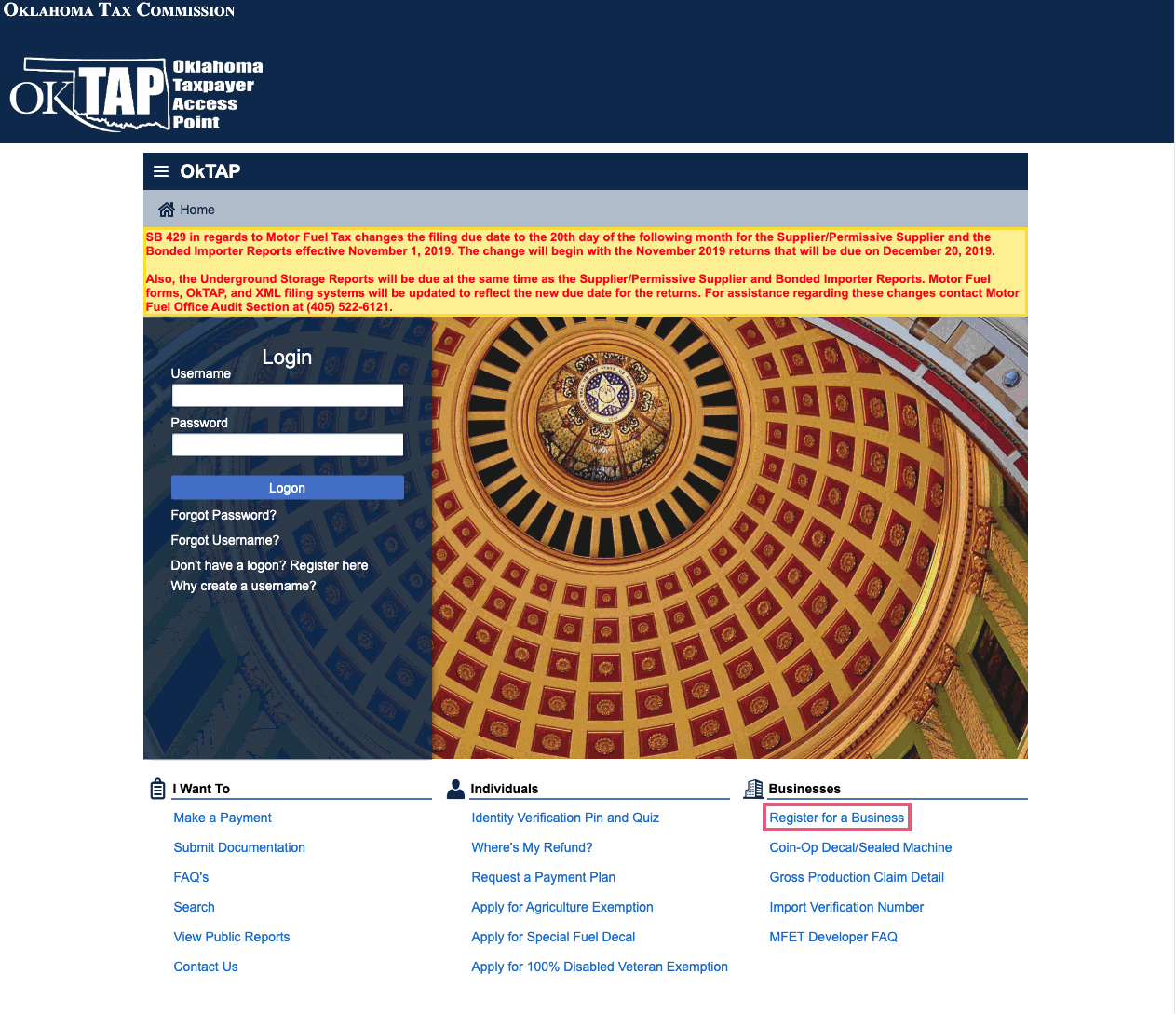 Registering for Unemployment Insurance 
Oklahoma requires an employer to report and pay the unemployment insurance tax if that employer meets any one of the following criteria:
An employing unit that pays $1,500 in wages in a calendar quarter, or

Employs one or more employees for any portion of a week for any 20 weeks in a calendar year.

An employing unit that acquires substantially all the organization, trade, business, assets, or employees of a subject employer, or an employing unit that acquires a portion of the organization, trade, business, assets, or employees of a subject employer. 
For more requirements, refer to the Employer's Guide to Unemployment Insurance Compensation, Employer Taxes, Recruitment, and More.
You can register at the Oklahoma Employment Security Commission. Click on Create New User Id (Registration).