USA State Payroll Rates + Resources

:
State of Virginia: Obtaining a TIN + Unemployment Insurance
Purpose
The purpose of this documentation is to outline the processes and requirements associated with becoming a new employer in the state of Virginia. Specifically, we will be covering how to obtain a Tax Identification Number and Register for Unemployment Insurance. 

Good to Know!
Federal Employer requirements (obtaining a federal identification number, withholding of federal income tax, FICA, and filing of all applicable federal returns (FUTA, 940, 941, and 1099-C) will not be covered below - just the state of Virginia's requirements. Click here for a basic (not all-inclusive) IRS checklist for Starting a New Business.

Registering for Withholding Tax and Unemployment Insurance Account
Withholding Tax
You must have a Virginia withholding account if you have an employee who is earning income while in Virginia. You should register your business before you begin withholding wages.
Unemployment Insurance
Not all employing units in Virginia are subject to the taxing provisions of the unemployment compensation law. Once the liability conditions are met for your type of employment, you are required to report the total payroll for the entire year, by quarter, and pay the appropriate amount of taxes.

Most employers are liable if you have one or more employees who work for any portion of a day in twenty different weeks in a calendar year, or if your total gross payroll for any calendar quarter is $1,500 or more. 

You are automatically liable for coverage if you: 
Acquire a business, which is liable under the law; (You also may be responsible for any sum owed by the seller.) 

Are liable to the federal government for Federal Unemployment Tax (FUTA)
Withholding Tax and Unemployment Insurance

Visit Virginia Tax Online Services for Businesses to register your business. Click the Are you a new Business? Register Here link.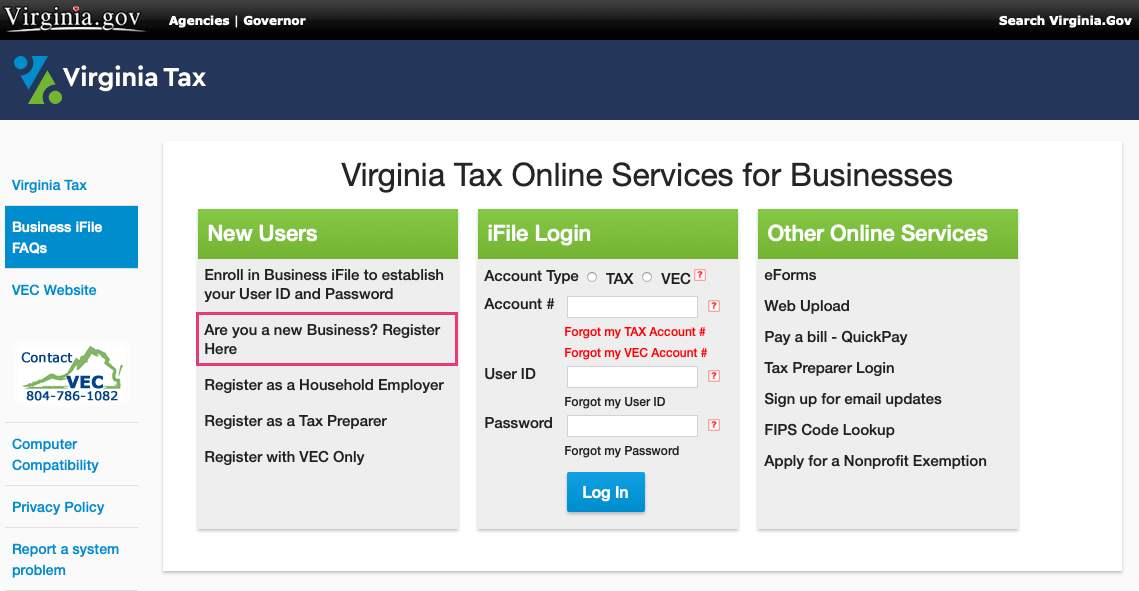 If you prefer to register on paper, complete Form R-1 (Registration Application). For faster processing, provide all of the requested information.
The Virginia account number assigned by the Department will serve as the identification number for your withholding tax account and for your other major business tax accounts.