USA State Payroll Rates + Resources

:
State of Iowa: Obtaining a TIN + Unemployment Insurance
Purpose
The purpose of this documentation is to outline the processes and requirements associated with becoming a new employer in the state of Iowa. Specifically, we will be covering how to obtain a Tax Identification Number and Register for Unemployment Insurance. 

Good to Know!
Federal Employer requirements (obtaining a federal identification number, withholding of federal income tax, FICA, and filing of all applicable federal returns (FUTA, 940, 941, and 1099-C) will not be covered below - just the state of Iowa's requirements. Click here for a basic (not all-inclusive) IRS checklist for Starting a New Business.

Registering for a Withholding Account
Good to Know!
If you have already registered as an Iowa withholding agent,  skip to the next section.

Every employer who maintains an office or transacts business in Iowa and who is required to withhold federal income tax on any compensation paid to employees for services performed in Iowa is required to withhold Iowa individual income tax from that compensation.
You can register by submitting the Iowa Business Tax Registration form, or online at the Iowa Department of Revenue (click on Start).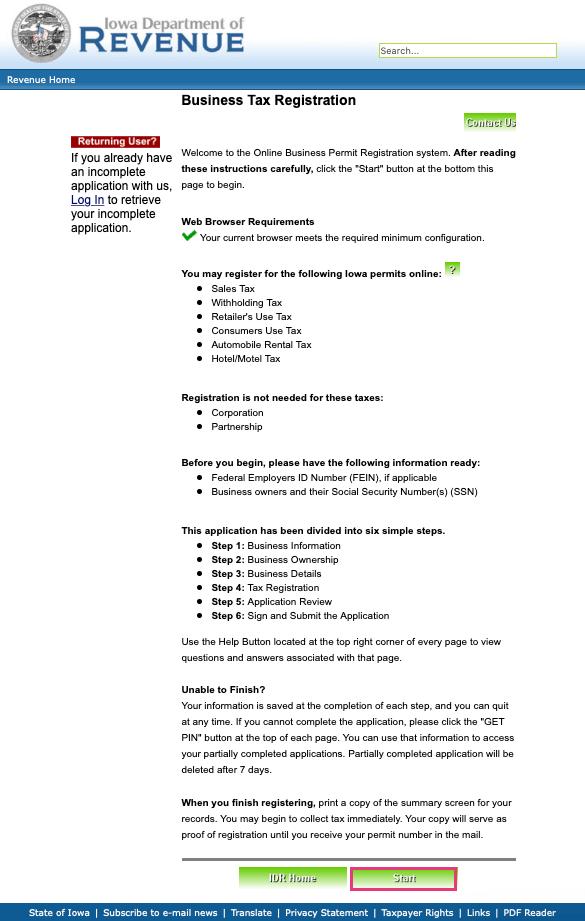 Register for Unemployment Insurance Account
Complete registration for an Unemployment Insurance (UI) tax account once you have employed workers in Iowa. In order to register for a UI tax account, you will need to complete the on-line registration on the Iowa Workforce Development | My Iowa UI website.
Once there, click Create ID.