USA State Payroll Rates + Resources

:
State of Texas: New Hire Reporting
Purpose
The purpose of this documentation is to outline the processes and requirements associated with reporting new hires in the state of Texas.  
In Texas, you are required to report new hires to the office of the Attorney General of Texas Child Support Portal.
Federal and state law requires employers to report new hires and rehires within 20 calendar days from the date in which the employee starts earning wages. If reporting electronically, employers are required to report 12 to 16 days apart. 
Rehires: An employee is considered to be rehired on the first day on which the employee is owed compensation by the employer following a termination of employment or lay-off. If an employee who is returning to work is required to complete a new W-4 form, they must be reported as a new hire. This applies to seasonal, temporary, part-time, and full-time employees. If the returning employee had not been formally terminated or removed from payroll records, there is no need to report that employee as a new hire. If the employee was under income withholding when previously employed by that employer, income withholding would still be required by the employer. 
Employers need the following information for each new hire:
Employer
Company Name

Company mailing address—if different from payroll address, provide payroll address

Company Federal Employer Identification Number (FEIN)

(Optional) Employer's phone and fax number

(Optional) SEIN—State Employer Identification Number

(Optional) DBA—Doing Business as
Employee
Employee Name

Employee Address

Employee Social Security Number

Date of Hire

(Optional) Date of Birth

(Optional) Salary/wages

(Optional) Pay frequency
You can report new hires in several ways: To report online, visit the Attorney General of Texas Child Support Portal. Once there, click Request New Account.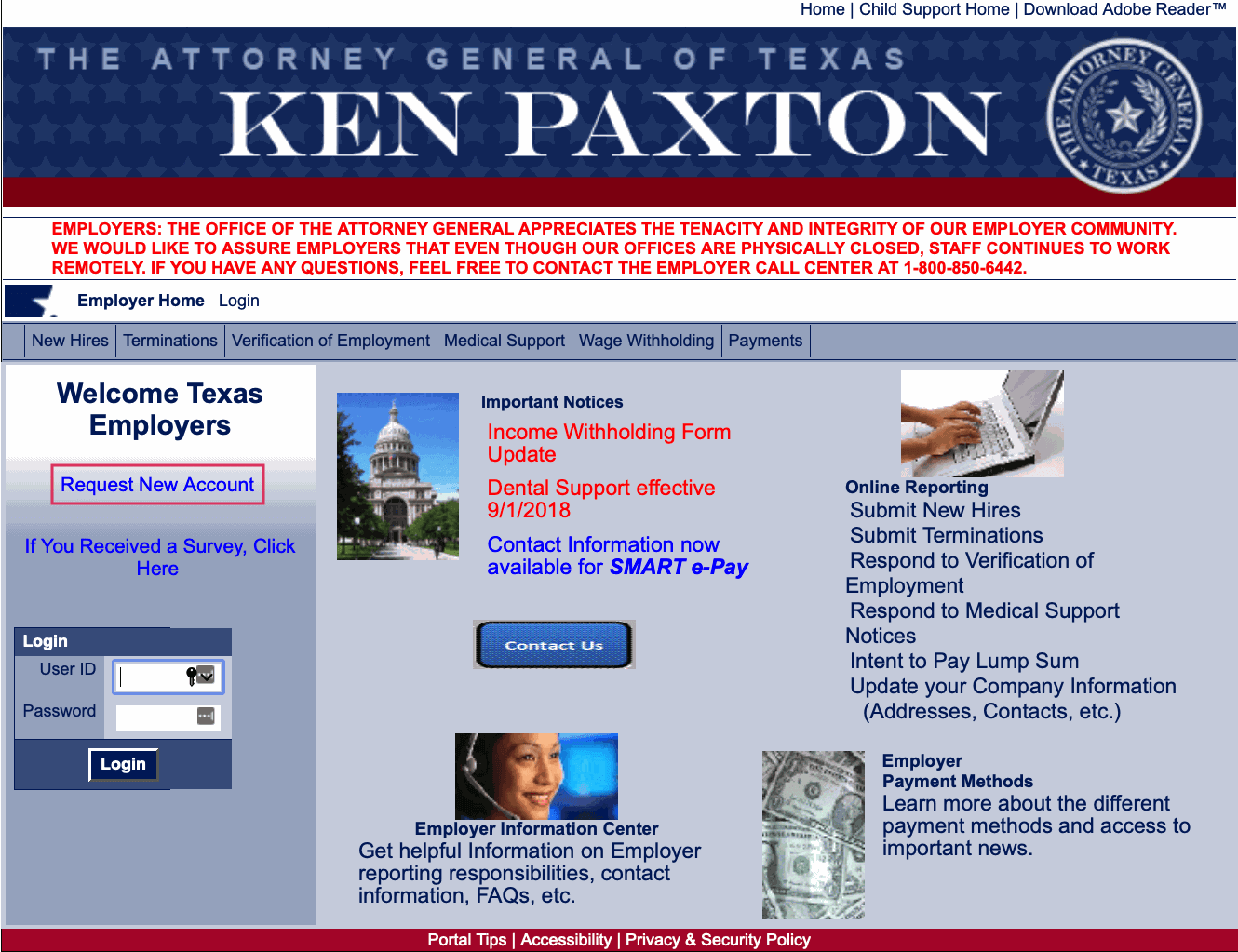 Employers may also submit report files through the Employer Website Portal using the Internet Upload Instructions. Alternatively, employers may submit via File Transfer Protocol (FTP). Refer to the Reporting Methods page for more information on how to do so correctly. 
Employers also have the option to submit the employees' W-4 Forms, a printed list of new hire information for multiple employees which contains the information pieces listed above, or the Texas Employer New Hire Reporting Form to the following address:
     ENHR Operations Center
     P.O. Box 149224
     Austin, Texas 78714-9224
     Fax: (800) 732 5015
For more information, refer to the New Hires page or the Frequently Asked Questions page of the Employer Website Portal of the office of The Attorney General of Texas. The office may be reached directly at (800) 850-6442.