USA State Payroll Rates + Resources

:
State of Montana: Obtaining a TIN + Unemployment Insurance
Purpose
This documentation outlines the processes and requirements associated with becoming a new employer in the state of Montana. Specifically, we will cover how to obtain a Tax Identification Number and Register for Unemployment Insurance. 

Good to Know!
Federal Employer requirements (obtaining a federal identification number, withholding of federal income tax, FICA, and filing of all applicable federal returns (FUTA, 940, 941, and 1099-C) will not be covered below - just the state of Montana's requirements. Click here or a basic (not all-inclusive) IRS checklist for Starting a New Business.

Registering for Withholding Tax Account
Good to Know!
If you have already registered for a withholding tax account, skip to the next section.

You must register for a Montana withholding tax account if you:
Issue Montana wages.

Issue Forms W-2 with or without withholding.

Issue Forms 1099 with withholding.
You can register your business electronically through TransAction Portal (TAP).  Once there, click Register for a New Tax Account.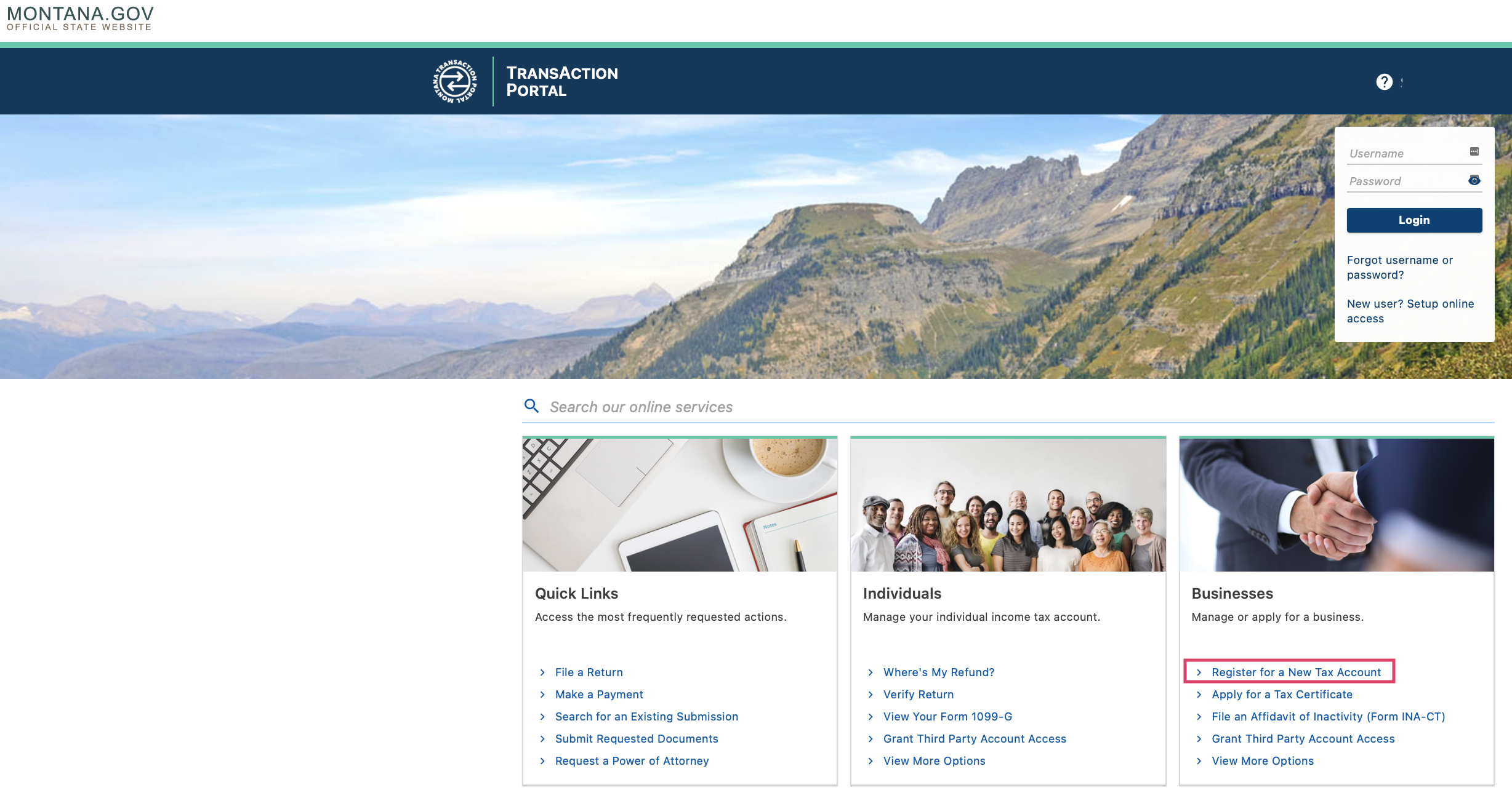 You can also use the Montana Department of Revenue Business Registration Form GenReg. This form may be submitted to:
     Montana Department of Revenue Attn: Registration Unit
     PO Box 5805
     Helena, MT 59604-5805
     FAX: (406) 444-7723, Attention: Registration Unit
Register for Unemployment Tax Account
Any year you meet the criteria for a covered employer, you must report all wages paid for the entire year (retroactively to January 1) and all wages paid in the next calendar year regardless of the total wages in the second year.
You are a covered employer if you meet one or more of the following criteria:
Your total annual payroll for the current or preceding calendar year equals or exceeds $1,000. (Total payroll is gross wages paid to all employees before deductions). 

You acquired all or part of a business already subject to Montana Unemployment Insurance. 

You are subject under the Federal Unemployment Tax Act (FUTA).
For comprehensive information, download the 2021 Montana Employer Handbook.
You may register online at Montana ePass website.