USA State Payroll Rates + Resources

:
State of Missouri: New Hire Reporting
Purpose
The purpose of this documentation is to outline the processes and requirements associated with doing your new hire reporting in the state of Missouri. 
Employers are required to report newly hired employees within 20 calendar days of the hire date. If an employee is required to fill out a W-4 form, that employee must be reported.  You can file electronically at the Missouri Department of Social Services. 
The data employers are required to report can be found on the federal W-4 form and include the following:
Employer name

Employer mailing address (If providing only one address, please provide the payroll address.)

Federal Employer Identification Number (FEIN)

Employee name

Employee address

Employee Social Security Number

Employee date of hire
The employer may choose to report the following optional data:
Employer payroll address

Employee date of birth

Employment Type (full, part-time or temporary)

Employee state of hire (This is required if reporting as a multistate employer)

Employee Eligible for Health Insurance
To register for the first time, click on the Register Now button.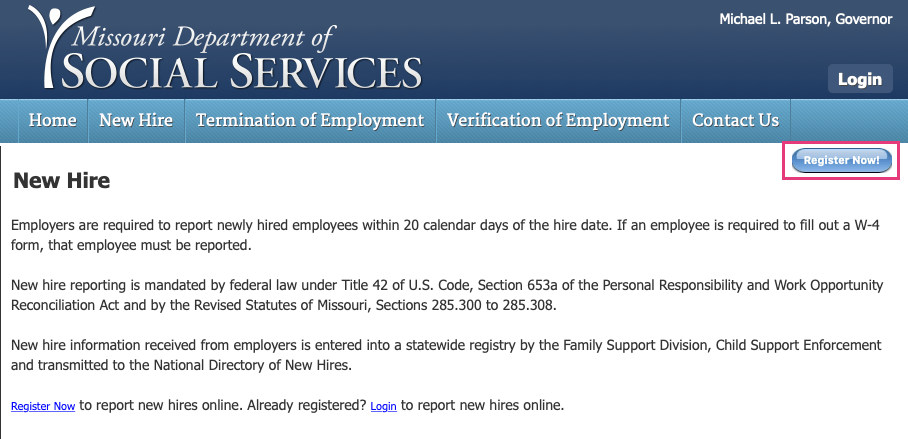 You can also mail or fax using one of the following hardcopy documents: 
Federal W-4 Form: If you choose to submit a W-4 form as a new hire report, please ensure that each W-4 is easily readable and has the employer's name, Federal Employer Identification Number, and address written at the top of each form.

MO W-4 Form

A printed list (see Data to Report for information required in a printed list): The printed list should contain all of the required information, be created using at least a 10-point font size, and have the employer's name, Federal Employer Identification Number, and address clearly displayed at the top of the report.
     Missouri Department of Revenue
     PO Box 3340
     Jefferson City, MO 65105–3340
     FAX: (573) 526–8079
File Transfer Protocol (FTP):
You must use the required file submission layout. See FTP Electronic Reporting for additional information.

Contact New Hire Reporting at (888) 663-6751 to request technical assistance in implementing the FTP to report new hires.