USA State Payroll Rates + Resources

:
State of Illinois: New Hire Reporting
Purpose
The purpose of this documentation is to outline the processes and requirements associated with reporting new hires in the state of Illinois.
In Illinois, you are required to report new hires to the Illinois Department of Employment Security. 
All employers are required to report new employees to their state's New Hire Directory within 20 days of the employee's first day on the payroll (twice monthly if reporting magnetically). The state agency selected to receive this information in Illinois is the Illinois Department of Employment Security (IDES). Employers who file these reports magnetically or electronically must submit these reports twice each month, not less than 12 nor more than 16 days apart. 
The rule of thumb is that employers must report all new employees who are required to fill out federal W-4 wage withholding forms. This includes employees who are full-time, part-time, seasonal, temporary, student workers and employees rehired after a separation of 60 days or more. 
Employees who return from leave or who are rehired after layoff need to be reported as new hires. The employer must submit a report if an employee is reinstated after any lapse of pay of 60 days or more. However, if the employee remains on the payroll while away from the job, the employer need not submit a report when the employee returns to work. 
You'll need the following information for each new hire:
Employee name

Home address

Social security number

Date of hire (the employee's first day of work for pay)

Name of business/employer

Address of employer

Federal Employer Identification Number (FEIN)

Address where income withholding orders should be sent, if different from the FEIN address (optional data that can be added by employers who want withholding orders directed to a specific address other than their regular FEIN address). 
You can report new hires in several ways. The fastest is via the Child Support Services portal. Once there, click Register.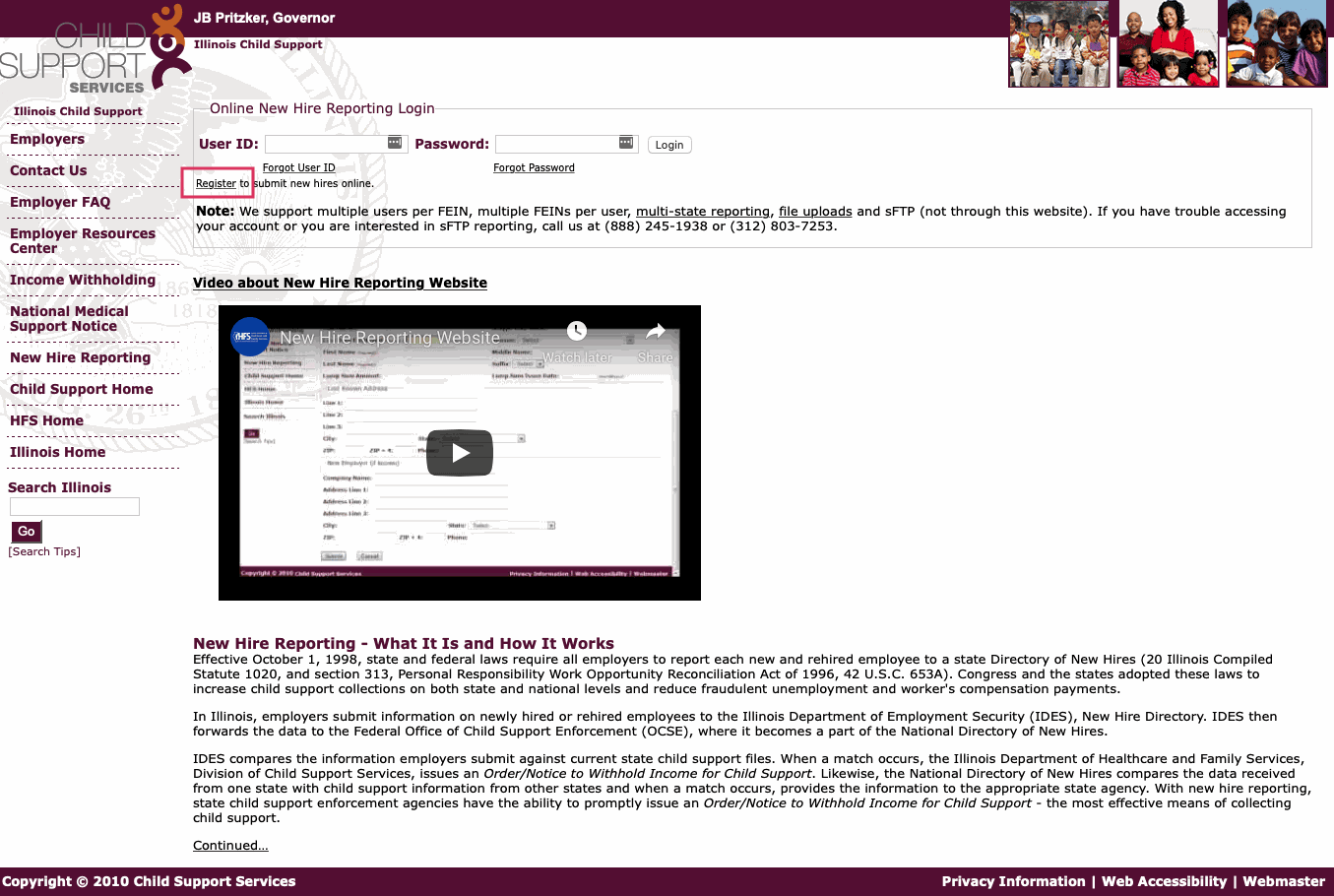 You also have the option to submit electronically or magnetically. For more information in this submission type, please read the Frequently Asked Questions page. 
You can also fill out the Illinois New Hire Reporting Form, submit a printed list containing all the required information on the New Hire Reporting form, or submit the employee's W-4 form as a new hire report. Mail or fax these reports to:
     IDES
     33 South State Street
     10th Floor
     Chicago, IL 60603
     Fax: (217) 557-1947
For magnetic filing instructions, log in to your IDES account.
For more information, please refer to the Illinois Employer Handbook for Child Support, the Employer Resource Center, or the IDES Frequently Asked Questions page. You can also contact the Illinois Department of Employment Security at (800) 247 4984 or (888) 245-1938.