USA State Payroll Rates + Resources

:
State of Massachusetts: Obtaining a TIN + Unemployment Insurance
Purpose
The purpose of this documentation is to outline the processes and requirements associated with becoming a new employer in the state of Massachusetts. Specifically, we will be covering how to obtain a Tax Identification Number and Register for Unemployment Insurance. 
Good to Know!
Federal Employer requirements (obtaining a federal identification number, withholding of federal income tax, FICA, and filing of all applicable federal returns (FUTA, 940, 941, and 1099-C) will not be covered below - just the state of Massachusetts' requirements. Click here for a basic (not all-inclusive) IRS checklist for Starting a New Business.
Registering to Collect Withholding Taxes
Good To Know!
If you have already registered to collect withholding taxes, skip to the next section.
An employer is required by law to withhold Massachusetts personal income tax from the wages of:
Residents for services performed in Massachusetts and out of state.

Nonresidents for services performed in Massachusetts.
Employers must register to collect Massachusetts withholding taxes online with MassTaxConnect. Click on Create my Username and then follow the prompts to register a business.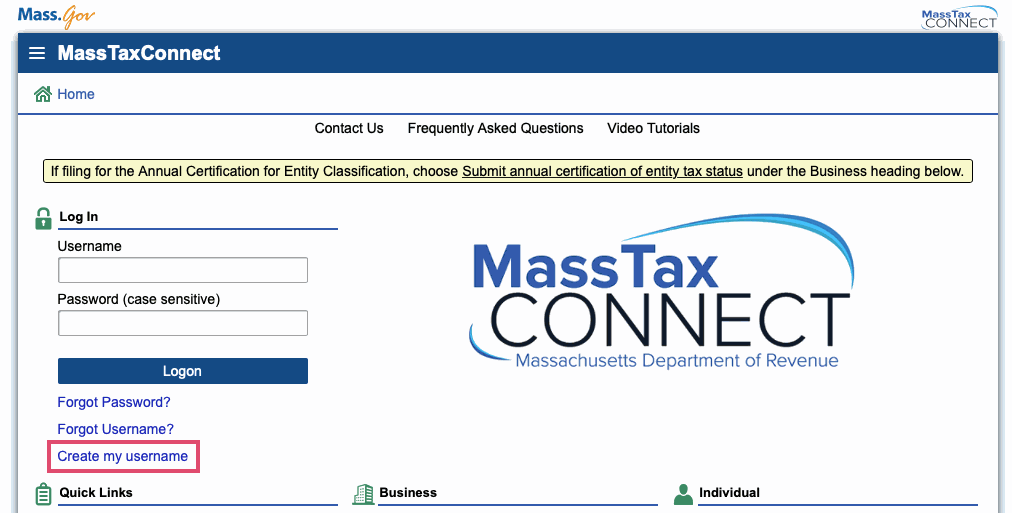 Register for Unemployment Tax Account
Once you begin the employer registration process, you will get a temporary user ID and password that is valid for 30 days.