ODOO IS A
Landscaping Business Software Solution

If you're looking for an all-in-one solution to manage your landscaping business, Odoo is a great place to start.
Below we've outlined the different applications that will get you started, with a quick video explainer. With these apps, you can easily:
Set up a website

Manage leads and start building a customer base with an online form

Generate quotes and sales orders from those leads

Set up subscription sales for recurring services

Handle all aspects of accounting without a third-party application

Keep your employees on track while they're out in the field
...and this is just the beginning! The options are open with Odoo. Get in touch with us to see how we can get your landscaping business software up and running.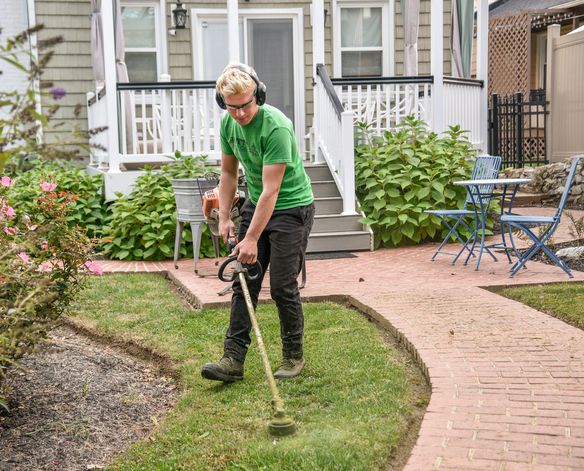 Website for an Online Presence

Having an online presence is key to the success of any modern business. With Odoo, it's easy to create your landing page in just a few minutes. This gives potential customers a place to read about your products and services.
The Odoo drag-and-drop editor comes pre-configured with multiple themes, blocks, and widgets. It's up to you to put them where you want them! You can even incorporate.
Unsplash
for royalty-free stock images, making sure your graphics and crisp and relevant.
CRM to Manage Leads + Quotations

There's no easier way to keep track of your current and potential clients than Customer Relationship Management software. Luckily, Odoo has you covered. Not only is this CRM easy to use, but it's also highly configurable.

You can easily create a 'Contact Us page that integrates with the CRM system and feeds all submissions into your sales funnel.

In short - when your website visitors come for a quote, this is where it happens!
Sales for Products, Quotations, Invoices + Payments

In service-based businesses, like lawn care and landscaping, it's not uncommon to bill by the job or by the hour, depending on the service. Odoo makes it easy to configure your services how they make sense to you.
You can send quotations to your customers, generate sales orders, and record payments in just a few clicks.
Subscriptions for Recurring Revenue

In this day and age, subscription services are key for service-based businesses. People like the "set it and forget it" approach to tasks that have no end in sight -- like lawn care!

The Odoo Subscriptions app offers the ability to configure subscription products and frequencies. Your customers will have the freedom to manage their services right from the customer portal. And, on the flip side, your sales team (which is often just the business owner!) won't need to chase past customers to secure more work. Odoo does it for you!
Accounting to Keep Your Finances Organized

For many small businesses, this topic is often accompanied by a sense of dread.
With the Odoo Accounting application, you'll start on the right foot because it's fully integrated with your system. Odoo won't miss a beat!
Easily set up accounts and journals for tracking your sales, expenses, and taxes. Then, import your bank statements and reconcile them in just a few clicks. Finally, when year-end rolls around, your reports are ready to go.

Field Service for Your Team Planning

For many people in this business, the planning aspect can be one of the most challenging parts of the business.

Odoo Field Service simplifies things. When a service order is purchased, it can be configured to create a Field Service task. Then, the task can be assigned to a worker for a specific time and day. You can see a Gantt view to manually drag and drop jobs to workers or workers to jobs.

Additionally, the Odoo mobile app paired with the Field Service Google Maps integration keeps your crew on track with turn-by-turn directions and route planning.
With Odoo, you can start small and add applications as your business changes and grows. Some other applications you may want to consider:

Purchase
Get the best deals on the equipment and materials you use every day with the Purchase application. Easily request bids and send purchase orders.

Maintenance
With the Maintenance application, you can keep tabs on your equipment and schedule preventative maintenance, too!

Employees
With the HR applications in Odoo, you can manage your employees right from the Recruitment process. You can even use the Appraisals app for annual reviews.

Payroll
With the Odoo Payroll application, there's no need for third-party vendors. Keep everything in sync with your Accounting application. Generate checks or record deposits right from Odoo.
Ready to Streamline Your Lawn Care Business?
Whether you're just getting started or you're thinking about transitioning to something better, Hibou is ready to show you what Odoo can do for you!