USA State Payroll Rates + Resources

:
State of Mississippi: New Hire Reporting
Purpose

This documentation outlines the processes and requirements associated with reporting new hires in the state of Mississippi.
New Hire Reporting
To fully comply with Federal and State mandates to report your newly hired employees, you can go to the Mississippi State Directory of New Hires.
Under Federal legislation, the State of Mississippi asks for the following information: 
Required Employer Information:
Employer's Federal Employer Identification Number (FEIN) - If you have more than one FEIN, please make certain you use the same FEIN you use to report your quarterly wage information when reporting new hires.

Employer's Name

Employer's Address

Employer's state EIN
Required Employee Information
Employee's Name (First, Middle, Last)

Employee's Mailing Address

Employee's Social Security Number (SSN)

Employee's Date of Hire

Employee's Date of Birth

Gender

Salary

Payment Frequency

Medical Insurance Eligibility
Additional information may be required if reporting electronically. Click here to learn more about electronic reporting specifications. 
To register for the first time, click on the Register button.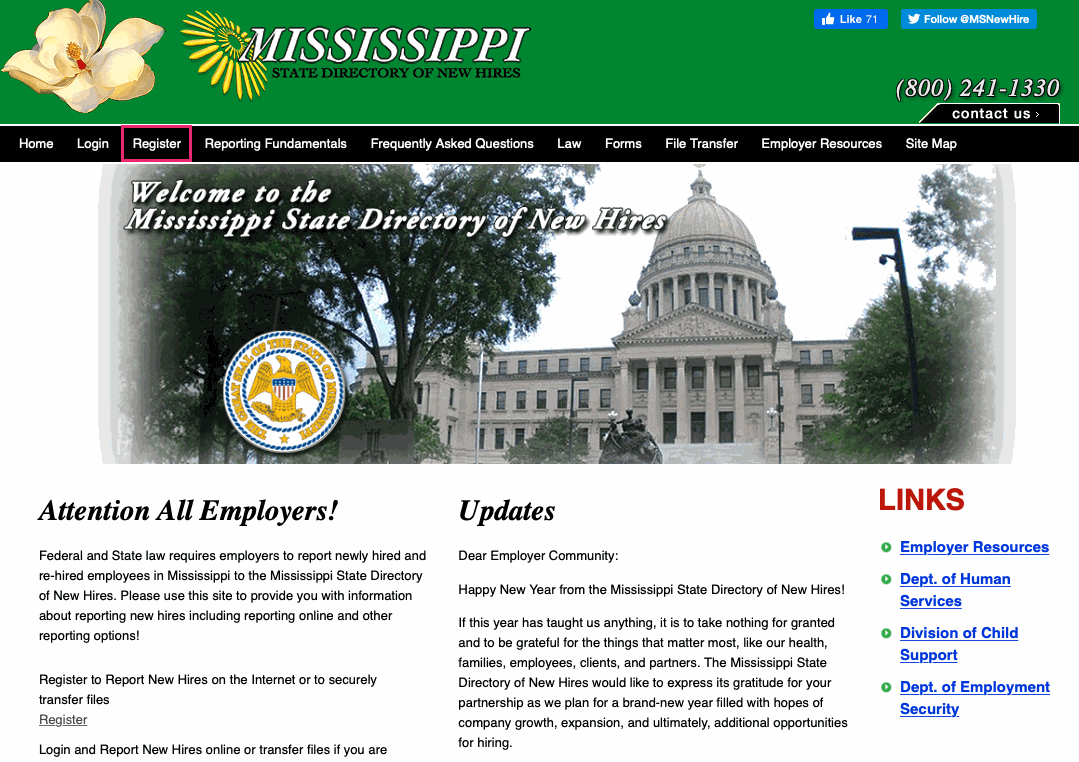 Employers may also submit the New Hire Form to
    Mississippi State Directory of New Hires
    PO Box 437
    Norwell, MA 02061
    FAX: (800) 937-8668
For assistance, call the Mississippi State Directory of New Hires at (800) 241-1330.