Hibou Odoo Suite Enterprise

:
State of Oklahoma: New Hire Reporting
Purpose
The purpose of this documentation is to outline the processes and requirements associated with reporting new hires in the state of Oklahoma.

New Hire Reporting

In Oklahoma, you are required to report hew hires to the Oklahoma Employer New Hire Reporting System. 
All newly-hired employees must be reported to OESC within 20 days of being hired if you are reporting by mail or fax.
Employers who report electronically must report at least twice monthly, within at least 20 days of being hired. Date started to work is defined as the first day services are performed by the employee for a wage. 
Recalled or Rehired employees: These employees are reported by completing the same information as required for new hires. These are employees for whom a new W-4 is not required.
Check "recalled" on the form to indicate this employee had previously worked for your company, was laid-off, and then rehired or recalled. You should re-report these employees as "recalled" using the return-to-work-date after layoffs end. OESC will eventually be using this data to ensure recall credits for applicable employers. 
You'll need the following information for each new hire:
Employee name, address and Social Security Number

Employer name, address, and Federal Employer Identification Number

Date Started to Work

State of Hire
The following items are also being requested to avoid future paperwork being sent to you:
Employer's Oklahoma Employer Account Number (Assigned by OESC)

Employee's Occupation and Salary

Employee's Date of Birth

Is Dependent Health Insurance Available?

Is this employee still employed with your company?

Recall (Rehire) Date
You can report new hires in several ways. The fastest way is through the Oklahoma Employer New Hire Reporting System. Once there, click FIRST TIME USER? CLICK HERE.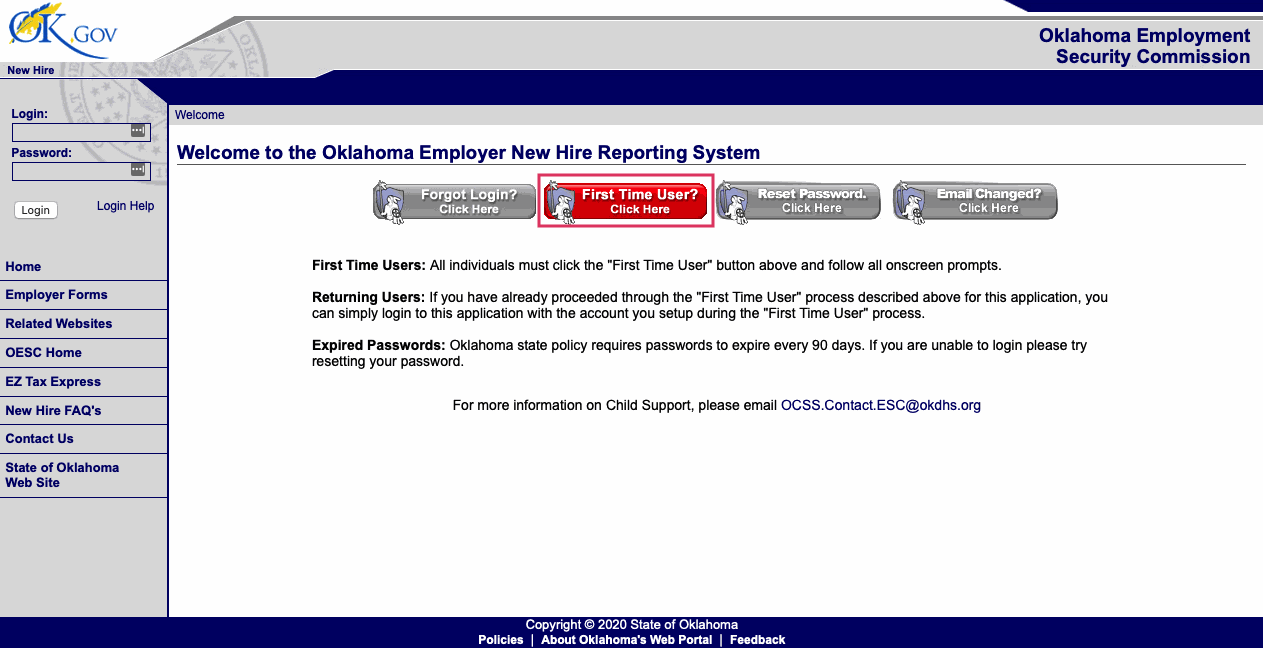 You also have the option to file electronically. To do so properly, please refer to the New Hire Electronic Reporting Specifications. You are able to submit this file through the Oklahoma Employer New Hire Reporting System or by sending a magnetic tape or diskette to the below address. 
OESC and OCSS request that all reports be sent electronically if possible. 
If you are unable to send your report electronically, you can also submit the Oklahoma New Hire Reporting Form and mail or fax it to:
     Oklahoma New Hire Reporting Center
     P.O. Box 52003
     Oklahoma City, OK 73152-2003
     Fax (toll-free): 1-800 317 3786
     Fax (local): (405) 557 5350
For further information, please refer to the New Hire FAQ's page, or contact the Oklahoma Employer Help Desk, Oklahoma Department of Human Services at (405) 325 9190 or toll-free at 1-866 553 2368.