Hibou Odoo Suite Enterprise

:
State of Montana: New Hire Reporting
Purpose
The purpose of this documentation is to outline the processes and requirements associated with reporting new hires in the state of Montana.  

In Montana, you are required to report new hires to the Montana Department of Public Health and Human Services. 
Employers are required to report all employees hired/rehired within 20 days of the employee's first day of work. A rehire is an individual that has been separated from employment for more than 60 days. Reports submitted by electronic media must be submitted not less than 12 nor more than 16 days apart. 
You'll need the following information for each new hire:
Federal Identification Number

Business Name

Business Address

Employee's Full Legal Name

Employee's Date of Hire

Employee's Social Security Number

Employee's Mailing and Home Address
The following information is optional for you to provide:
Work Phone Number

Fax Number

State of Hire

Health Insurance Availability

Employee's Home Phone Number

Employee's Work Phone Number

Employee's Date of Birth
You can report new hires in several ways. The fastest and recommended way is through the Online New Hire Reporting System. Once there, click Report New Hires Now.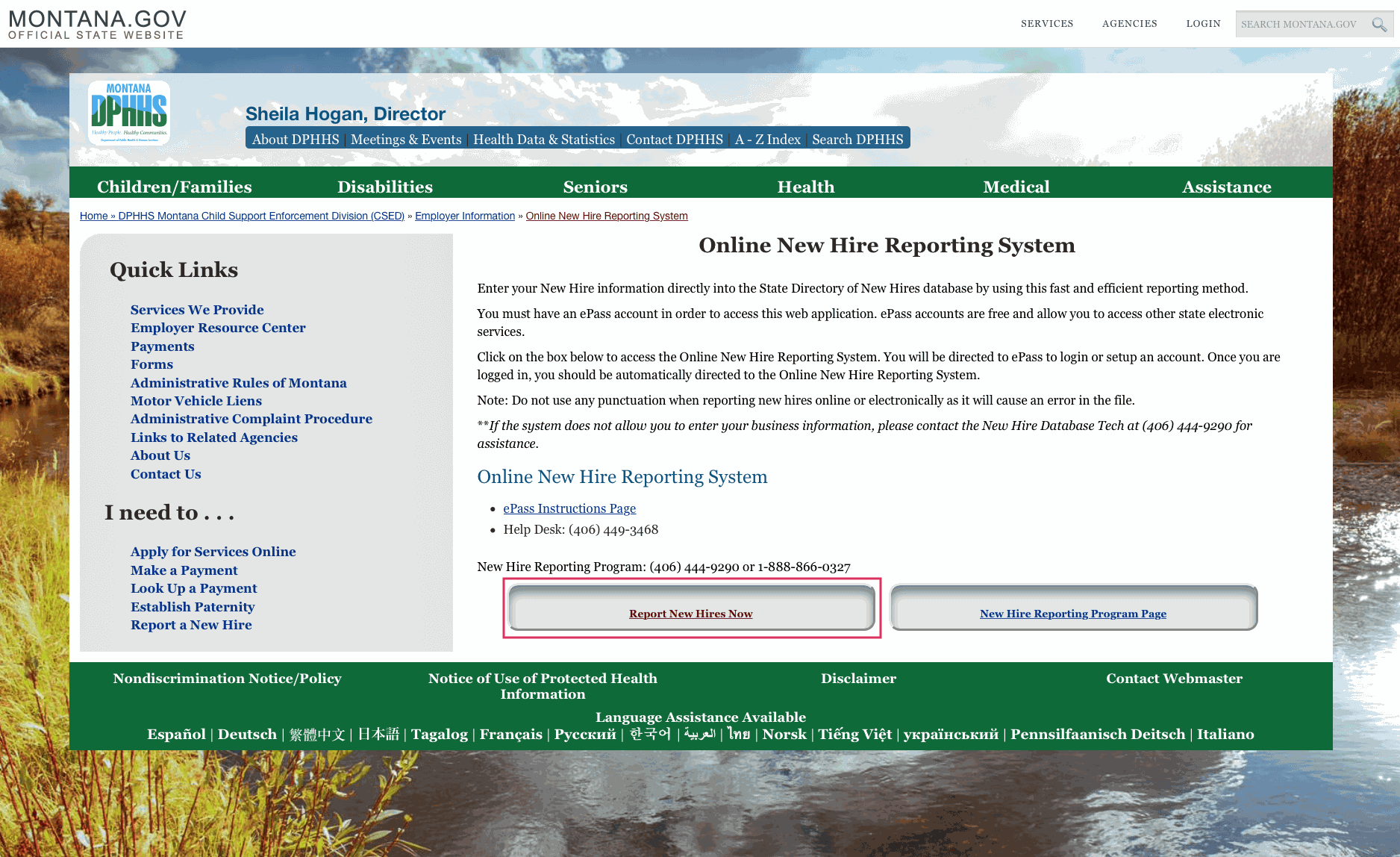 You also have the option to submit files electronically through this site, and you can find more information on accepted file formats on the ePass File Transfer Service for New Hire Reporting page. You can also mail electronic media on a CD to the address below. 
You can also submit the Montana New Hire Reporting Form, a W-4 form, or any other reporting form. Mail or fax the report to the following address:
     Montana New Hire Reporting Program
     P.O. Box 8013
     Helena, MT 59604-8013
     Fax: (406) 444-0745 or (888) 272-1990
If you are only reporting a few hires, you can do so via telephone by calling (888) 866-0327 or (406) 444-9290.

For further information, please refer to the Employer Guide to New Hire Reporting or the New Hire FAQs and Tips page on the Montana Department of Public Health and Human Services website.
You can also contact the Montana Department of Public Health and Human Services at (406) 444-6856 or (800) 346-5437.