Hibou Odoo Suite Enterprise

:
State of Arizona: New Hire Reporting
Purpose
The purpose of this documentation is to outline the processes and requirements associated with reporting new hires in the state of Arizona.
All employers are required to submit their new hire reports within 20 days after an employee is hired, re-hired, or returns to work. Employers who submit reports magnetically or electronically are to submit the reports in two monthly transmissions no more than sixteen days apart.
Re-hires or Re-called employees: Employers must report all re-hires, or employees who return to work after being laid off, furloughed, separated, granted a leave without pay, or terminated from employment for at least 60 consecutive days. 
You will need the following information for each new hire:
Employer's Federal Employer Identification Number (FEIN). If you have more than one FEIN, please make certain you use the same FEIN you use to report your quarterly wage information when reporting new hires. 

Employer's Name (please use corporate name)

Employer's address (please provide address where Income Withholding Orders should be sent)

Employee's Full Name (First, Middle, Last)

Employee's Mailing Address

Employee's Social Security Number (SSN)

Employee's Date of Hire

Employee's State of Hire (only if reporting as a Multistate employer)
The following information is optional for you to provide:
Employer's Phone Number

Employer's Contact Name

Employer email address

Is medical insurance an employee benefit?

Employee's state of hire

Employee's Date of Birth

Employee wages

Frequency of pay
You can report new hires in several ways. The fastest is through the Arizona New Hire Reporting Center. Once there, click Register.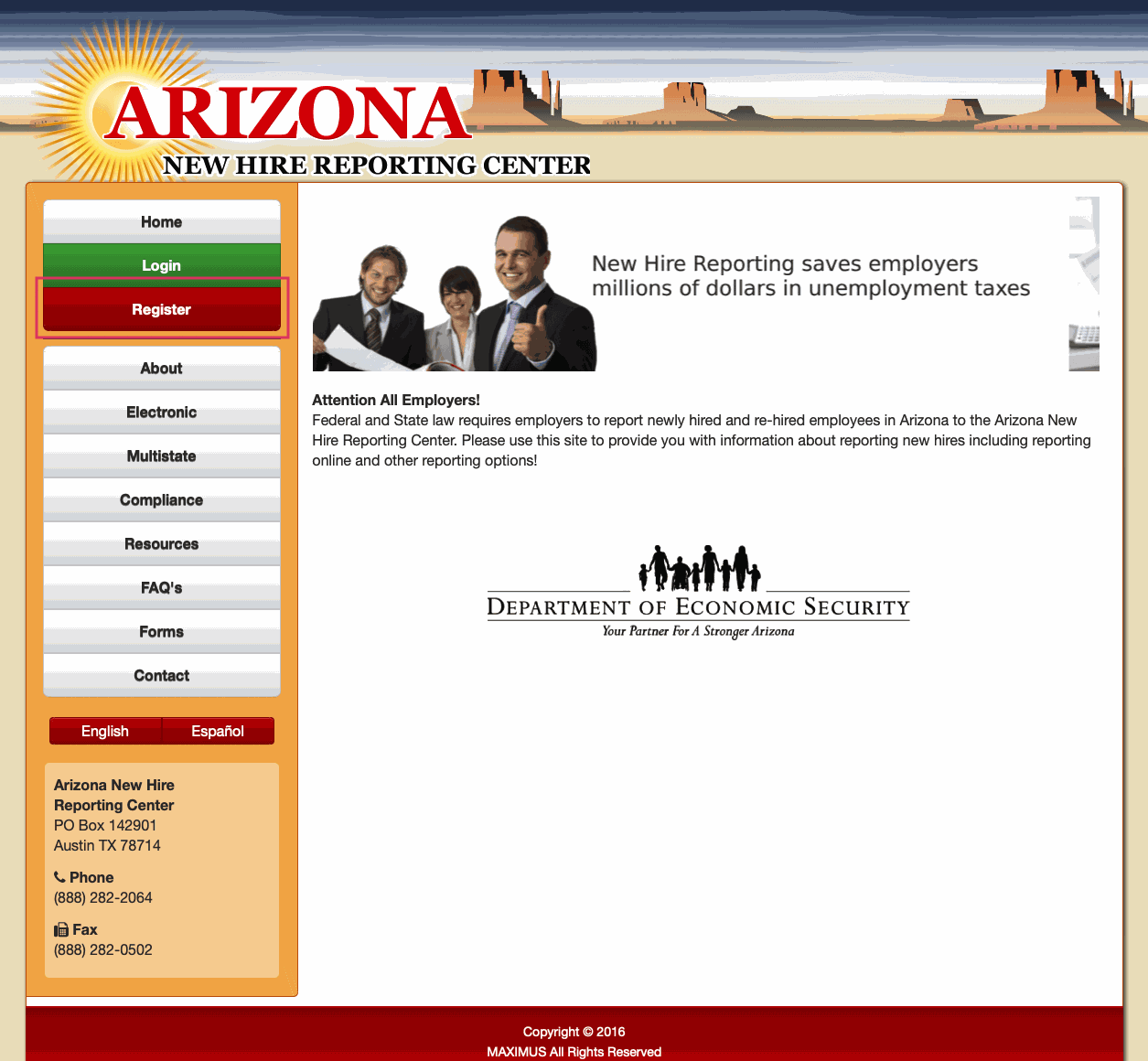 You also have the option to submit reports electronically to the website or through a Secure Web Upload, a Secure File Transfer Protocol (SFTP), or via CD-R. For more information on electronic reporting, please refer to the
Electronic Reporting
page on the Arizona New Hire Reporting Center website. CD-Rs must be mailed to the address below. 
You can also fill out the
New Hire Reporting Form
, submit a printed list containing all the required information on the New Hire Reporting Form, or submit a W-4 as a new hire report. Mail or fax non-electronic reports to:
Arizona New Hire Reporting Center
P.O. Box 142901
Austin, Texas 78714
For more information, you can refer to the
Reporting Fundamentals
page on the
Arizona New Hire Reporting Center
website, or contact the center at (888) 282 2064.