Inventory

:
Configuration: Warehouse Management: Rules + Routes
Purpose
Routes give a breakdown of how a product moves during its lifecycle. This document will provide instructions and illustrate how to manage rules and routes in the Inventory app in Odoo 13.
Process
To get started, navigate to the Inventory application.

This opens the New Routes form where you'll configure the following fields.
Route: The name of the route.
Company: This field displays in a multi-company database. Select the company that owns this route, or leave it blank if multiple companies share it.
Applicable On: Select the places where this route can be selected.
Product Categories: When checked, this route will be selectable on the Product Category.

Products: When checked, this route will be selectable in the Inventory tab of a Product form.

Warehouses: When checked, a new field will appear for you to select the warehouse. When a warehouse is selected, this route should be seen as the default route when products pass through the selected warehouse.

Sales Order Lines: When checked, this route will be selectable on Sales Order Lines.


Rules
Create rules for this route by clicking Add a Line. A new Create Rules modal window will appear with more configuration options.


Name: This name will fill the packing origin and the name of its moves.

Action: Select the type of action this rule will create.
Operation Type:

Select the applicable Operation Type.
Source Location: Select the location origin for this rule.
Destination Location:

Select the location destination for this rule.
Company: In a multi-company warehouse, select the company this rule applies to. Leave it blank to make it available to all companies.

When finished, click Save & Close, or Save & New to create another rule. Then, make sure you click save on your new route.

To see all rules in one place, go to Configuration > Warehouse Management > Rules.
Good to Know!
View the route of any product in your inventory.
Go to Master Data > Products, then select any product. Once there, navigate to the INVENTORY tab, under which there will be a section called Operations where the Route options will live.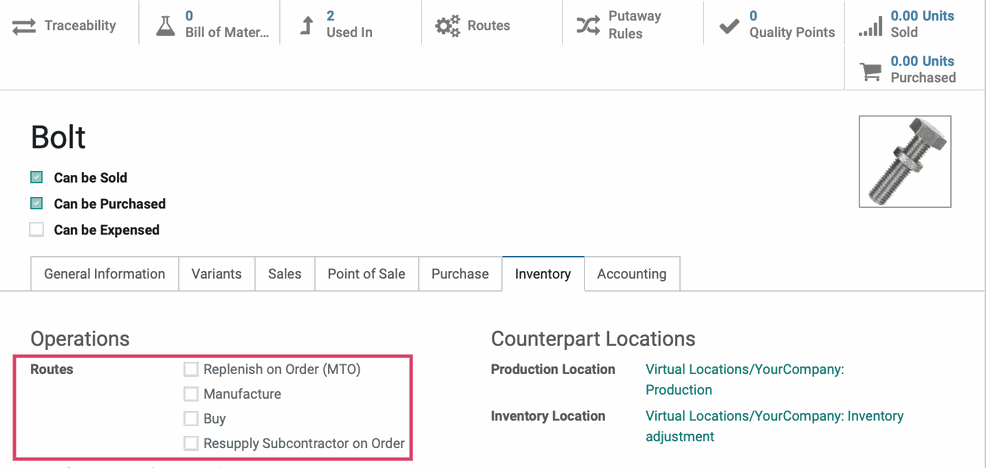 To get a visual of any combination of routes, click   Routes smart button  and the following Stock Rules Report modal window will appear:

Add any specific routes you'd like to see to the Apply Specific Routes field, then click Overview to see your Routes Report for this product.