Inventory

:
Inventory Workflows: Consignment
Purpose
This document covers the workflow of setting up a Consignment Location within your warehouse, assigning an owner for Consignment goods, and how to view the information for these goods in Odoo v13.
To get started, navigate to the Inventory app.
Next, go to Configuration > Locations. We will name our location "Consignment", and list the Parent Warehouse as WH/Stock.  When ready, click Save.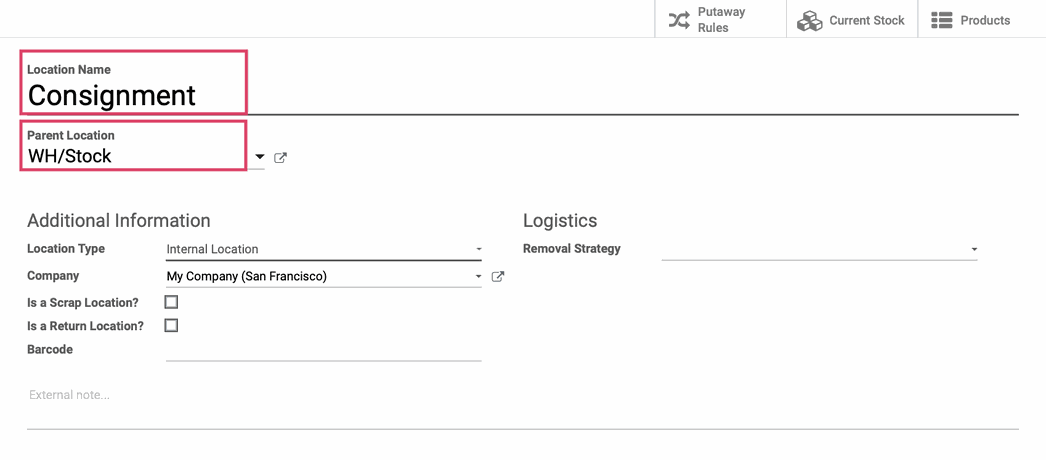 Next, we will go to Overview, then click the vertical ellipsis  icon on Receipts for any location, create a Planned Transfer, and see how this works!
Here, we will set our Destination Location as the Consignment area we created. We will also Assign Owner, which tells us who the product belongs to, and lastly, we will add a product. Here we have 5 Cookie Cutters being sent to us on consignment. Click Save once finished.

A modal window will alert us that we have not recorded any Done quantities on the transfer, but by hitting Apply, Odoo will do that for us!

Next, go to Master Data > PRODUCTS, select our Cookie Cutter, then click the  Traceability smart button.

This will bring us to a Product Moves Overview showing us the date and time of the transfer, the Consignment Warehouse Location we created for Consignment goods, and how many we have done and on hand. Remember, the value of these goods is $0  as it still belongs to the vendor or owner and will not be added to our own inventory valuation numbers..