Inventory

:
Main Menu
Purpose
The purpose of this document is to give a clear overview of how to use the Odoo 13 Inventory application to organize your products, manufacturing, orders, and deliveries.

Process
To get started, navigate to the Inventory app. 

Inventory Overview
The Inventory Overview screen displays various warehouse designations. It will also provide a quick reference for incomplete inventory transfers in relation to sales orders, purchasing, backorders, and summarizes transfers waiting to be processed.
Receipts: Gives the user an option to view your receipts to receive the products purchased using purchase orders.
Delivery Orders: Grants the option to view and send delivery orders to customers.
Inventory Transfers: With this option can also move products from multiple locations.
Manufacturing: Here user is able to view goods needing manufacturing,
Dropshipping: If there are any dropshipping orders needing to process.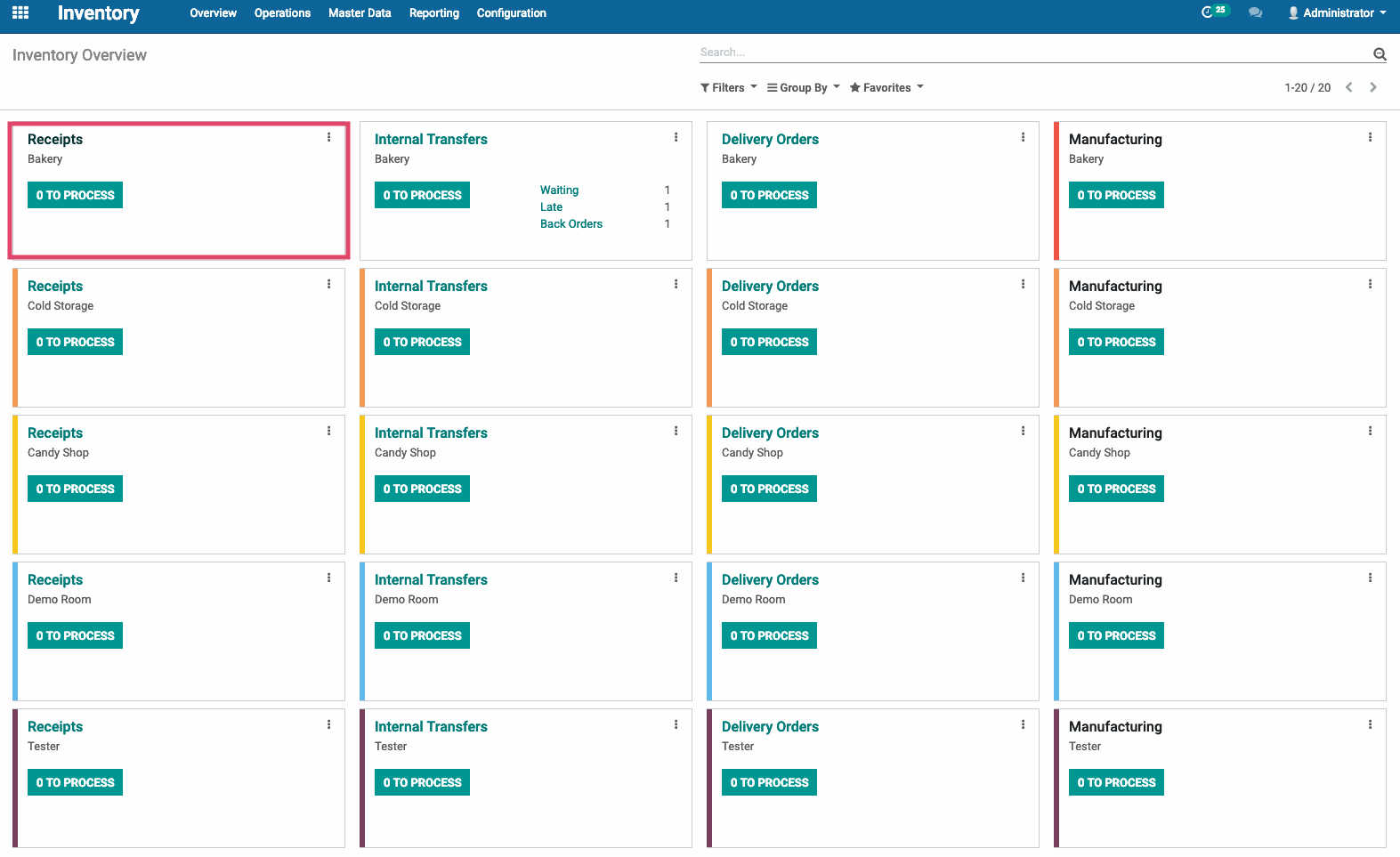 Block Options
Here users have various options for each block displayed in a fly-out menu from the  icon on the top right of the block. 

View
All: Displays all product moves that have been completed or waiting to be completed.

Ready: Displays inventory transfers that have all stock reserved and are ready to be completed in a list view.


Waiting: Displays product requests still waiting to reserve inventory.

New
Immediate Transfer: Redirects to a blank form to set up an immediate transfer. Once completed the product will be moved to the appropriate warehouse.

Planned Transfer: Redirects to a blank form to set up a transfer to be completed at a later date.
The colored blocks allow you to assign a color for easy grouping and identification. 
Settings
From within the fly-out menu, click 
Settings. This opens the configuration for that block where users can make necessary adjustments to the information previously entered in the company's Odoo database. Operation Type: Used to label the stage of the warehouse workflow.
Code: This abbreviation represents the short name of your warehouse a specific warehouse used across Odoo.
Warehouse: The warehouse where the operation is assigned to.

Type of Operation: The operation category the block should be associated with.
Operation Type for Returns: The method and locations used for product returns.
Show Detailed Operations checkbox: Displays product move lines on a separate Operations tab within a transfer block.
Packages 
Move Entire Packages checkbox: Mark this box to direct any inventory in a category to be automatically moved as a whole unit, instead of broken into smaller, sellable components.
Locations
Default Source Location: Displays where the products are originating from such as vendors or manufacturers.

Default Destination Location: Designates the next location for all inventory in this category.
Inventory Navigation
In this section we'll go over the individual menu items and where they lead.
Operations
Transfers: The user can transfer between locations, including virtual locations such as customers, vendors, as well as warehouses using this option.
Batch Transfers: Allows users to group transfers that have a similar process needing to processed for operations within the warehouse.
Inventory Adjustments: This feature is used to adjust inventory numbers in the company's Odoo database to match the product on hand. This is imported or created manually.
Scrap: Will allow the user to record a product that is broken or lost. Records can be imported or created manually.
Inventory Adjustments: This operation gives the user the advantage to adjust inventory numbers in the company's Odoo database to match the product on hand. These operations are created manually or imported. Master Data
Products: Allows the user to organize, search, and filter products in the company's database. Items can be imported or added manually.
Products Variants: This feature is used to create configurable options for the products, such as differences in color or size. Product Variants can have their own cost, sale price, quantity on hand, and other choice variants. Note that every product also corresponds to a single product Variant.
Reordering Rules: Can automate warehouse replenishment, allowing users to set minimum and maximum desired quantity on hand per location.
Packages: Users can create custom packages for use in selling and shipping orders, providing dimensions and other details related to the package size. Reporting
Warehouse Analysis: Summarizes inventory reports, valuations, and product moves.
Inventory Report: The user can filter for the Current Inventory or by a specific date.
Forecasted Inventory: This breaks down the inventory to represent when products are in the process of being sold or purchased.
Inventory Valuation: Users can filter historical, current, and forecasted inventory value.
Stock Moves: Displays the movement of inventory products throughout each warehouse.
Product Moves: Displays all product movements, noting the From location and the To location. Configuration Menu
Settings: Redirects to the relevant Inventory settings in Odoo.
Warehouse Management: 
Warehouses: Allows users to create and manage multiple physical warehouses.


Locations: Provides more precise location details, allowing nested locations within warehouses.

Rules: Defined rules for product movement through different operations in Odoo.

Routes: This will allow the option to defines how the products handled for different operations such as manufacturing, sales, replenish made to order, and dropship.

Operation Types: Used to label the stage of the warehouse workflow.

Putaway Rules: Allows the user to set rules for specific products when they are received in inventory.
Products:
Product Categories: Create custom categories showcasing logistics, TaxCloud, inventory valuation methods, and accounting properties.

Attributes: With this, the user can create and edit available attributes and indicate if variants should be created for the attribute.

Product Packagings: Create or import various custom packaging options along with quantity and unit of measure.

Barcode Nomenclatures:

Defines how barcodes are recognized and categorized.



Units of Measure:  
UoM Categories: Create or import various measurement categories, such as Volume, Unit, Weight, etc.

UoM:

Used to create or import the actual units of measure for products.
Delivery:
Shipping Methods: Used to specify delivery service types by different providers. It can be entered manually or imported.

Delivery Packages: Lists the various types of packages product is shipped in.