Hibou Odoo Suite

:
Tools + Settings Modules: Boxes: ShipBox
Purpose
This documentation covers the installation, configuration, and functionality of Hibou's ShipBox module for Odoo. This module offers the ability to incorporate a USB shipping scale for more accurate shipping rates. When Odoo creates a ZPL label on an outgoing transfer, it will immediately print to the default label printer, for the current profile, upon validation.
If you have already received the Raspberry Pi and need help connecting to it, please refer to our Boxes page for more information.

Getting Started
The first step is to install the module. To do so, navigate to the Apps application.

Once there, remove the 'Apps' filter, then search for 'Box - ShipBox'. When you're ready, click install.

Good to Know!
The ShipBox module requires the Deliveries module, the Hibou Box - PrintBox module, and the Inventory application. However, if you do not already have these installed, Odoo will do so during this module's installation. 

Process
To get started, navigate to the Boxes app.


Since this module installed PrintBox, you'll need to be familiar with the configuration and usage of that module. Please review the PrintBox documentation before proceeding.

Printers
If you don't already have a label printer configured, go to the PRINTERS menu. To add a new one, click CREATE. Complete the following fields.
Name: Enter the name of the printer.
Queue: 

Which queue will be printed to this printer. This information is gathered from CUPS.org

Box: Select the box to connect this printer to.
Location: This field will auto-populate with the location of the selected box. 

When ready, click SAVE.
Click on Locations > Create and fill out the following field​:
Location Name:

Name your location, generally as an identifier for where the printer will be: Main, WH1, etc. 

Under the Boxes tab, click Add a line to add  a new box. We have called ours shipbox1 and the Endpoint is the IP address of the box itself, which is gathered from CUPS.org
If you have a scale attached, this will be detected and a boolean field will appear to "Use Scale." Enable by checking the box if desired. 

Under the User Profiles tab, you can create a new profile by clicking Add a Line and filling out the fields for Profile, User, and the Label Printer name. 
Click SAVE when finished.


User Profiles
User profiles can be created as outlined in the step above, or you can access the User Profiles menu item and click CREATE. 
You will enter the following information:
Profile Name:

Make a name for your profile.

User:

Assign a User to this profile.

Location:

Set the location you would like this profile to use.
Printbox
Letter Printer

: If you have a letter printer configured, set that here.

Label Printer:

If you have a label printer configured, set that here.
If using a label printer and a location with a scale attached, 2 more options will appear to set Database Weight Unit, as well as assigning a Scale to the profile. 
Current Profile

: 

Check this box if this is an active profile for this user.

Use Endpoint External

: 

Use only when your Odoo database is communicating directly with the box.
When done, click SAVE. 


The information above is cached by the web client so in order to see the profile in the boxes menu item, you must refresh your page. Then, clicking the boxes icon will show you the available profiles:
Click ACTIVATE. 


If you click the menu item for boxes again, you will see the activated profile and its related printers: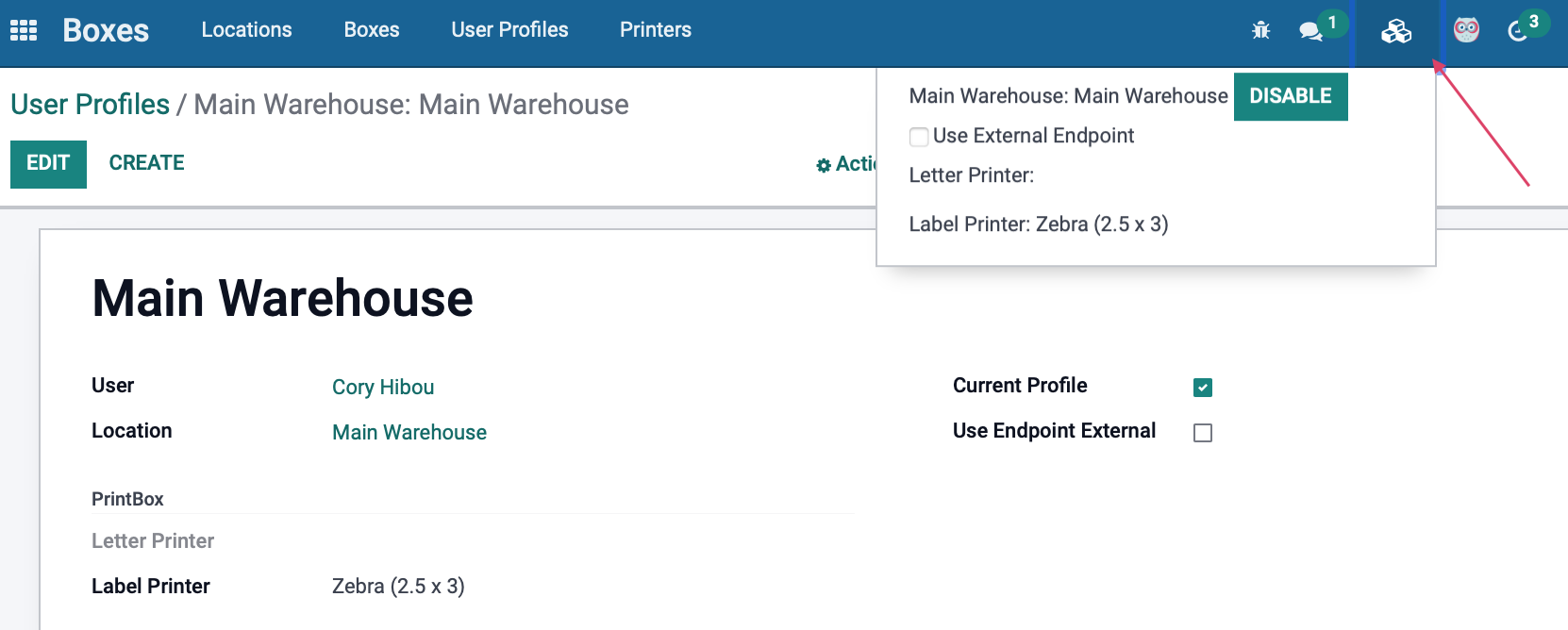 And if you have a scale enabled, you will see active weight immediately display as well:

At this point, with everything configured, you can now begin printing!
By navigating to a Sale Order and using the Print action and then Quotation/Order, if you have a letter printer enabled on the active user profile, this SO will now print to that printer.

If you navigate to the Delivery or an OUT transfer and use the Print action, you can then select an option that will print a label with the related information, be it a Picking Operations slip or a Delivery Slip.