Hibou Odoo Suite

:
Manufacturing Modules: BoM Mass Add
Repository Versions:
Purpose
This documentation covers the installation, configuration, and functionality of Hibou's BoM Mass Add module for Odoo. The BoM Mass Add module allows you to quickly add product variants as components to an existing Bill of Materials.

Getting Started
The first step is to install the module. To do so, navigate to the Apps application..

Once there, remove the 'Apps' filter, then search for 'BoM Mass Add'. When you're ready, click install.

Good to Know!
The BoM Mass Add module requires the MRP and Sales application. However, if you do not already have these applications installed, Odoo will install them for you during this module's installation. 

Process
To get started, navigate to the Manufacturing app.

Once there, go to Master Data >Bills of Materials. From the list, Create a new BoM , or select the BoM you'd like to add variants to, then click Edit. 
Under the Components tab, click the new Add Bulk button.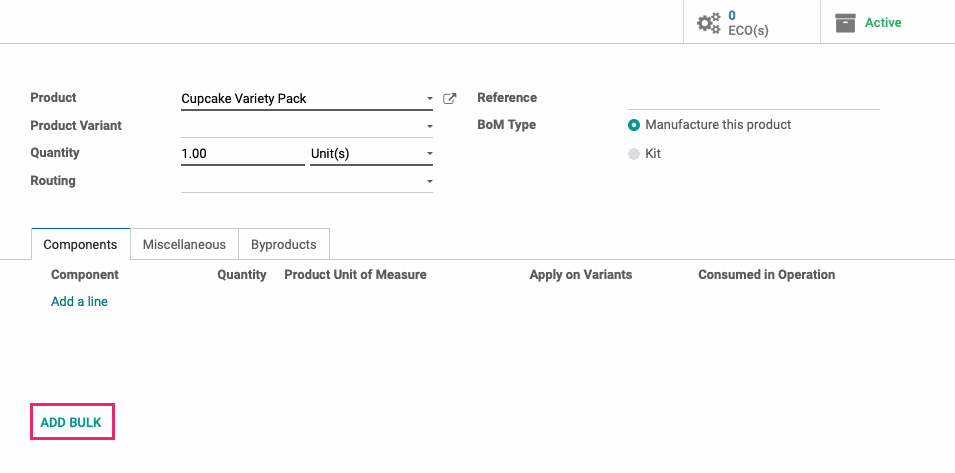 This brings up the Add to Bill of Materials modal window where you'll complete the following fields:
Product: Select the product to add to this BoM.
Limit to possible Variants: Enable to only add variants that can be selected by BoM products.
Variant Count: This is a calculated field that displays the number of variants that will be added based on your current selections.
Replace existing BoM lines for this template: Enable to remove all existing BoM lines when these new lines are added.
Existing Lines: This is a calculated field  that displays the number of lines on the existing BoM.
Quantity to Consume: Enter the number of products to be consumed by this BoM. For example, if you enter 3, then the components added will be multiplied by 3.
Consume Unit of Measure: This field is auto-populated based on the product template, but can be adjusted if needed.
Consume in Operation: Select the operation where these lines will be consumed in manufacturing process.

When you're ready, click Add. Your selection of variants will then be added to the main BoM under the Components tab.