Hibou Odoo Suite

:
Maintenance Modules: Maintenance Notebook
Repository Versions:
 Purpose
This documentation covers the installation, configuration, and functionality of Hibou's Maintenance Notebook module for Odoo 13. This module adds the Timesheets and Parts tabs to Maintenance Request records.

Getting Started
The first step is to install the module. To do so, navigate to the Apps application..

Once there, remove the 'Apps' filter, then search for 'Maintenance Notebook'. When you're ready, click install.

Good to Know!
The Maintenance Notebook module requires the Maintenance application. However, if you do not already have this application installed, Odoo will install it for you during this module's installation. 

Process
To get started, navigate to the Maintenance app.

Once there, go to Maintenance > Maintenance Requests. Select and Edit an existing request, or add a new one by clicking Create.
On the request, you'll see there are two tabs that have been added by this module.
The Timesheets tab will only display if there is a Billing Project present. This is where employees will log time spent on the repair of this equipment. For more information, see the Equipment Timesheet documentation.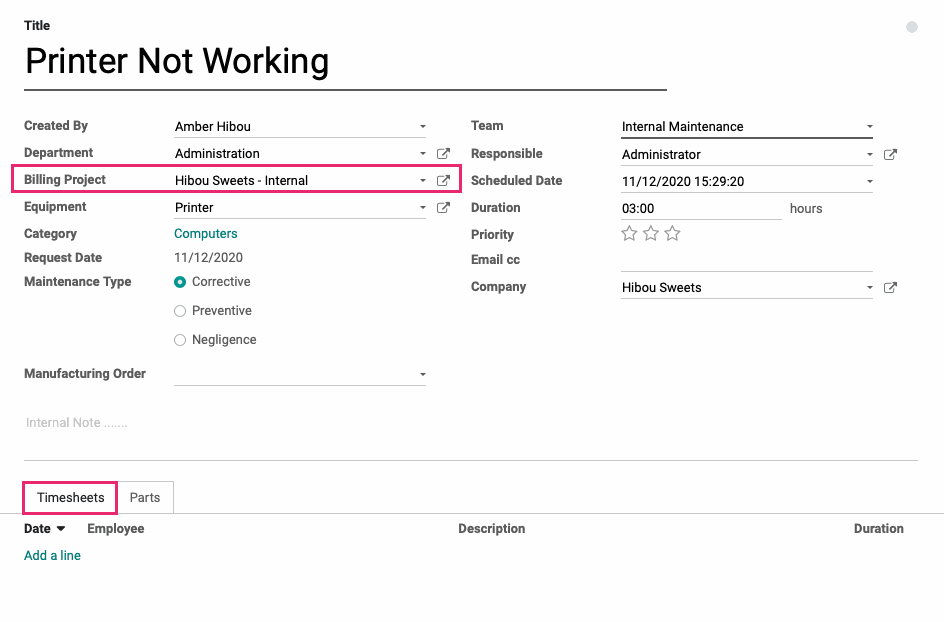 The Parts tab is where employees can add any products were used in the repair for reinvoicing.  For more information, see the Equipment Repair documentation.