Manufacturing

:
Manufacturing Planning : Planning by Production
Purpose
The purpose of this document is to explain the data and views on the Planning by Production page in the Odoo 12 Manufacturing application under the Planning menu.
If you don't see the Planning menu, be sure that the Master Production Schedule is enabled on the Manufacturing app in CONFIGURATION > SETTINGS.
Process
To get started, navigate to the Manufacturing app.


Once there, click PLANNING > PLANNING BY PRODUCTION. When you first arrive, you'll see several options in the header of this page. We'll go over these, below.
Preset Filters: The default grouping for this view is Production. Use the  Filters menu to change the data used.

Date & Timeline Selectors: Use the Today buttons and the arrows on either side to navigate to a specific date or date range. The arrows will scroll by the increment selected to the right: Day, Week, Month, or Year.

The following example is one of many ways you can display and work with the data on this page. 
Our records are displayed in a Gantt chart, which is the default view for this page. Each record is organized by Manufacturing Order (y-axis) over the days of the month (x-axis).
This gives you an at-a-glance view of the time planned for your Manufacturing Orders, as a whole.



Modify Operation
If you click an entry in Gantt view, you'll see a modal window where you can add additional information.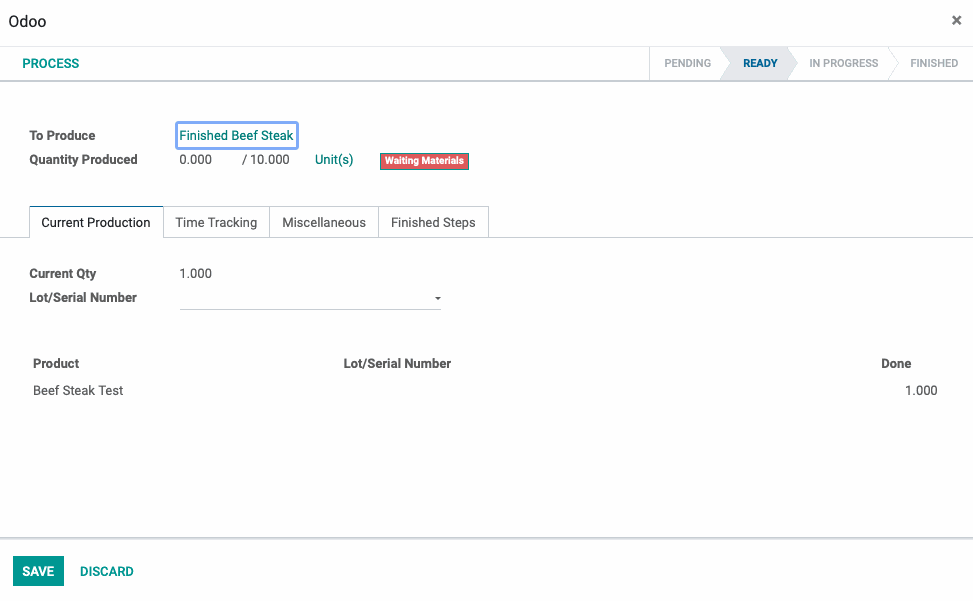 There are numerous ways to modify the data and view of this page to meet your specific needs.

Good to Know!
Different views allow for different actions. For example, you can:
See a Work Center color-coded legend in  Calendar view.

Drag and drop a scheduled event to another day in both  Calendar and  Gantt views.

Extend the duration of a scheduled event by spanning it over the course of dates/times in  Gantt view.

Create a new Work Order by clicking any date in  Calendar view.