Manufacturing

:
Manufacturing Workflows: 3-Step Manufacturing
Purpose
The purpose of this document is to demonstrate the workflow of the 3-step manufacturing process, starting with a Sales Order (SO), in the Manufacturing application of Odoo 13. This process includes picking components before manufacturing and transferring them to a storage location after manufacturing.
3-Step Manufacturing is enabled for individual warehouses in the Inventory app in Configuration > Warehouses.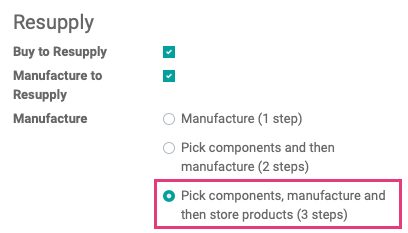 Process
Sales Order
In this scenario, we'll create a sales order for our Make to Order (MTO) product to get the process started. We can also create a Manufacturing Order directly. To get started, navigate to the Sales app.