Odoo Essentials

:
Configuring Digest Emails
Purpose
This document will briefly cover creating digest emails in Odoo and how to configure their content and frequency. 
Please note this is an  Enterprise Only feature, more information on Odoo Enterprise can be found on the Odoo Enterprises page. .
Process
To get started, navigate to the Settings app. 

Once there, go to the navigation bar and select General Settings. Here you will be presented with options that change the configuration of your Odoo database. The Digest tools are under the Users category.
The dropdown menu will let you quickly change between any digest templates in your database. The Weekly Digest is the only template included in Odoo by default, but you can customize and build your own in weekly, monthly, or quarterly formats. You can edit the weekly digest format by clicking on the open and edit icon, . 
For now, click on Configure Digest Emails.  
This will take you to the default templates in list view. Weekly Digest is the only template available; use it as a guide when creating custom digest emails. Click on Create.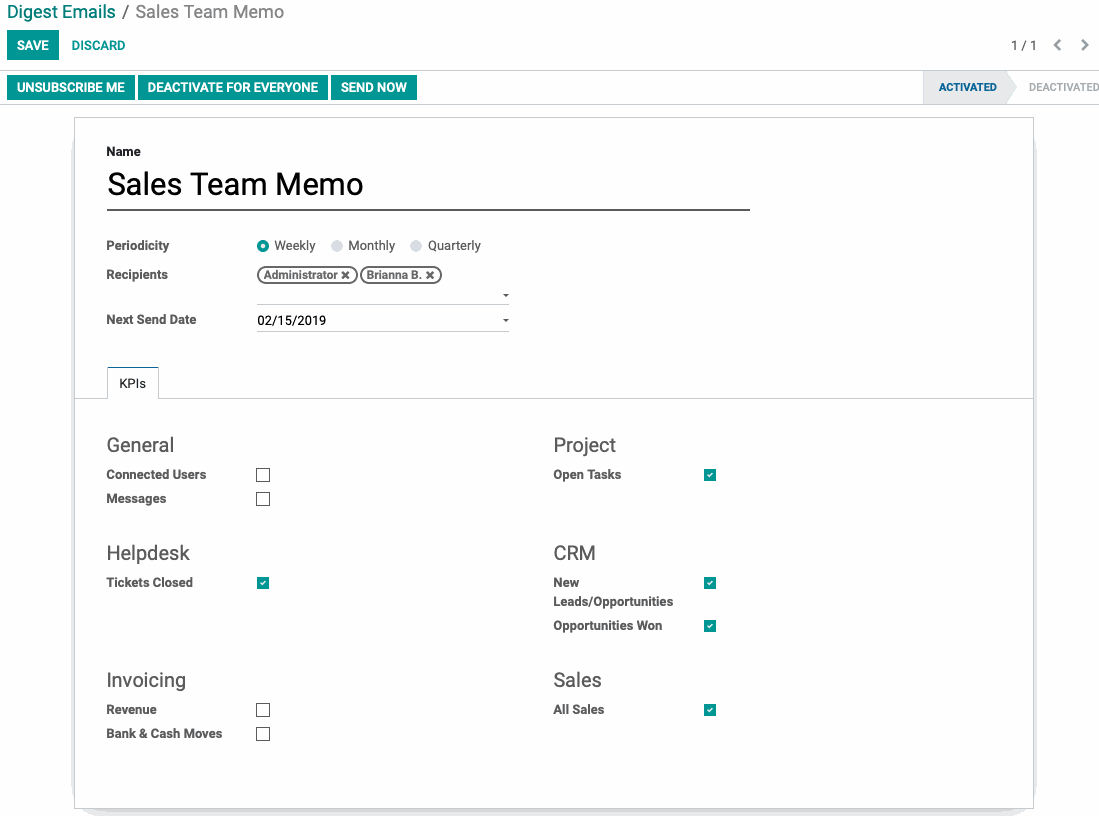 Here you can name your email, select how frequently it's delivered, who receives it and when it will next be sent. You also have the following options:
The KPIs selected will contain the general reporting information you'd like to include. 
General: Shows connected users and conversations had within the Odoo program for tracking department communications.

Helpdesk: Will show you a summary of tickets closed.

Invoicing: Gives a tally of Revenue handled for that period, as well as cashflow for the company.

Project: Gives an overview of tasks and their stages to track progress.

CRM: Summarizes both new leads/opportunities and which opportunities have been marked as won.

Sales: Generates a sales report for the periodical. 
More customization options are available from your development team.