HR

:
Employees Configuration: Adding Departments
Purpose
The purpose of this documentation is to review the process for adding departments to your company in Odoo's Employees application. 
Departments allow you to organize your employees and mimic your organization's structure within Odoo. 
To get started, navigate to the Employees application.

Adding Departments 
Navigate to Departments .
Once there, you will see all of your existing departments. To create a new one, click the Create button. 
On the department creation form, input the Department Name and the Manager of the department. 
If this department falls under the purview of another department, you can enter this department's Parent Department as well. 
Once you have the information entered, click Save. 
Repeat for all of the other departments that you need to add. 
Adding Employees to Departments
Once you have your departments created, you can add your employees to those departments. If you need assistance with creating your employees, review our Employees Setup Guide. 

If you have already configured your employees, you can assign them to departments from their employee contact. Navigate to Employees Choose the employee that you want to assign to a department. Click the Edit button. 
In the department dropdown, you can select the department that you want that Employee to be associated with.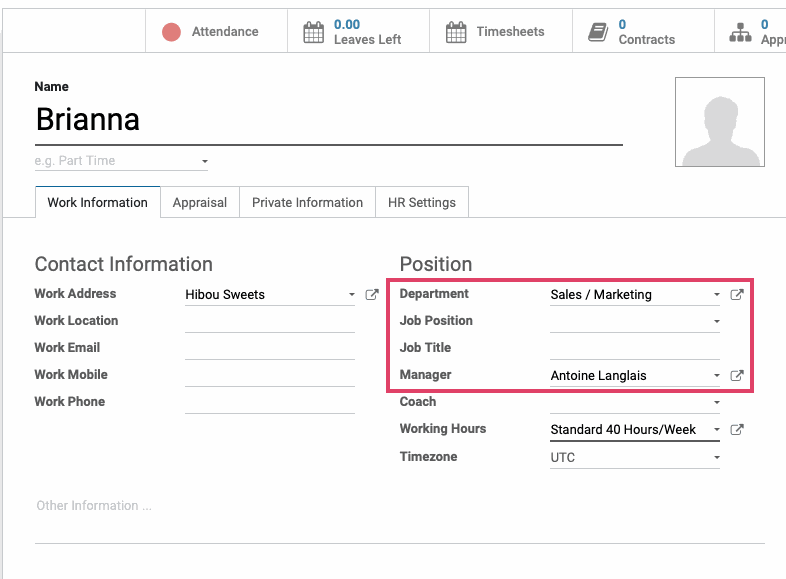 Once you have the department selected, click Save. 
Good to Know!
If there is a manager associated with a department, once you assign an employee to that department, their Manager field will automatically update to reflect the manager assigned to that department. 
Reviewing Departments
On the main screen where it shows all of your departments, you can see if there are any absences in any departments on the front of each department's card. 
You can also click on the Employees button to see all of the employees assigned to this department and click the  icon to review more details about the department and the employees within it.
We will cover these options in depth in other documents.