Contacts

:
Contacts Workflows: Portal Access Management
Purpose
This document will walk you through how to grant online access for your clients in the Odoo Sales application. Online portal access will enable your customers to pay their invoices, accept quotations, view sale orders, and access Help Desk tickets. 
Process
To get started, navigate to the Sales application.

Granting Portal Access
To manage your settings for portal access, go to configuration > Settings. 
Find the Customer Account under the Pricing section: 
On invitation: If this is selected, your customers will only be able to sign up for an online account if you invite them. 

Free sign up: If this is selected, your customers will be able to sign up for an online account anytime from your website.
Once you've made your selection, be sure to click SAVE.

Important!
Unique Contact Email Addresses
Online account access must be granted at the Contact level in Odoo and all online accounts require a unique email address. If multiple contacts within the same organization need online account access, you must make sure that they have a unique email address on their Contact otherwise you will receive an error when attempting to create a user for them (granting portal access).
On Invitation
If you've selected the On Invitation option for the Odoo Customer Account, you'll need to invite customers to set up their online account. To do so, go to Orders > Customers. From this page, select the customer that you would like to grant access to.

This brings you to the customer record. Select   Action     > Grant Portal Access.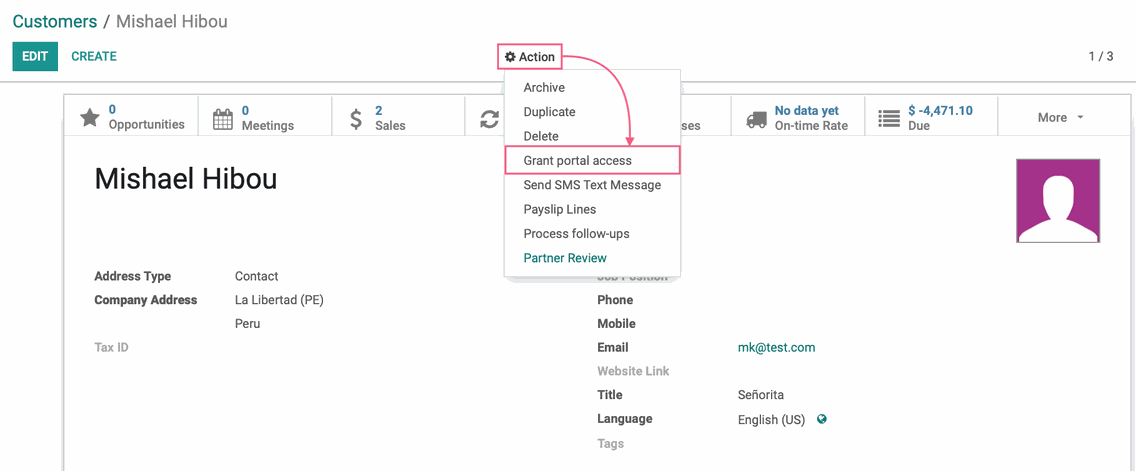 You'll then see a modal window that shows the associated email address(es) for this contact and their child contacts, if applicable. From here you can choose the contacts/emails that you want to grant portal access to by selecting the checkbox next to their email under the  In Portal option.
Once you have all of the necessary emails selected, hit the Apply button.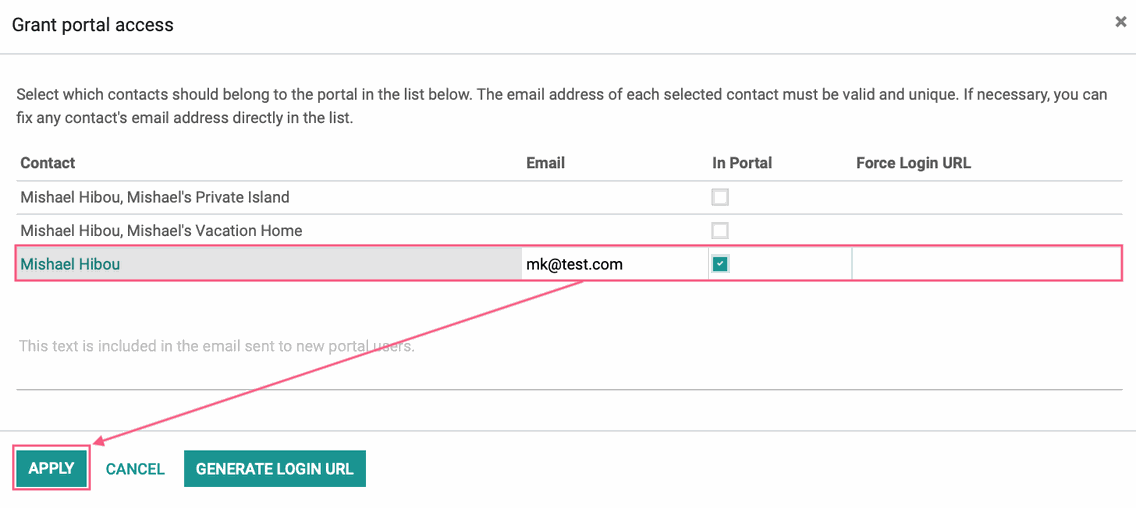 Your customer will now receive an email allowing them to set up their online password and access the online portal, similar to the following: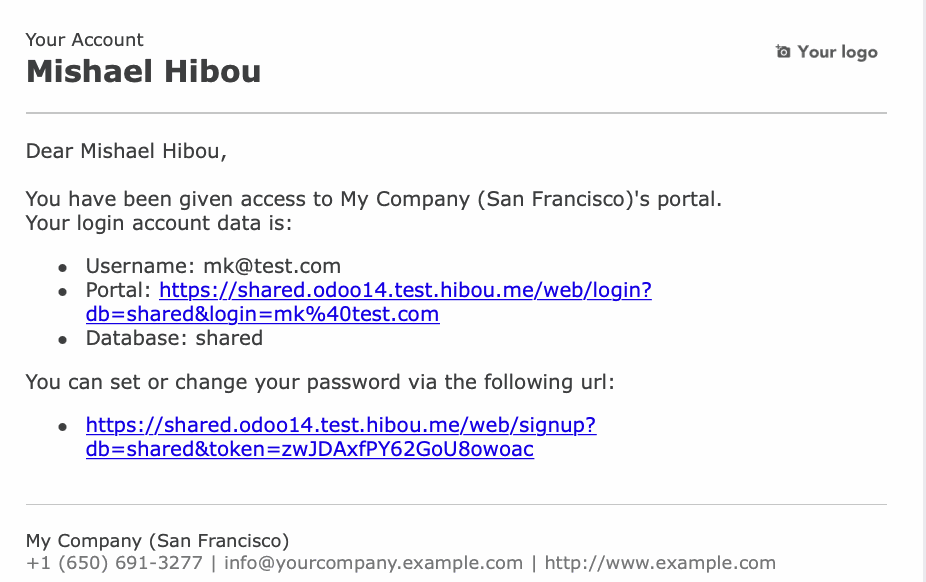 Good to Know!
Auth Admin Hibou Module: Login As the Customer
Do you ever wish you could log into your client's portal account to show them something or resolve a support issue? Well, now you can and you don't have to get anywhere near your client's password. 
Our Auth Admin Module allows users to login as contacts, which can be really helpful when testing and troubleshooting. To do this, you must first Grant Portal Access and save.
This brings you back to the customer record where you'll again click Actions   > Grant Portal Access to bring up the modal window. From here, click Generate Login URL.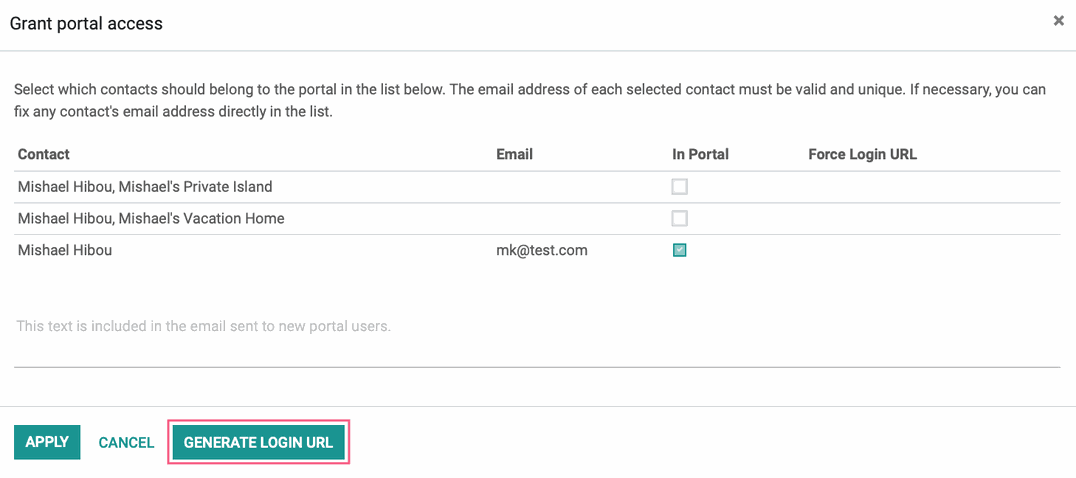 In doing so, Odoo will generate a serialized login that you can double-click, copy, and paste in a private browser window where you'll be able to see what this customer sees.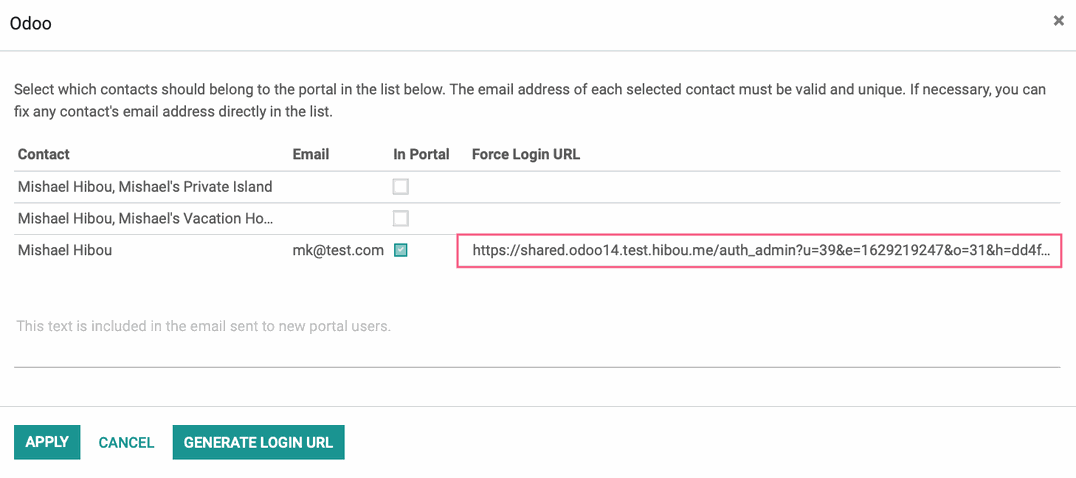 You'll need to generate a new login each time you need to log in as the customer.