We have all been in this position before: We've got a list of items that need to be completed but are unsure where to start! This is where a solid task management process comes into play, so that you or the ones you work with are never left guessing as to the importance of the items on the list, which ones should be completed first, or what the expectation is once the task is completed. Well surprise, surprise, Hibou can help!
In this article, we are going to cover Hibou's top three task management tips to get the most out of Odoo's Project app as well as your time.
To get started on the right foot (or the left, we don't judge), you'll want to make sure that you have a solid configuration to serve as the foundation for the work you will be doing shortly!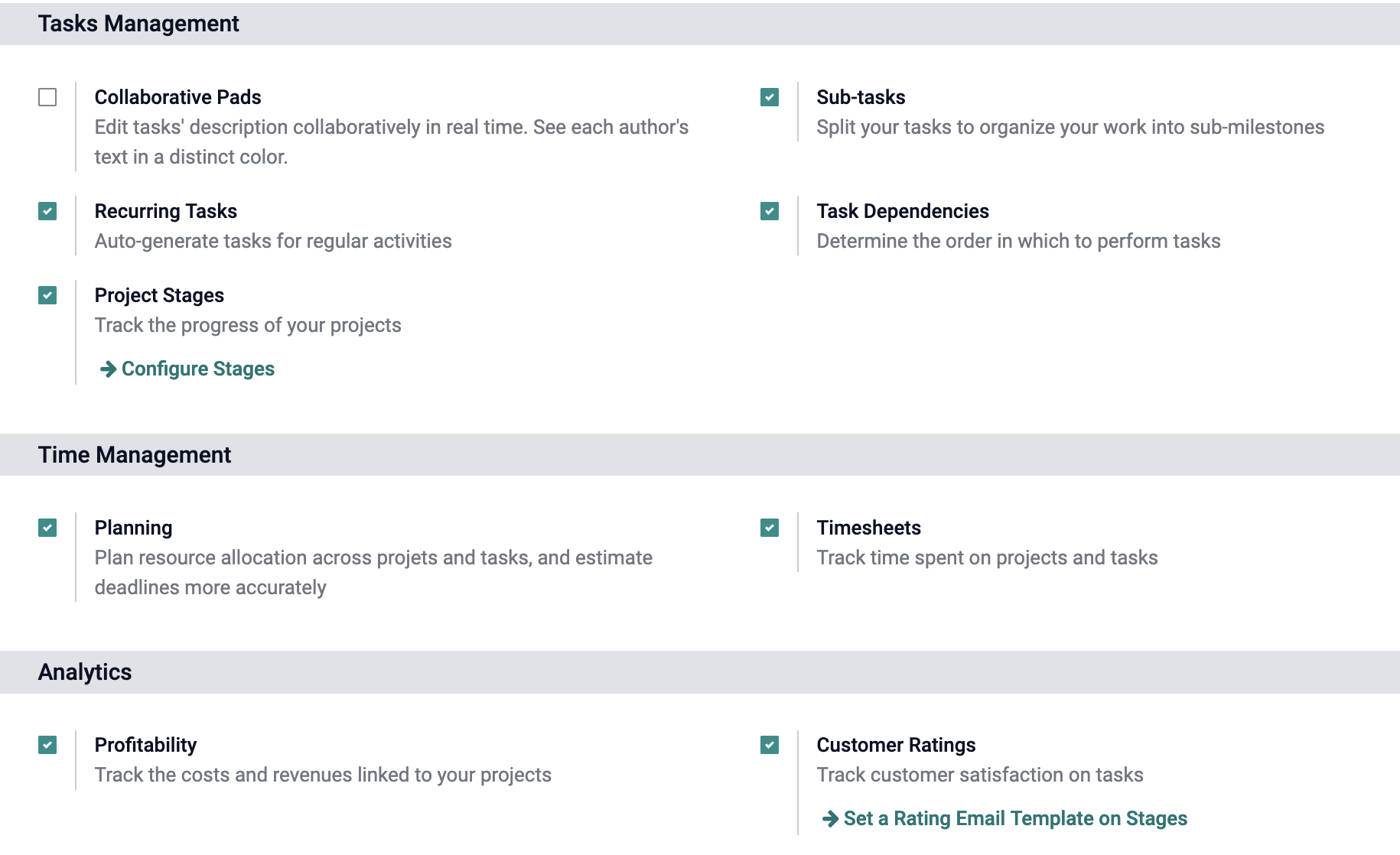 Here are some important questions to ask yourself:
Do you want to track the time people are spending on these tasks?

Hibou Pro Tip: Yes! In general, it's important for a business - no matter the size - to keep track of the anticipated time and the actual time for completing tasks. While this comes in very handy for projects that are billed to clients, even internal projects can utilize this functionality to great success as it allows for resource planning and establishing baselines for types of work.

Do you frequently work on the same tasks that need repeated on a recurring schedule?

Hibou Pro Tip: If you do, then Recurring Tasks will be your best friend! No more duplicating a task just to change its name and date; let Odoo do the heavy lifting for you by creating the tasks automatically based on your established schedule.

Are your tasks similar to big, scary monsters?

Hibou Pro Tip: To start, we don't think they are actual monsters (that'd be downright scary!), but we're actually referring to large or time consuming tasks. If you do, then Hibou recommends sub-tasks as a way of breaking down a large task into bite size pieces that can be tracked independently. For example, a large event could be one task with multiple child tasks to track components of it (i.e. create list, send list, establish venue, etc.). A case could also be made for it to have its own project, but we won't judge!


Do you struggle to know the status of tasks?

Hibou Pro Tip: Task stages allow you to see at a glance where your task is in the overall process. These can be configured to be per-project or shared across projects - you decide!

Have you ever been given a task with the super descriptive title of something like: Event #2? (#Sarcasm)
You can't help but have a burning list of questions come to mind before you even open the task. Things like:
Okay, but what was event #1?
What do you want me to do with event #2? Is my first task to give the event a name?
But what if you were handed a task titled: Establish Venue for Spring 2023 SEO Event?
Sure, the task description is going to give you some more details, perhaps, but you know as soon as that task is assigned to you that your job is to find and secure a location venue. So know the impact that your task title has on the future success and searchability of this request.

Keep an Eye on Your Dates/Times
Let's keep our theme of an upcoming event going! There are some important details that you (or another lucky individual being assigned the task) need to know - and there are dedicated fields for this very reason.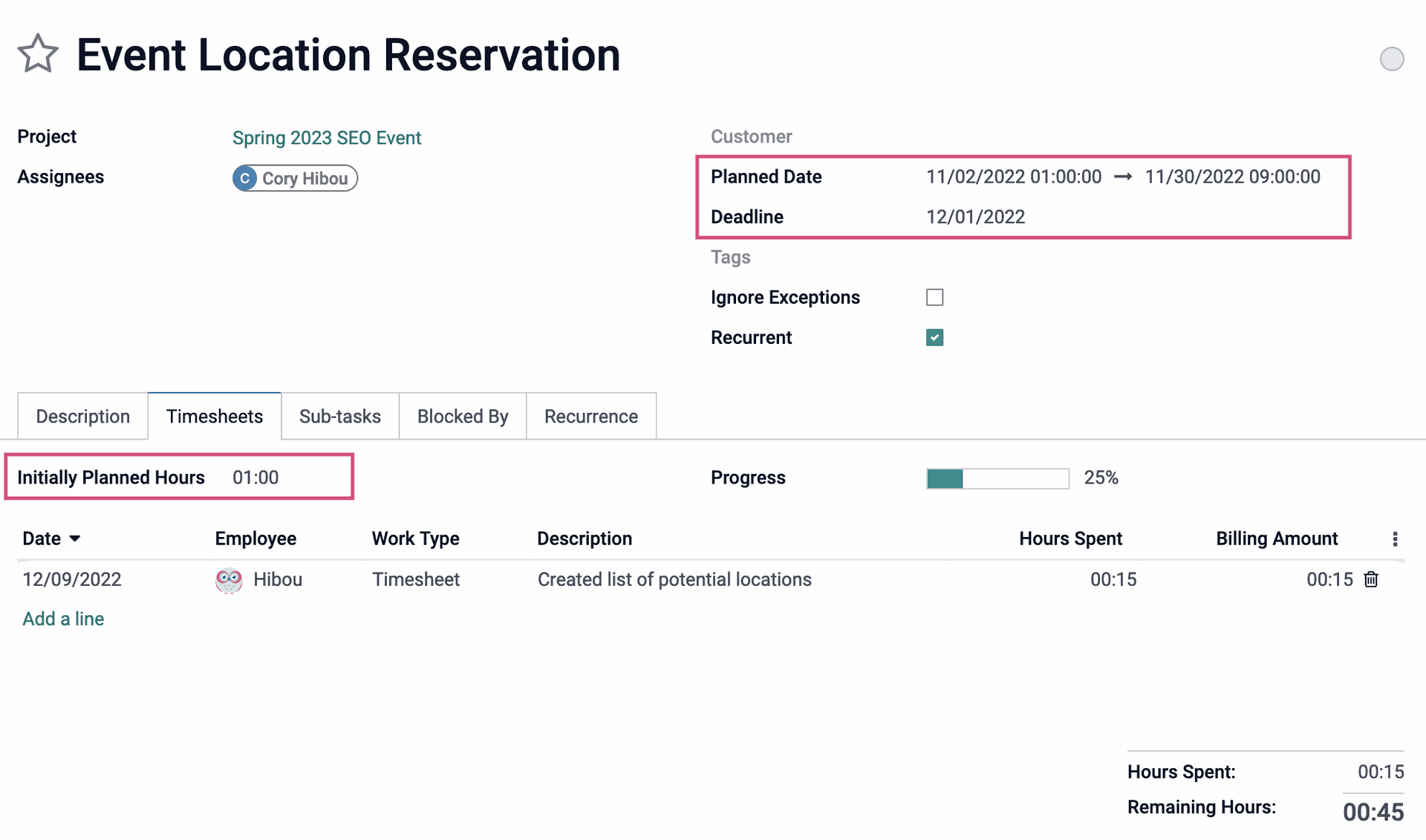 Initially Planned Hours: This lives under the Timesheets tab on a task and serves the purpose of an estimate for how long this task should take to complete.
Why Is It Important? While it would be awesome to have unlimited time to work on tasks, we all know that's not possible. Entering an initial estimate of planned time allows the person making the task to provide a guideline for how long they believe is appropriate to spend on the task while also giving the person working on the task a tangible number to measure their progress against. It also allows you to put all tasks that are required to complete an overall project or objective in perspective in terms of the amount of time necessary to pull off all of the pieces.
Deadline: Everyone knows what a deadline is, so entering one on the task when there truly is a date by which something needs completed allows everyone to see the expectation and monitor progress to ensure it gets across the finish line in time.
Planned Dates: Planning dates differ from deadlines in the sense that they are not intended to impart a "drop dead" date but rather serve to align all necessary tasks that need to be completed in an organized time frame so tasks make continuous progress.

---
This list is only the tip of the iceberg when it comes to task management, and our expertise can keep your project from becoming the next Titanic. As with any business process, project and task management can be as simple or as complex as is necessary to provide you with the insight you need to ensure all tasks are on track and running smoothly.
Want to Learn More?
Become a project guru with Hibou's Projects course! Or you can also check out our extensive documentation on Projects and Tasks!
Still have questions? Use the Contact Us form at the bottom of this page and we'll see how we can help!