Cory is one of our Senior Project Managers and even though he is the only project manager on most of his client's projects, he is a fan favorite! He is one of the friendliest humans you have ever known and what is known as a BFG. You can make up whatever you want for that acronym but to us it means Big Friendly Giant! No literally, he is 6"5 and can reach just about every top shelf on the planet. 
Cory joined Hibou in March 2021 after spending 21 years working in the grocery store industry. If you didn't know already, Kaylie & Jared (Vice President and President of the company) are Cory's sister and brother in law, but that had nothing to do with how he got the job.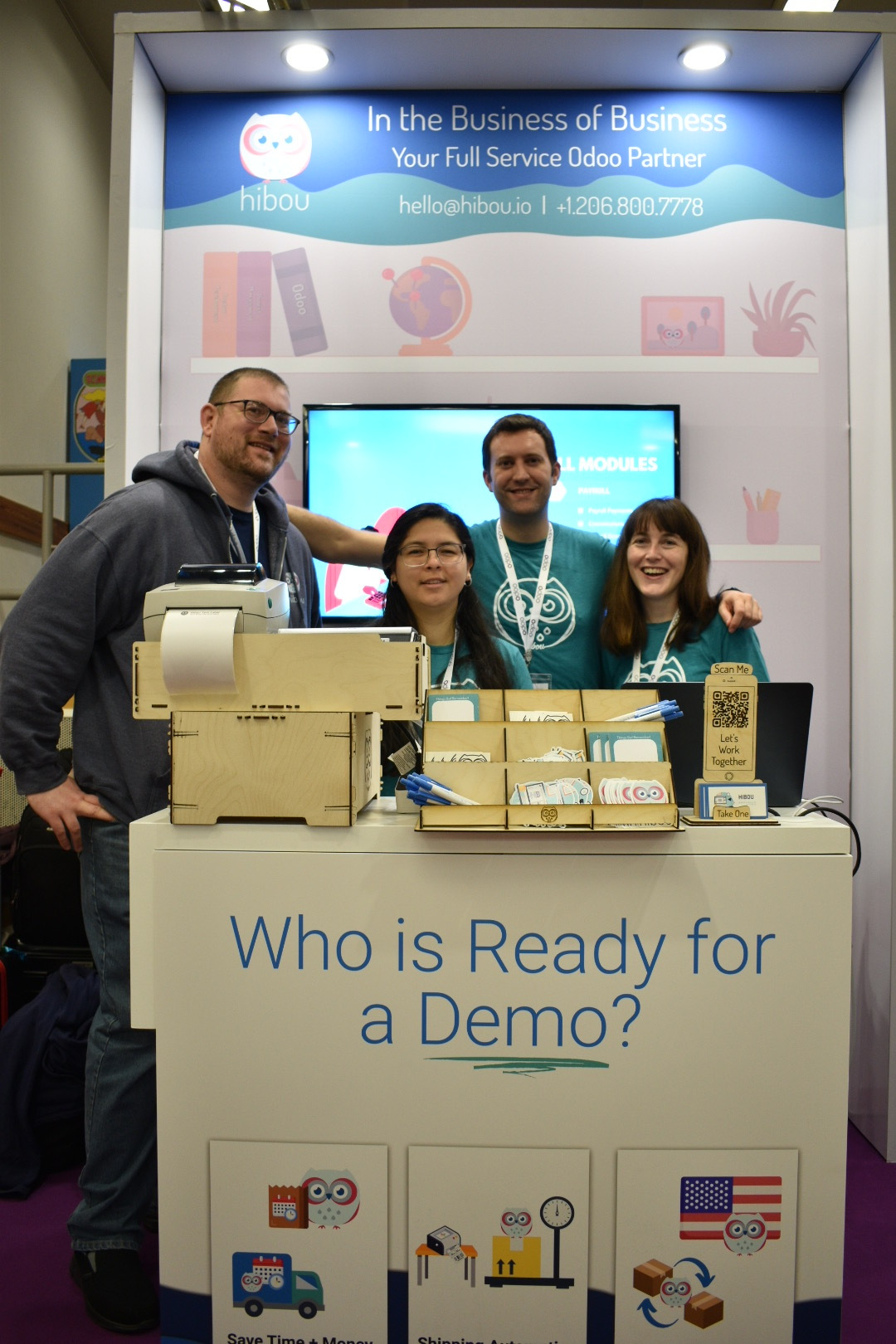 He swears. One day, Cory was poking around Hibou's website, sending Kaylie & Jared some typos he found and broken links when Kaylie and Jared both realized after 6 years of Hibou existing and successfully running, Cory could be an incredible asset for the team. So they offered Cory a job and he could not refuse. 
Working at Hibou was such a game changer for Cory. Although his favorite part of this job is the flexibility of having a remote job and being able to spend extra time with his dog and wife, there's only one way to describe his days…CHAOS! 
Cory's days are among the most chaotic out of all of the PM's here at Hibou, and they all work hard, so that's saying something. He starts off his day half an hour before the company officially begins work by checking on new leads in CRM, taking a look at help desk, reviewing his calendar, marking tasks as completed in the planning application and sorting through his email to see if there is anything urgent needing an immediate response, and then adding the other emails that warrant a reply to his list of tasks for the day. That's just the first half hour of his day!
He then joins the rest of the team for our daily morning meeting and once he's done he goes over his to-do list.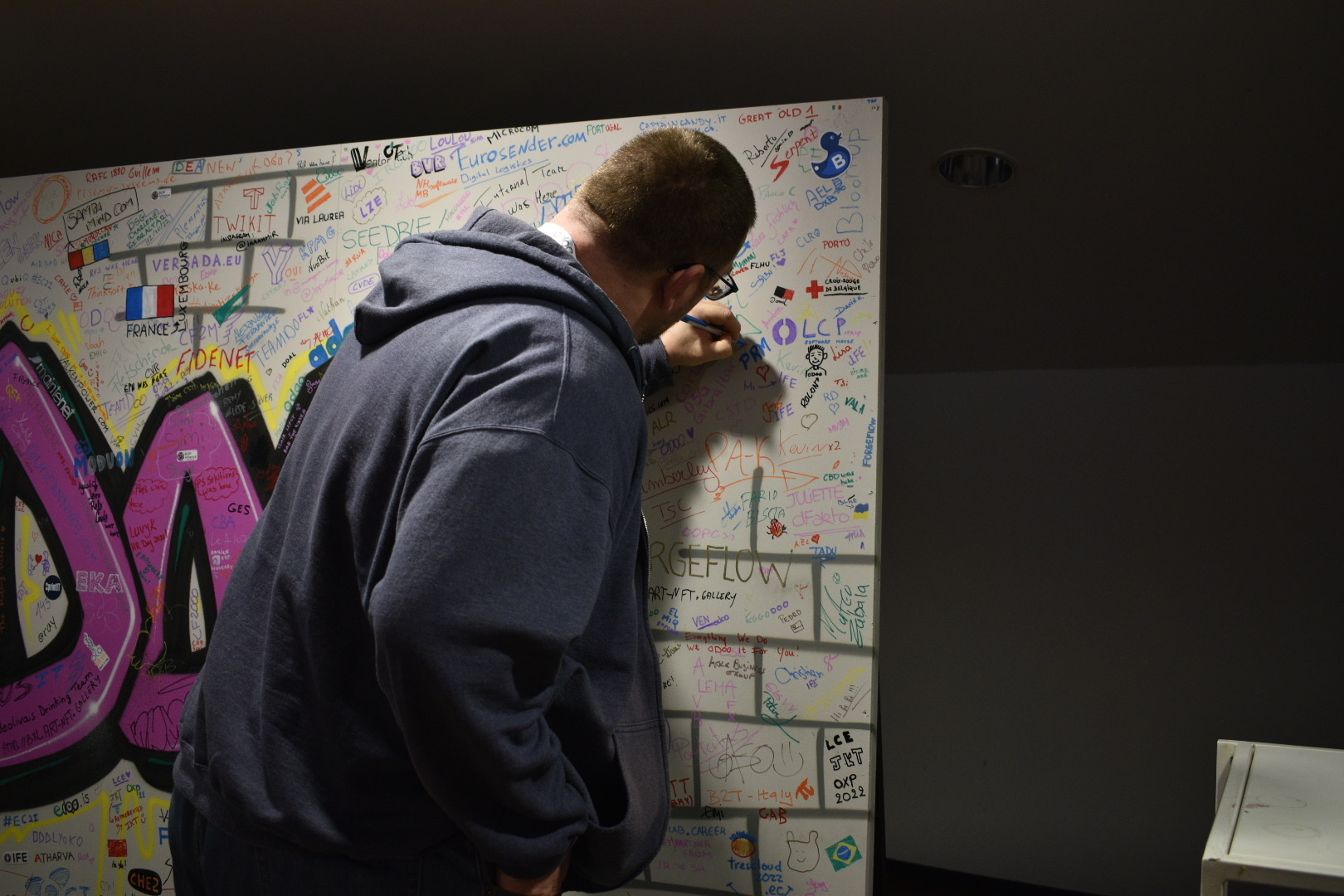 Everyday Cory has multiple meetings. Whether they are internal meetings or client meetings, mix in the occasional sales call, he takes them all! So his day is all about being prepared, balancing calls with the literal work, and having a good time while doing it. Everyone at Hibou wears multiple hats, but on top of being a Project Manager, he stays on top of our Social Media and Blog posts, is the Onboarding Manager for new employees, the HPIC (Head Person In Charge) when it comes to our documentation, and the U.S. Sales Manager. 
Cory says that if he had a super power it would have to be to the ability to fall asleep on command. That way he could have good rest after the crazy days and prepare for the next one to do it all over again. 
When asked to describe his time at Hibou in just three words, he replied "Learning Never Stops." Like all of the employees at Hibou, Cory had to get some Odoo functional training, and even Official Odoo Functional Certification at Hibou Academy (you've heard about our Courses, right?) to get to know Odoo better. He recalls his favorite course being CRM + Sales, which are among his favorite apps due to him being a very organized person. Something about the process of seeing a potential customer come in as a Lead, then after a call with Cory the Lead becomes an Opportunity, which then in turn leads to Cory sending out the Quotation, seeing it become a Sale, which kicks off the Project (which he also handles by working with the clients to gather the important details for invoicing contacts, creating the initial tasks, coordinating a handoff if he isnt the PM himself), there's just something that he finds appealing in all of it. 
With this being said, he remembers accounting being the hardest course since there are big pieces to learn and so many apps that tie directly to it.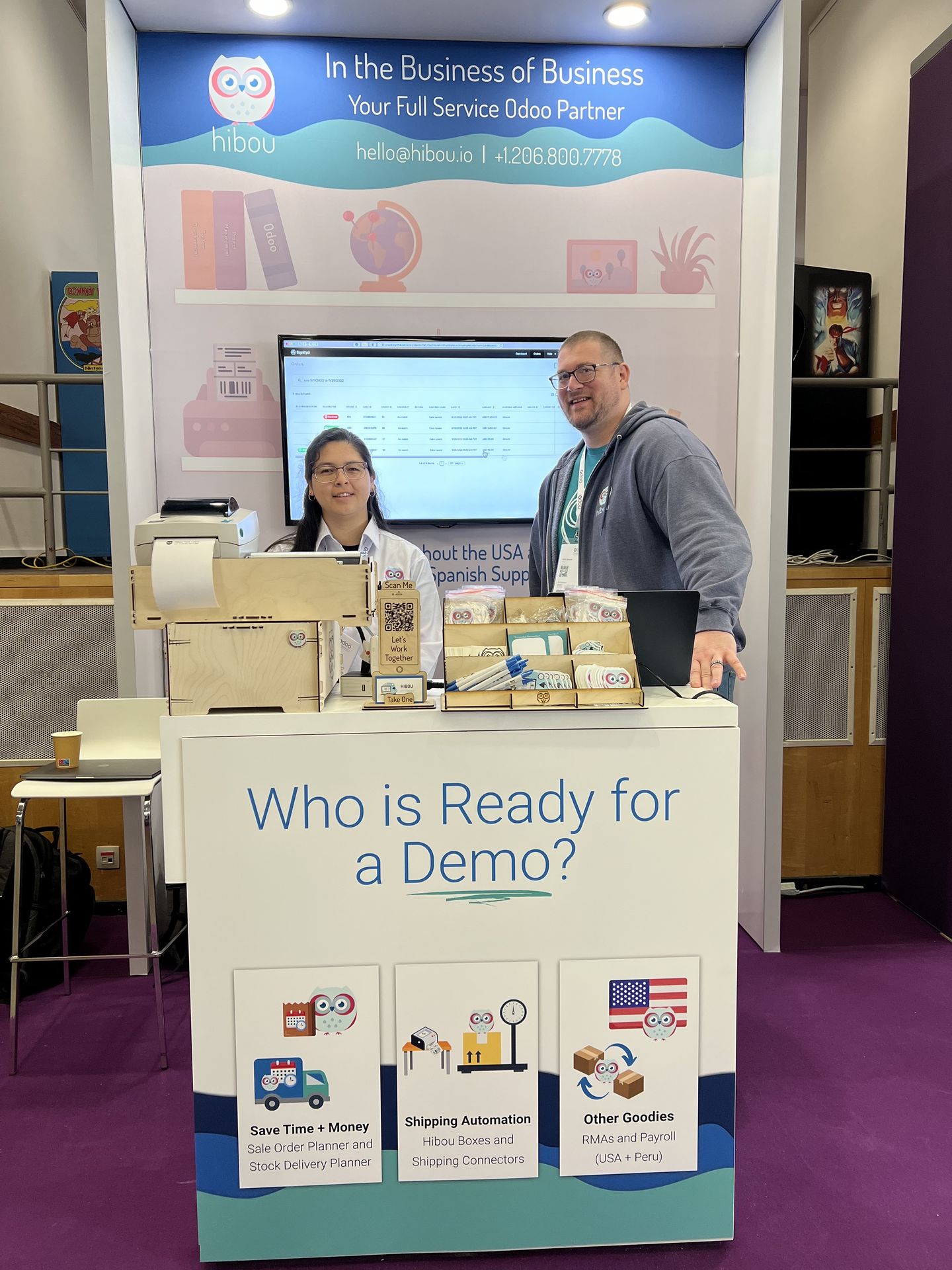 As mentioned earlier, Cory is one of the friendliest humans you will ever meet! His interactions with clients are always positive thanks to his charming self. He has learned so much in his time at Hibou and clients appreciate that knowledge and the effort he puts in to make their businesses run smoothly. Even if he can't answer all of their questions on the spot, the client knows that he will come back to them with the correct answer or solution to their problem, which helps create a trustful bond with the client. He also has this a great sense of humor which helps keep things light, which is appreciated by most peopl. 
Cory's days at Hibou changed his life completely, he recalls one of the most memorable moments this year being Odoo Experience in Belgium (where all of the above images came from). Thanks to this expo, Cory got to travel to London and Belgium which is something he never thought he would do. One of his favorite things about working at Hibou is the Friday afternoon book club meeting, having fun in the random chat with the rest of us, and commenting often in the slack channel we have for Movies, Books, Games, and Shows. He also loves the video game zoom calls that happen from time to time with other employees to play Mario Party, or Mario Golf, or Pokemon (He's coming for you, Charizard!). Now, maybe due to Cory alone, all of the PM's are training to be the very best for a Pokemon raid happening next week! 
But enough about work, it is time to get to know Cory outside of work. He enjoys playing video games as much as he can with his wife. His favorite is probably World of Warcraft simply due to the amount of time he spent playing, roughly a decade. Currently, he and his wife spend their nights playing Disney's Dreamlight Valley (oh yeah, he's a Disney nut and will be going there for Christmas this year!) and the current Pokemon title, he went with Scarlet, if you must know! 
He fills his free time by keeping up with new shows on HBO max, Disney+ and Netflix. Cory recently also bought a camping trailer (Intech Luna Trailer)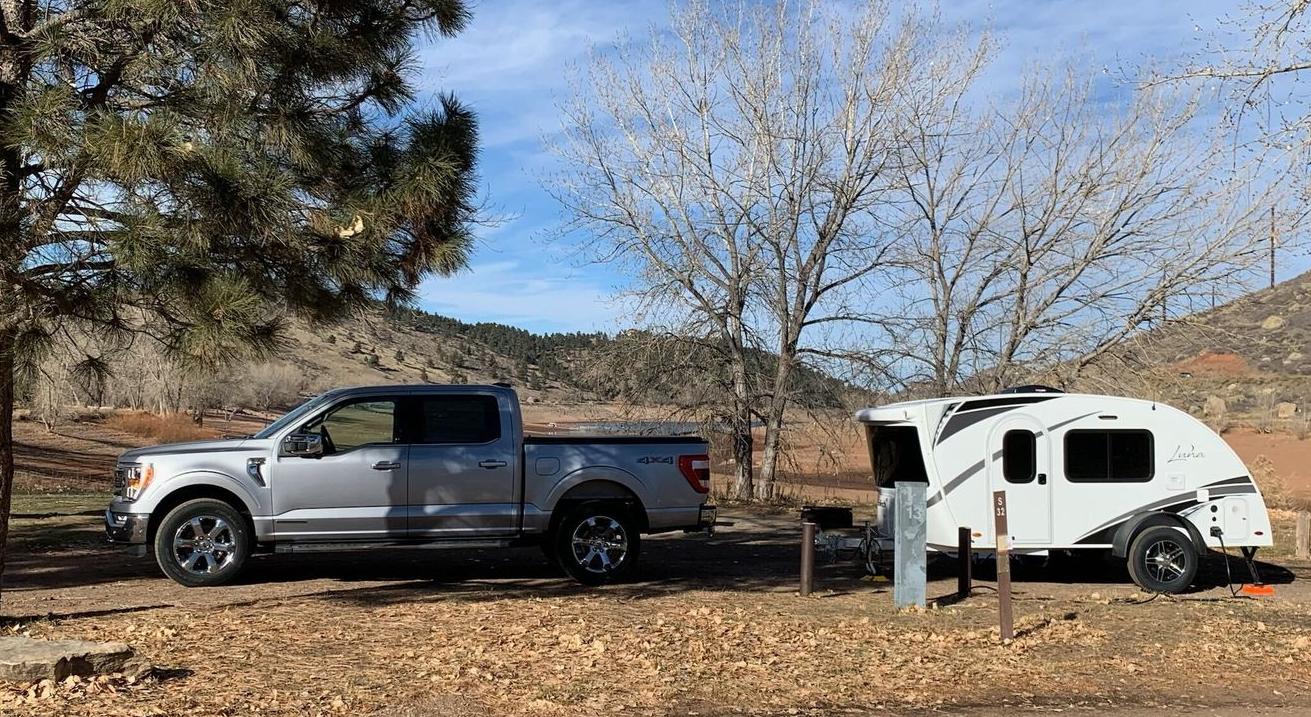 with his goal being to travel around the country while working on the road. This summer and spring, they will tow that little trailer all over to camp around Colorado. 
Cory is a toy junkie! Out of his massive toy collection, his favorite toy is a Raphael Ninja Turtle dressed as Sting, Cory's favorite childhood wrestler. Hard to get more nostalgic than that.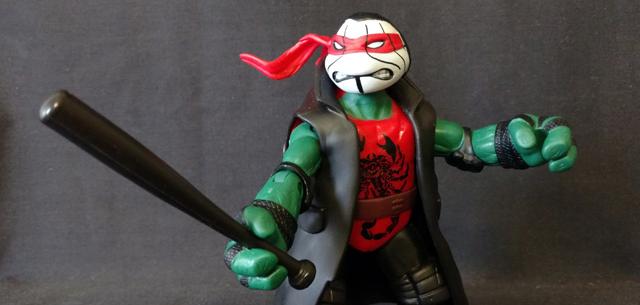 His favorite super hero is Batman because he is like all of us, and Cory believes you do not need superpowers to be a superhero, only a good heart (and a lot of money apparently). At least he's got the heart part down.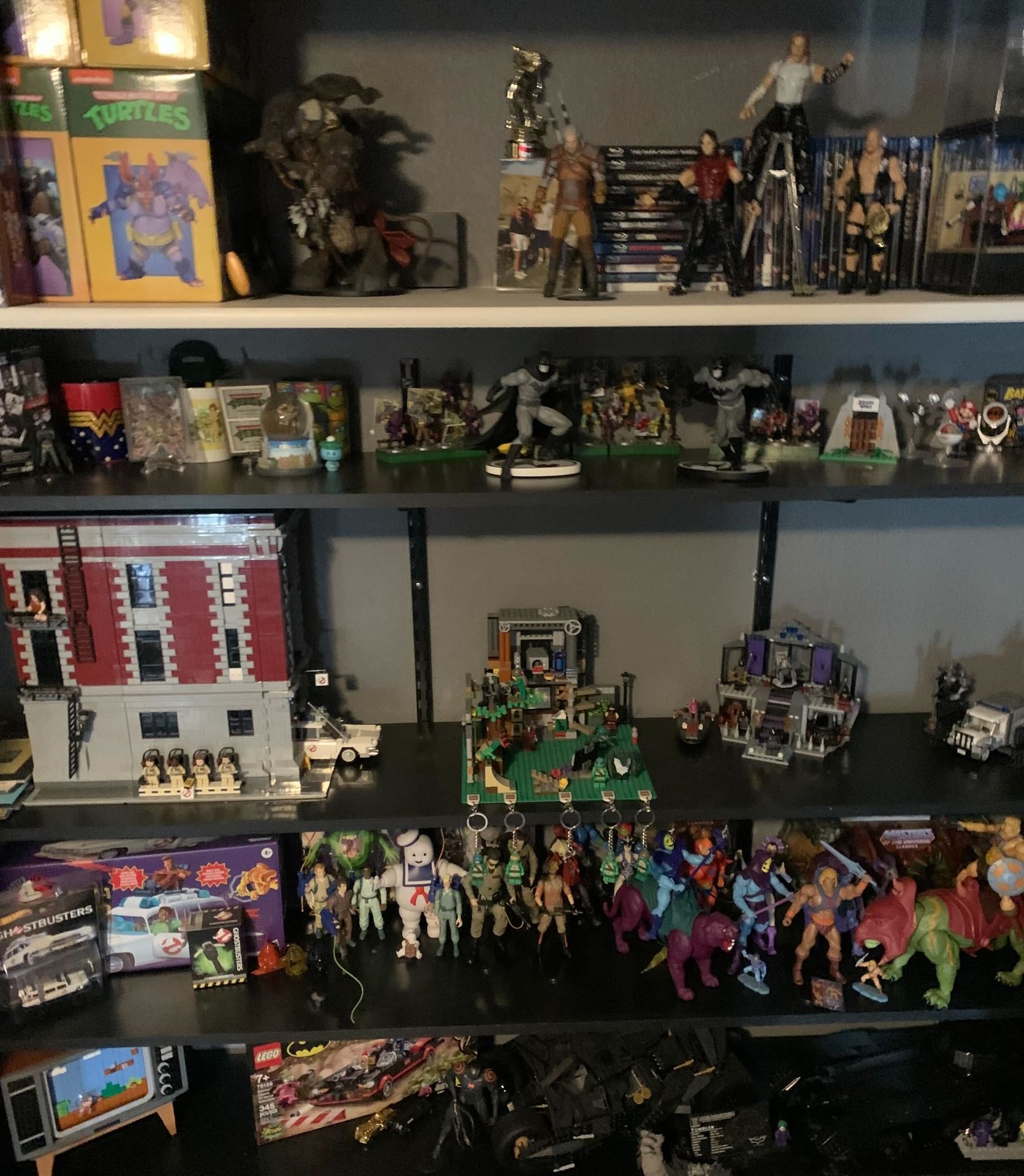 His favorite food is potatoes (boil 'em, bake 'em, stick 'em in a stew) and above all other holidays, he loves Christmas! With his birthday being on December 23rd, and having gotten married on December 24th, the whole season is worth celebrating. It's easy to see why he enjoys Christmas so much! His favorite movies are the 1991 live action Ninja Turtle movie, Christopher Nolans "The Dark Knight", Beauty and the Beast and of course, his favorite Christmas movie is Elf. A giant living in a world of Elves. Super relatable. 
As you can see, Cory is a pretty cool guy. I think we can all agree that your business is in good hands next to this BFG. Next time you catch him on a call or in a meeting, make sure to compliment his toy collection!
If you'd like to learn more about Cory, check out his employee spotlight!