Welcome to another Hibou Suite Spotlight. This is where I focus on just one of our many Hibou Suite modules that help you and your business run more smoothly.

Today we're going to talk about one of our newly completed modules, the Delivery Order Planner. In order to do that, we need to lay out a bit of the functionality that another of our modules, the Sale Order planner, provides.
The Sale Order planner gives us the ability to create both product and category-level overrides to make sure that any products that we may have that have special requirements, things like shipping from a specific warehouse or being shipped by a specific carrier, are handled in the most efficient way possible. 
Our Sale Order Planner also provides shipping methods that are selected by taking into consideration the delivery address of the order, the sale order lines and their associated order planner policies, as well as resource calendars that not only indicate the hours of operation for the warehouse that items are shipping from, but also available delivery days specific to the different carriers.
So with that in mind, what does our Delivery planner do? 
Inside the Inventory app, when processing our delivery orders, we will put the products in packages just like we normally would but now our module gets to work!
Packages on a transfer are rated and will show us the cost to ship that package with any of our available carriers' shipping methods.
Choosing the best shipping method is made easy as we have included a UI that displays all of our possible shipping options along with delivery dates pulled straight from our carriers APIs.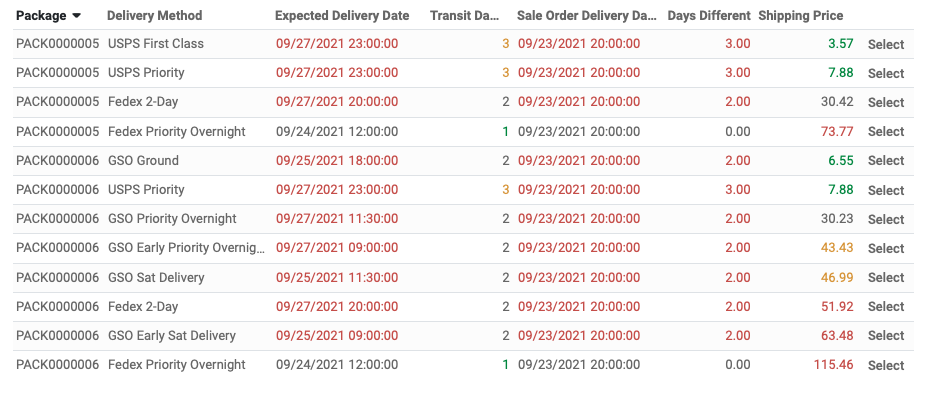 Here we can see everything we need to make the best decision to achieve hitting our promised delivery date or have items delivered earlier than expected, or we can look to save a little money by possible choosing a cheaper rate.
We can also split up this transfer into any number of separate and unique carriers necessary in order to meet our choice of shipping method(s).
I know I am just not doing these modules enough justice, but fear not! Our Lead Developer, one of our Co-Owners, the Founder of our company, that's right, Jared himself will be giving a talk about these modules at the 2021 Odoo Experience.
You can use this link to read more about the Sale Order Planner, or to see the list of other modules that we offer. You can also head on over to our Shop page and see what else we have been working on. 
Keep your eyes here and on our Youtube channel as our team will be participating in the 2021 Odoo Experience and Kaylie will talk about another of our modules: Our Signifyd Connector!  We hope to see you there!