Today I wanted to talk about something we use here at Hibou, a little tool that we install on our client's environments, and make available to anyone who is actively using an Hibou Suite module: Hibou Professional.
It all begins in the top right corner of your screen next to your user name. Now, we don't officially have a name for this Owl, some of us call them Owl-ey, some just say "our logo." I'll make it a point of order to get this guy a name. Until I get it approved and made official, I will, for now, call him Ferguson. But let's not lose focus!
So say you have purchased a module from our Shop page, you've received an email directing you to our github to install the modules and voila, Ferguson is now perched on your alert/notification bar.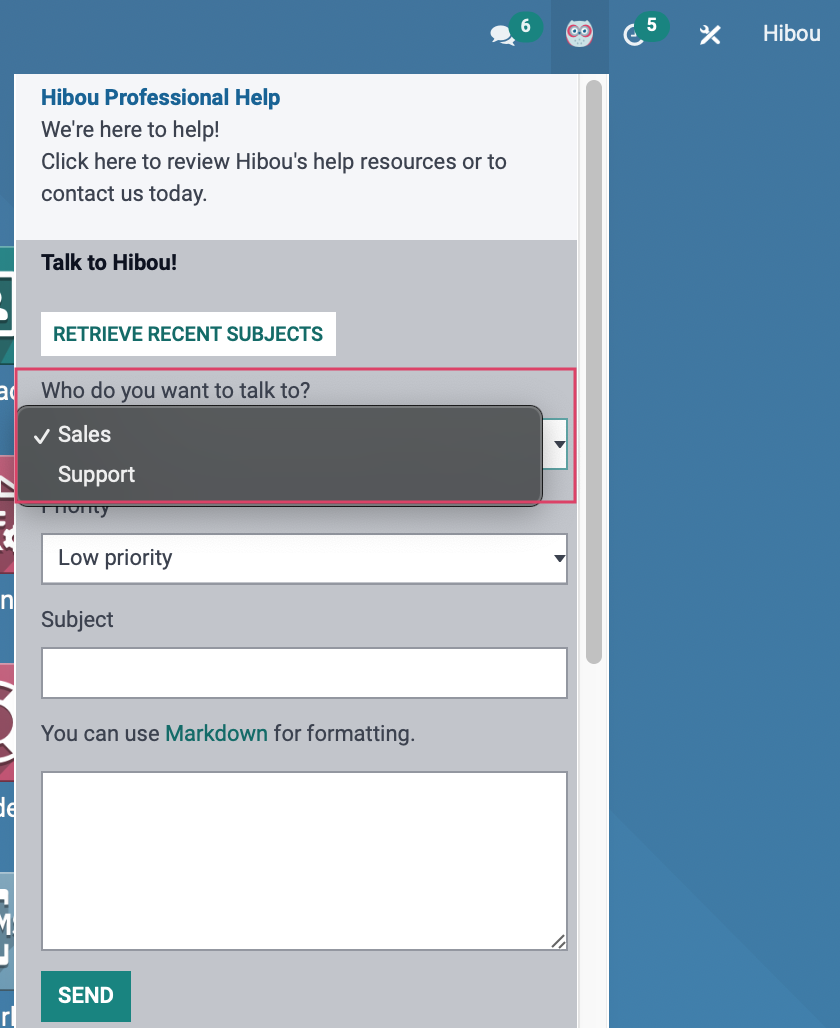 When you click on
Fergie's
icon, a drop down menu appears with several selections for a user to make. The first being, are you trying to contact our Sales or our Support? Sales is most commonly used for sales related questions, shocker, I know. Whether it be directions on updating a subscription or billing, Sales is the option to go with. Alternatively, if you are having trouble with an install or a module not working correctly, Support is the way to go. Clients with ongoing projects can also use this method to submit new tasks to us to add to their pipeline.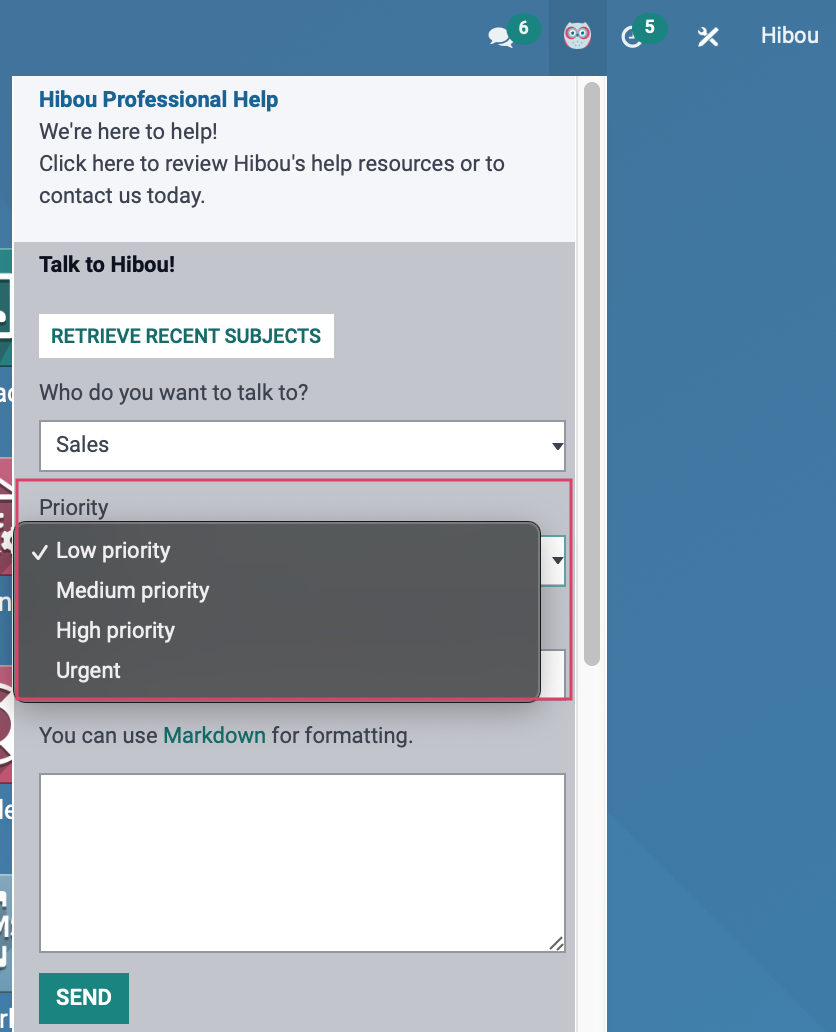 Now, you get to tell us how important your submission is. Are we talking "all hands on deck" emergency, or is this a "when you get a minute, look into" situation. Low priority means we will respond by end of day or on our next scheduled phone call, whereas Urgent means we are probably going to call or message you immediately to clear up whatever the issue may be. We have a few options for a user to set a priority, and then we move along to the next step.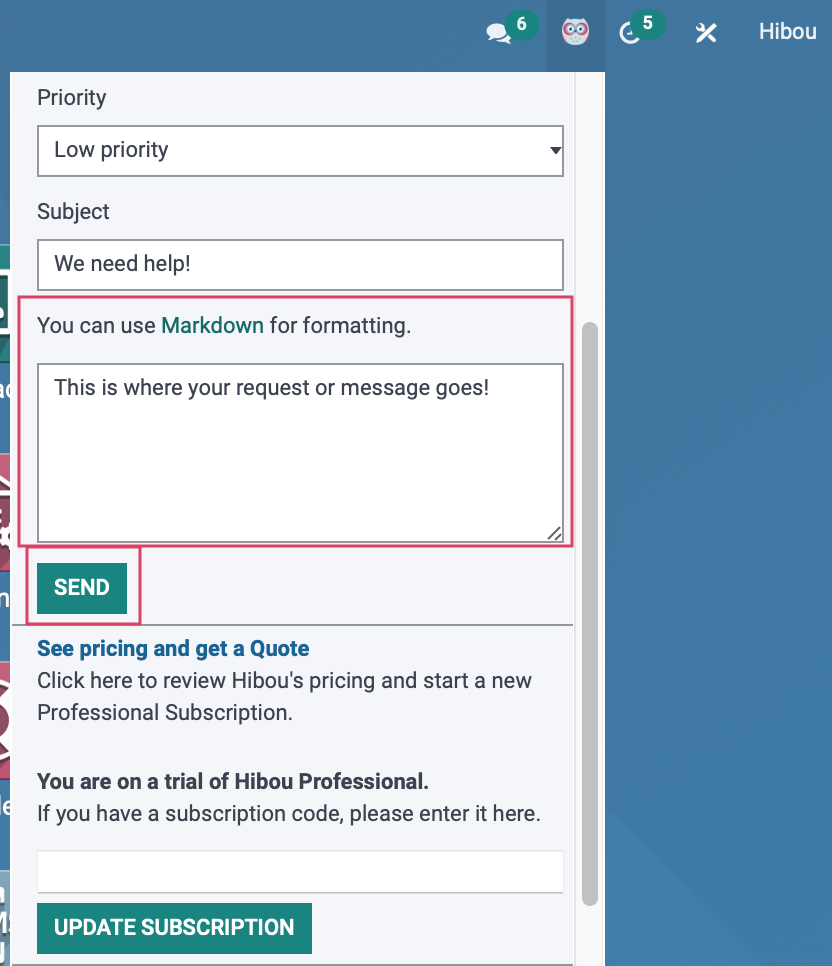 Below the Priority menu, we have our message filed. You can use Markdown to open a new page that will give you text options to stylize your message, or you can just enter in your details and click send. It's really pretty simple, but saves users quite a bit of time when they need to ask a question or submit a task to us.  
Scrolling right along, you'll see a link to
See Pricing and get a Quote
. Clicking this once will pull all of your information in regards to different modules you may be using or subscriptions you may have on your account. And clicking a second time will bring you to a quotation showing how much the next billing cycle will total based on that pulled information.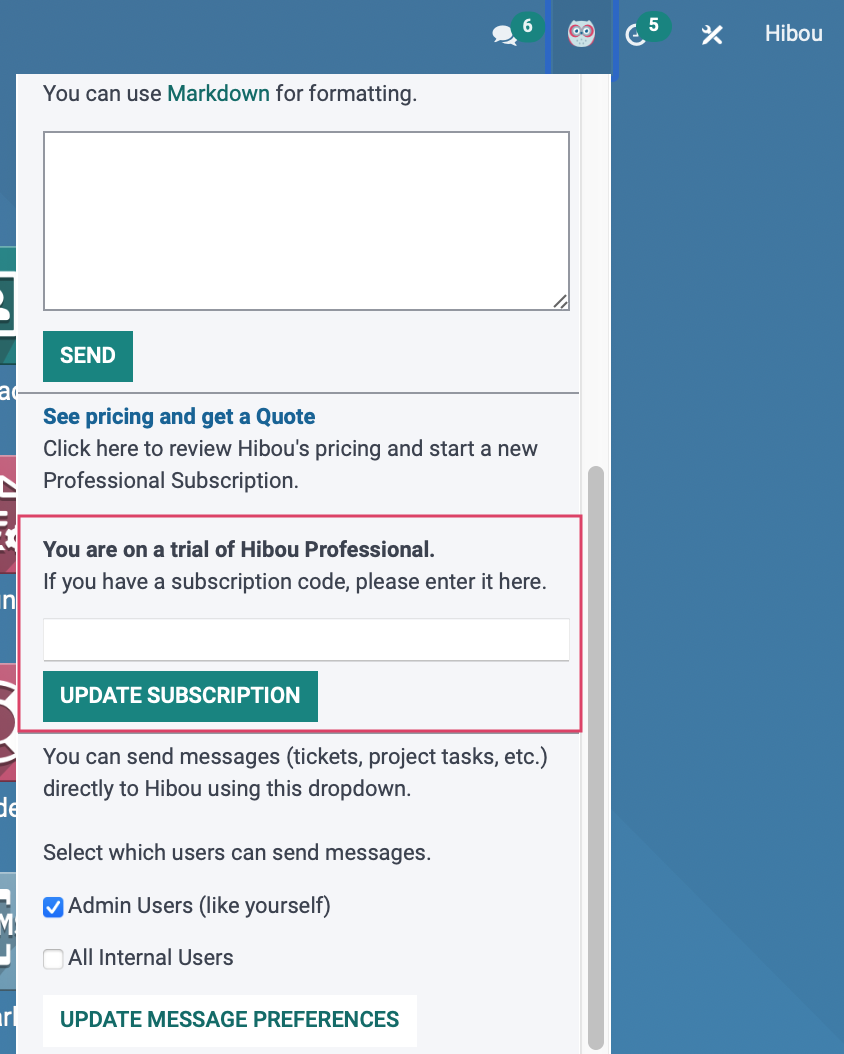 Everyone who uses Hibou Professional starts with a 21 day free trial. After the first week, you will be alerted to the trial soon expiring, and allow you to enter in a subscription code to keep your use of Hibou Professional active. Once a module or subscription has been purchased, you can click on your account name, go to My Account, and find the subscription code that is mailed to you. 
Lastly, Admin users will see the option to make Hibou Professional to either only Admin Users, or make it available to all Internal Users, so that the users themselves can submit support tickets or reach out for our assistance. And if you do change that user selection, click
UPDATE MESSAGE PREFERENCES
to save those changes!
There you have it. Another way that Hibou makes support and communication easier. Have questions, check out our
Hibou Professional FAQ
!