Here at Hibou, we are still working on growing our social media presence. We have been a company for 6 years at this point and in the beginning, we simply posted links to our youtube channel or our documentation. No preamble, no fluff, just "here it is." Granted, we still do those things, but we have also started to add some life to our streams. We aren't everywhere, and there are plenty of platforms where we could dip our toe in the water. Odoo's Social Marketing app is going to play a role in both our growth to other platforms but also our primary management tool for our feeds.
We currently use a hybrid system of the Odoo 13 Social Marketing app and hootsuite, but those are lacking in some areas and our days of using them may be short lived. In addition to those apps, we also go directly to Facebook, Twitter and LinkedIn to check up on metrics and for engagement purposes. As Odoo has made changes to it's Social app, so will we too adapt our methods to take advantage of the new functionality.
New in Odoo 15, Social Marketing has integrated with Instagram and Youtube. These are welcome additions as they previously only supported Facebook, Twitter, and LinkedIn. Now we don't currently use the Gram, but should we choose to, it is now an option. That said, Odoo has only given us the ability to create posts and it currently does not allow us to add to Stories or Reels, but they have said they are exploring those things, so we will have to check in on that down the road. As far as Youtube is concerned, we can now, from inside the Social app, upload and post our videos, create our titles and descriptions, all without ever leaving our own database.
Also new in 15, if you have a multi-company environment, you can select which companies to post for or post in multiple companies feeds all from one place. Not only that, but much like Hootsuite and programs like it, Social Marketing allows us to create and either post now or schedule for a future date across all of our accounts at the same time. A time saver to be sure.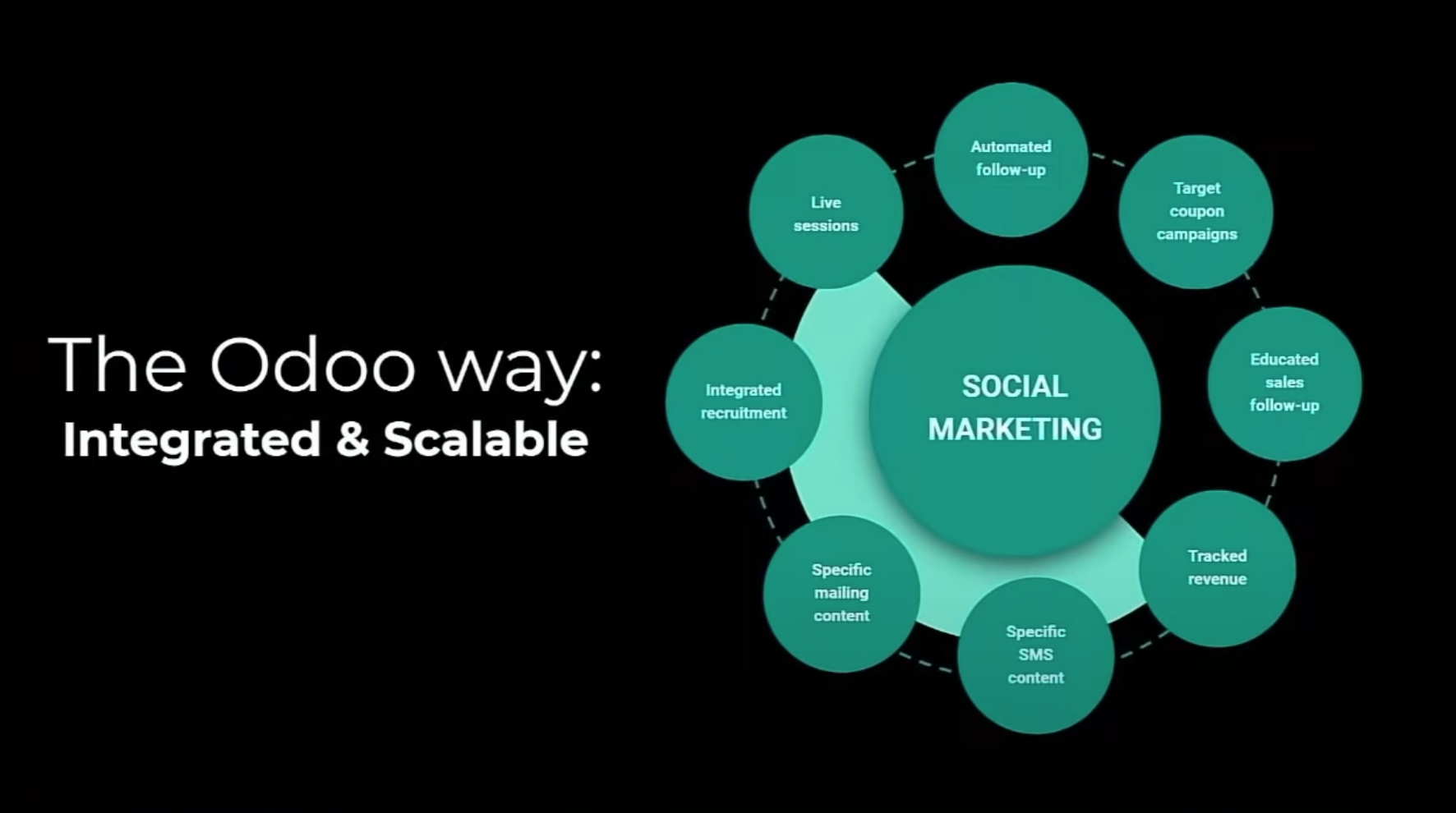 What makes Odoo stand out is it's integration with every other part of our business. Social Marketing can now be utilized if your company uses Events. In previous versions of Odoo, Events let's us communicate with attendees through email and SMS. That was it. Now, we can include the five social platforms I listed above. With a little configuration, we can boost communication with all the people on our list before, during, and after our event. To send out alerts to a client or potential lead via email, text message, Facebook, LinkedIn, Twitter, Instagram, and youtube? That is almost too much power for any person!
It doesn't end there. In CRM, we now have engagements on our social platforms to generate leads automatically. Use Social Marketing to create posts that integrate with Recruiting to find new team members. Connect LiveChat so that if a person comments on a post, we can open Discuss and continue the conversation in real time without leaving your own site. 
At a glance, we can see all posts, or all draft, posted, or scheduled posts for each app separately or all at once. We can pop into list view to see fields for just about whatever we would like our social posts linked to: leads, sales, clicks on your posts. These are also represented by smart buttons. Select a post and you will see:

I mentioned above using CRM in conjunction with Social Marketing. One more way Odoo has helped generate new potential clients is by the use of hashtags. We can create a hashtag, say #TeamHibou, and post that to our platform of choice (or all of them). Followers can then use that hashtag which will generate a lead, which can then quickly be turned into an opportunity. At that point, we send an RFQ and if all goes well, we've got a sale. All generated by a simple hashtag.
There's plenty to look forward here and I for one can not wait until we get our company migrated in the coming months.