Here at Hibou, quite a few of our clients use the Odoo Manufacturing application. It's efficiency, flexibility, and overall ease of use make it a pretty big draw as far as Manufacturing and ERPs go. I thought today, I would walk through the setup process for constructing a Bill of Material or B.O.M. and how that might look. 
So picture this: let's say you have been approached by a group of people, a Fellowship you might call them. And they have need to go do some adventuring, maybe take a trip, a journey even, and they need some items to get them there and back again. Does anyone see where I am going with this yet? Fellowship? There and back again? A picture of the Misty Mountains? I'm talking about Lord of the Rings, people! So let's say Lady Galadriel is looking to outfit our adventurers as they set out from Rivendell with some goods AND, she puts her elvish ways aside and instead uses the magic of Odoo. 
She would start by going to her Manufacturing application and clicking on Products>Bills of Materials, then clicking Create. 

Then, she will have to make a couple of BoMs to really show what Odoo can do. Starting with Lembas Bread, as we all know this group has a long way to go and will need the energy provided from this nutritious snack, she will set this product up as a Manufactured item, and add a couple of components needed in the recipe.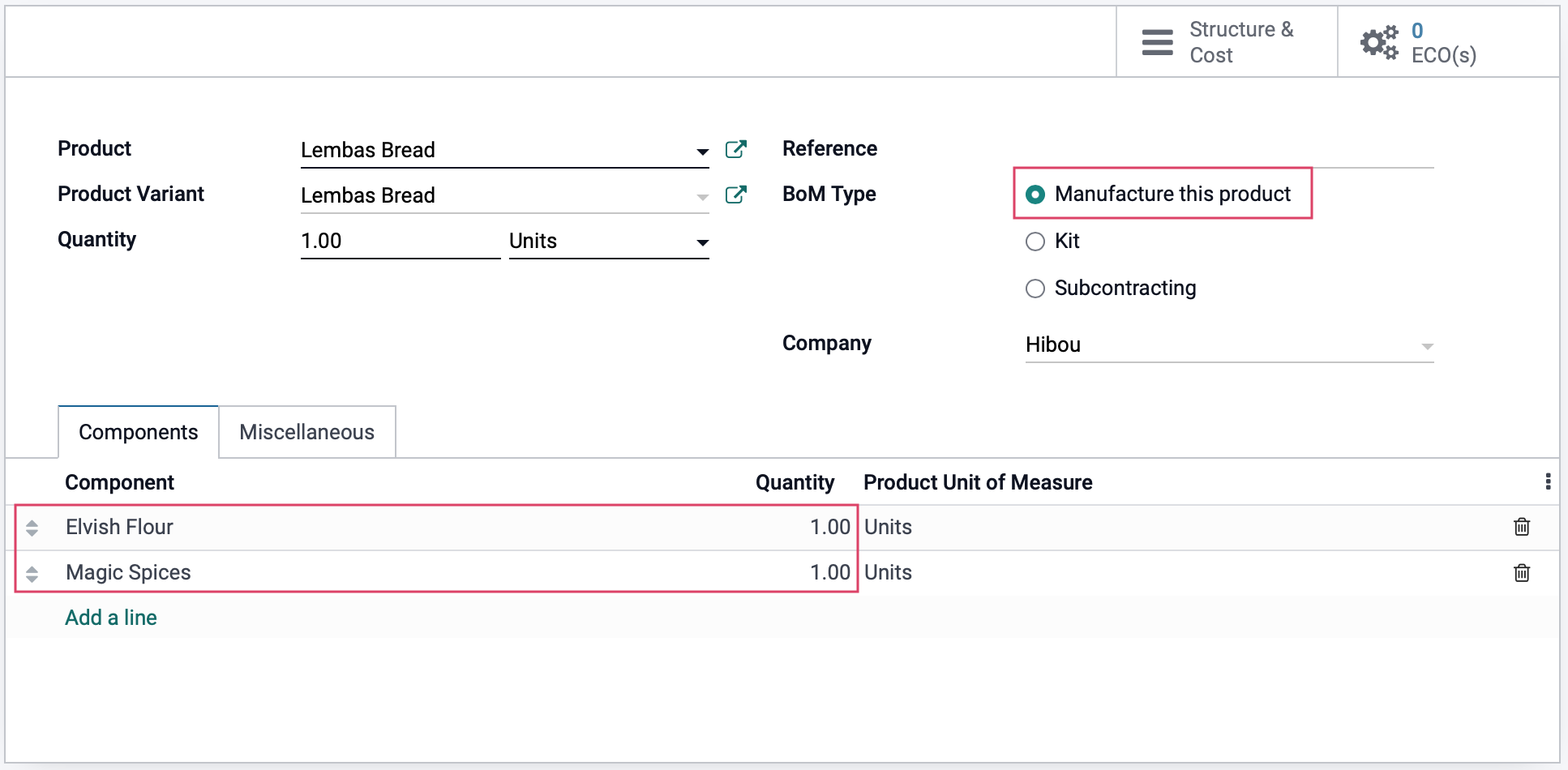 With that done, she can create a second BoM for a Fellowship Starter Kit which will include a healthy serving of our Lembas Bread, and an Elven Cloak to protect against the elements or prying eye(s).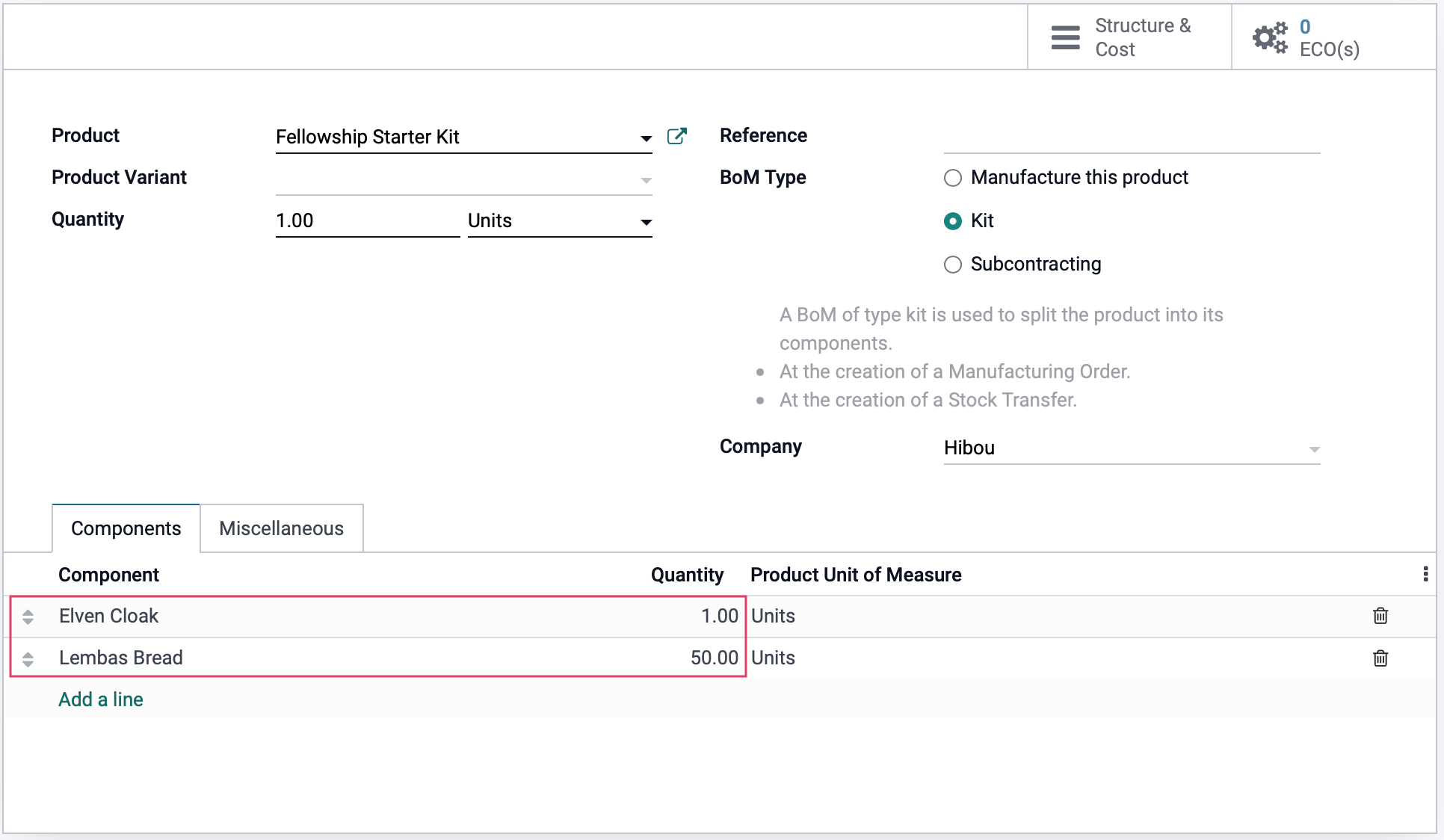 Now, you might be saying, "Cory, what about Sam's rope, or Frodo's phial containing the light of Earendil, or Gimli's weirdly requested lock of hair?" First off, weird Gimli, weird. Second, I would say, of course I know about the other gifts that were included in Galadriel's Fellowship Starter Kit, that is where variants come in. See, Odoo allows us to create variants of different products, like a cloak that can be offered in blue, or black, with the colors being used to differentiate them, which Odoo calls attributes. The same idea can be applied to our Kit. Behold, a simple variant for each fellowship member. Here, we can see Sam's Kit includes his Elven Rope.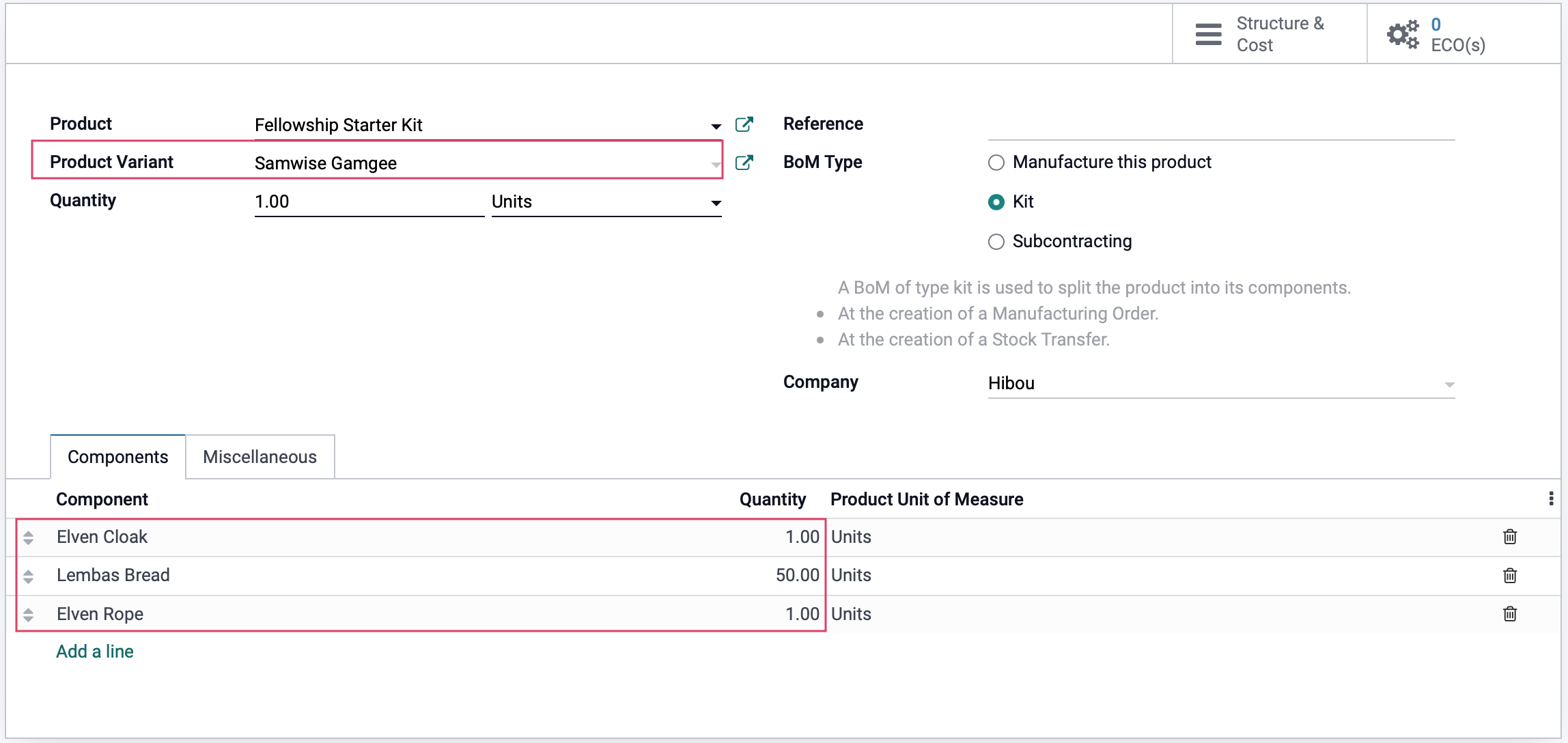 So our BoM, contains within it another BoM for our bread, a Purchased item in our cloak, and of course, our different variant products. So what does Odoo do to make everything come together? 
It all begins with preparation and configuration. Lady G needs to make sure that the bread is set up with the Manufacture route on the product template page under the inventory tab.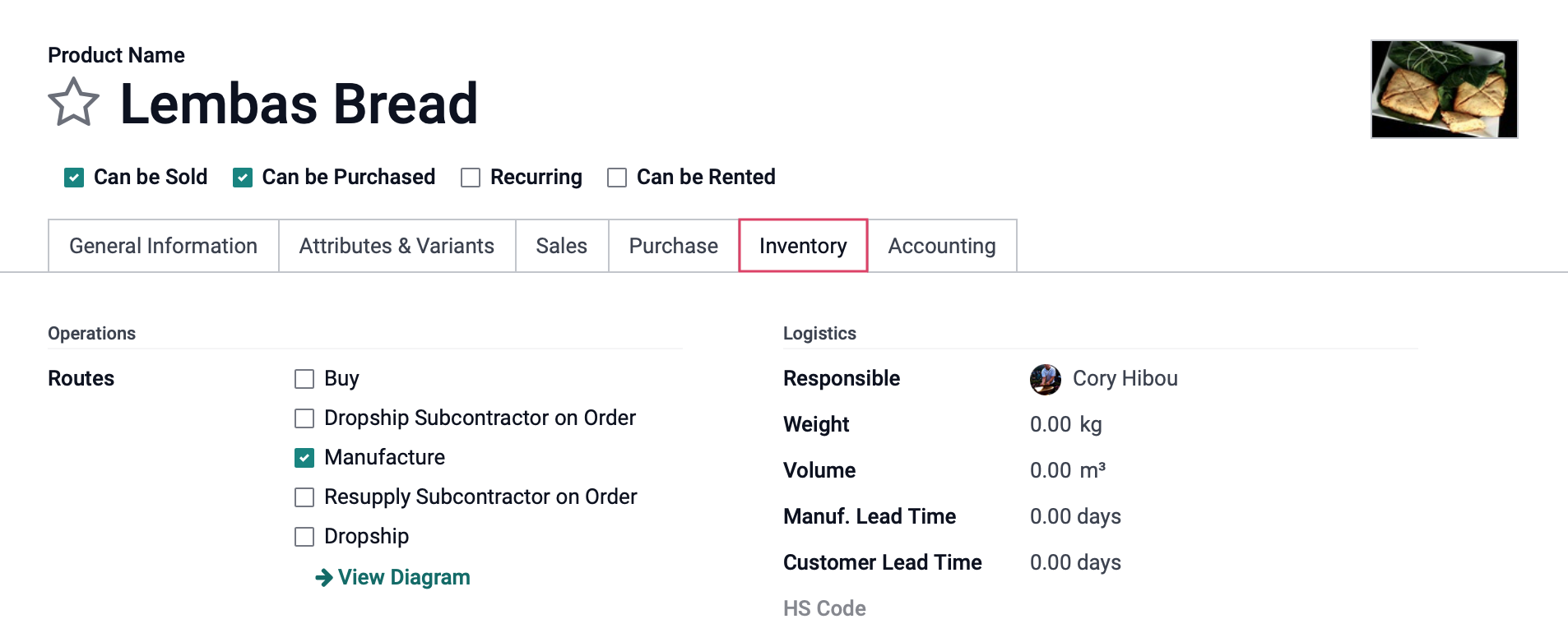 She needs to make sure that under that same tab on the product page for the cloaks that the route is set to Buy and that she has a vendor to purchase the cloaks from on the PURCHASE tab. She also needs to be sure we have the variant attribute items in stock in the warehouse to fulfill the order.

With everything configured properly, when the Sale Order is confirmed, Odoo will generate a manufacturing order to create our Lembas, a Purchase Order for our cloak, and the variant items will come from stock. Once the manufacturing order has been completed, once the purchase order has been fulfilled and received, and once Sam's rope is picked from it's stock location, then a delivery transfer can be completed and our team can get on their way. 
Thank goodness you don't need to travel Middle Earth to understand and utilize the power of Odoo.