Trimming the fat, shaving costs, cutting expenses, slashing overhead. 
When justifying the time and expense of implementing Odoo, often companies focus on these types of savings. 
It is true that Odoo can help cut your cost of production by 10% and help your sales team close 10% more deals. However, the effect of these changes is more than a 20% increase in profit, and looking narrowly at each change underestimates the real value of implementing Odoo. The real value lies in how improvements across a variety of areas interact to make you more money. 

In this article, we will focus on just a few examples to show how Odoo can help increase sales and reduce costs. Then we will look at an example model of how these changes can cause your yearly profit and company valuation to explode.

CRM & Sales Applications



Increase leads by converting web traffic into Leads: With Odoo, you can set up a website that drives Leads into your Sales Funnel, decreasing the cost of generating new Leads and making your team more productive.

Increase close rate with better control of the Sales Funnel: Refining a sales process is always a work in progress. Odoo makes it easier to control your Sales Funnel and make improvements over time. For more information about Sales Funnels, check out Setting up a Sales Funnel in Odoo. 

Better control of prices and discounts with Pricelists: Often, companies leave money on the table because they have few controls over pricing. Building controls into your system with Pricelists and tracked discounts will help you better manage your pricing.


Better visibility & control of Product Margins on Sales Orders: In Odoo, you can see margins on every sale—and knowing your margins makes it easier to increase them. Check out Hibou's Commissions module for an easy way to create incentives based on margins, not just based on revenue.

Better handoff of orders and projects between Sales and Operations: Many customers are disappointed by their handoff from the Sales team to Operations team. Not only does Odoo save you time in moving orders and projects through departments, but it also allows easy communication between teams, right on the customer's order. Happier customers leads to more sales. 

Purchase & Inventory Applications
 
Control Preferred Vendors and Approvals to purchase materials at the best price: With Requests for Quotation, you can easily determine which vendor offers the best deal. Then, use vendor Pricelists to ensure automated orders use the desired vendor, or set up a Purchase Agreement with that vendor.
Better visibility on current inventory across warehouses: Knowing your current inventory ensures you don't over-order. Finally, you'll enjoy having the right amount of stock at the right time. 

Real-time inventory valuation to better control working capital: You don't want all of your company's capital tied up in aging inventory or interest-free loans to late-paying customers. Odoo gives you visibility into these values to help you make better decisions. 

Better manage delivery timing and costs: The faster you prepare and ship out a product, the fewer costs there are associated with rush shipping to meet customer expectations. Odoo's shipping and delivery mechanisms make it easy to trim costs and time—a savings to both you and your customers. 

Lower admin costs with fewer people needed as you scale: As you begin to work more skillfully with Odoo, you'll find less manpower is required to run it. Free your team to focus on more productive tasks. 

Project & Manufacturing Applications

 

Set better prices with real-time costing on the product Bill of Materials: Real-time costing helps you understand the cost of the raw materials and labor that go into producing every product. This allows you to focus on sales of the most profitable products, or even trim lines that are not making you money.  

Increase billables with better time tracking and invoicing in Projects: The hard truth for many companies is that they could be making far more money by keeping better track of their billable hours. Odoo helps you track and invoice more efficiently, so hours—and money—don't slip through the cracks. 

Reduce inventory needs with Make to Order manufacturing: By only manufacturing and purchasing products when they are needed, you can reduce the amount of money you have tied up in inventory, and instead invest it where it counts.  

Improve equipment uptime by scheduling repairs: Odoo makes it easy to schedule periodic repairs to keep your machinery up and running, and reduce downtime.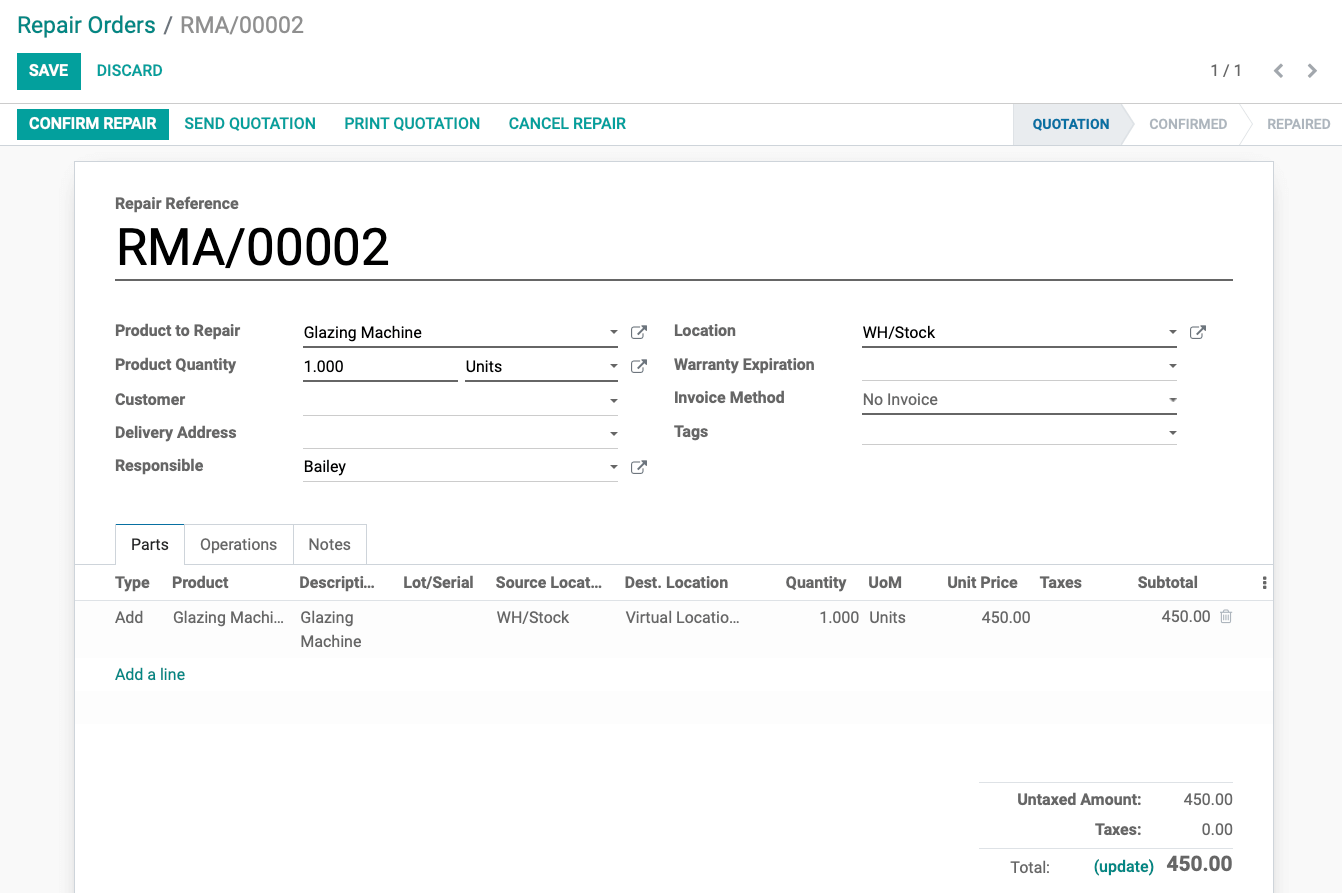 Track and fix bottlenecks with order planning: Keep your flow of work smooth and steady, and your workforce engaged and occupied, with advanced planning functionalities, such as Hibou's Sale Order Planner. 

HR and Payroll Applications

 

Lower cost of recruiting and onboarding new hires: Odoo can streamline the recruiting process, which has the potential to consume too much of your leadership team's time. 

Accurately track the attendance and payments for hourly employees: Avoid overpaying and underpaying employees by tracking attendance. Odoo gives you a number of tracking options, so you can use one or several according to your business needs. 

Better predict and control Payroll expenses: Odoo's Payroll application brings light to what can often seem like a murky, incoherent process. Hibou specializes in payroll customizations and can help you fine-tune and simplify your payroll. 

Better control time-off policies and costs: Carefully managing your employees' time off saves you money and heartache—for both you and your employees. 


Reduce admin time spent managing HR and Payroll: Because Odoo handles much of the administration associated with HR and Payroll, you can move employees on to more constructive work. 

Accounting Application
 
Recover outstanding Accounts Receivable with follow-up: Odoo helps you invoice and follow up quickly on outstanding payments, giving you the control you need over your company's finances. 
Better manage Accounts Payable and improve cash flow: Odoo's Accounting application offers countless ways to control and track outgoing payments, so you don't accidentally run low on cash. 


Real-time reporting to make management adjustments sooner: Reporting in Odoo is real-time, so you'll have the data you need to make immediate improvements. 

Reduce admin costs for managing Accounting: As in all other areas, Odoo takes much of the tedious accounting admin off your hands so you can focus on the work that grows your company. 

Investors and Your Business Valuation

A final way that Odoo can increase the value of your business is by changing how investors view it. A business with labor-intensive processes and few systems will fetch a smaller valuation than a business that has automated systems in place. This is true even for business with similar revenue and customers. Implementing Odoo can ensure your business will trade at a higher EBITDA multiple when it's time to harvest your hard work.

Odoo and Your Business Valuation

There are dozens of ways that Odoo can reduce your costs and drive sales. However, to see how these changes will improve your profitability, you need a financial model. Download this example and enter some rough estimations on your revenue, expenses, and growth to see the effect that implementing Odoo could have on your business. 

If minor automation can dramatically increase the value of your business, what could more extensive automation and customization do? Find out—contact Hibou today for questions about Odoo and Hibou's time-saving customizations.