Hibou Odoo Suite Enterprise

:
State of North Dakota: Obtaining a TIN + Unemployment Insurance
Purpose
The purpose of this documentation is to outline the processes and requirements associated with becoming a new employer in the state of North Dakota. Specifically, we will be covering how to obtain a Tax Identification Number and Register for Unemployment Insurance. 

Good to Know!
Note: Federal Employer requirements (obtaining a federal identification number, withholding of federal income tax, and FICA and filing of all applicable federal returns (FUTA, 940, 941, and 1099-C) will not be covered below - just the state of North Dakota's requirements. Click here for a basic (not all-inclusive) IRS checklist for Starting a New Business.

Register for Income Tax Withholding
Good to Know!
If you have already registered for income tax withholding, skip to the next section.

An employer is required to withhold North Dakota income tax from wages paid to an employee if the employee performs services within North Dakota and the wages are subject to federal income tax withholding.
Every employer required to withhold North Dakota income tax must register with the Office of State Tax Commissioner by completing and filing the Application to Register for Income Tax Withholding in Taxpayer Access Point (TAP), the online tax filing and account access application.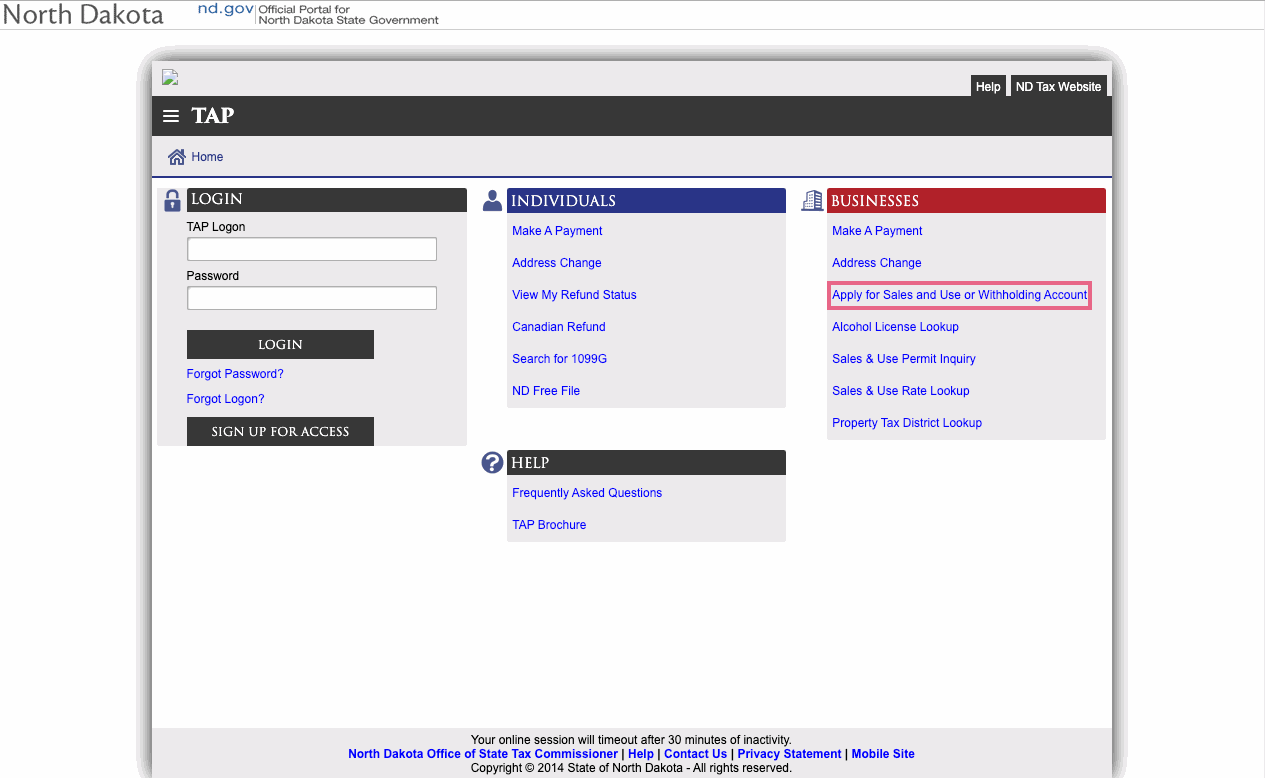 Register for Unemployment Insurance
Employers that must pay Unemployment Insurance include:
Any employer with one or more workers during 20 different weeks in a calendar year or who has paid $1,500 or more in wages in a calendar quarter.

Any employer who acquires the business of another liable employer.

Any employer employing workers in North Dakota who is liable under the Federal Unemployment Tax Act (FUTA).

Political subdivisions and Indian tribes or business enterprises wholly owned by Indian tribes become liable immediately upon employing any non-excluded workers.
An employer must file a Report to Determine Liability either online or by filling out a paper copy and sending it into the UI Tax and Field Services Office within 20 days after first employing workers.

On the web- site, click on Create Account.