Hibou Odoo Suite Enterprise

:
State of Hawaii: Obtaining a TIN + Unemployment Insurance
Purpose
The purpose of this documentation is to outline the processes and requirements associated with becoming a new employer in the state of Hawaii. Specifically, we will be covering how to obtain a Tax Identification Number and Register for Unemployment Insurance. 

Good to Know!
Federal Employer requirements (obtaining a federal identification number, withholding of federal income tax, FICA, and filing of all applicable federal returns (FUTA, 940, 941, and 1099-C) will not be covered below - just the state of Hawaii's requirements.  Click 
here
 for a basic (not all-inclusive) IRS checklist for Starting a New Business.
Registering for a Withholding Account
Good to Know!
If you have already registered with the Department of Taxation, skip to the next section.
Each employer must apply for a Hawaii Tax Identification Number.
You may apply for a Hawaii Tax I.D. No. by completing Form BB-1 and filing it with the Department. Applications may also be submitted online on the State of Hawaii, Hawaii Tax Online website.
Once there, click on Create Logon under Sign Up Now.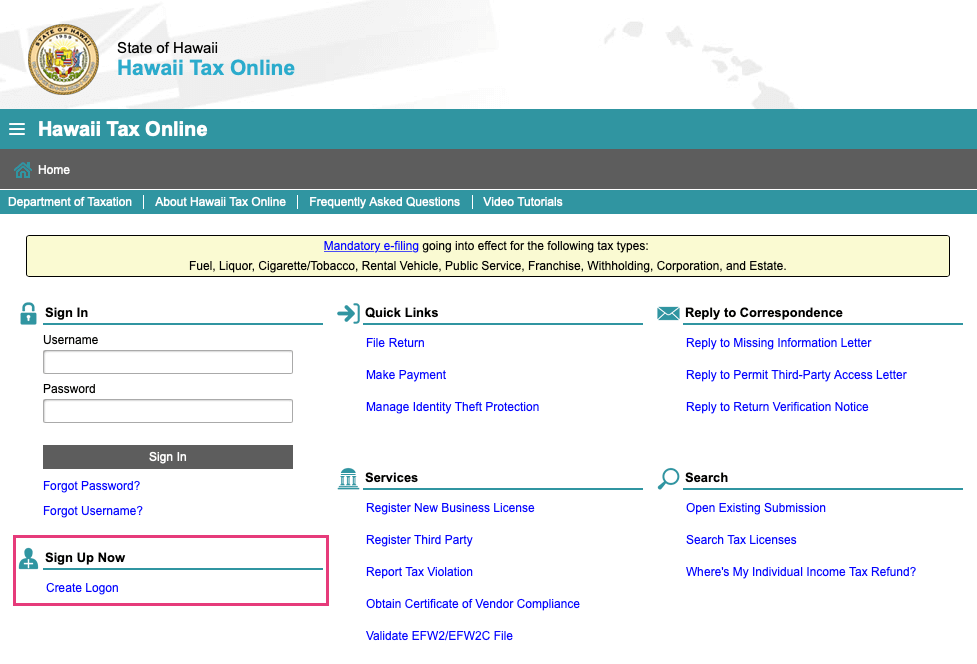 Register for Unemployment Insurance Account Number
Every individual or organization which becomes an employing unit must file a status report within 20 days after hiring an employee. A determination of liability will be made, the subject employer will be assigned an Unemployment Insurance account number and tax forms will be furnished when a current or past liability date is established. Valid identification numbers are never pre-issued before the liability date. 
To register for an Unemployment Insurance (UI) account number, visit the State of Hawaii, Unemployment Insurance website. Click the Register for UI Account Number button.

Note: Registration and claims can only be submitted during business days and hours. The website will display a System Not Available message during off-hours.