Hibou Odoo Suite Enterprise

:
State of North Dakota: New Hire Reporting
Purpose
The purpose of this documentation is to outline the processes and requirements associated with reporting new hires in the state of North Dakota. 

In North Dakota, you are required to report new hires to North Dakota Child Support Human Services. 
All employers must report all newly hired employees to the State Directory of New Hires within 20 days of the employee's first day of work. A newly hired employee is an employee who was not previously employed by you or was previously employed by you but has been separated from that previous employment for at least 60 days in a row and has now returned to work for you. 
Report all full time, part time, and temporary employees, both adults and minors, even if it is known that the new hire does not have children. 
You'll need the following information for each new hire:
Employee's Name

Employee's Address

Employee's Social Security Number

Employee's Date of Hire

Whether or not health insurance is offered

Employer's Name

Employer's Address

Employer's Federal Tax Identification Number
You can report new hires in several ways:
If you employ more than 24 employees at any time, you must submit new hire reports through an electronic method. The easiest method is reporting through the State Directory of New Hires. Once on the website, click Login to Report New Hires Now.You can also submit electronically through Web file transfer. You must contact Employer Relations at (701) 328 7528 or via email at [email protected] to set up a Web file transfer.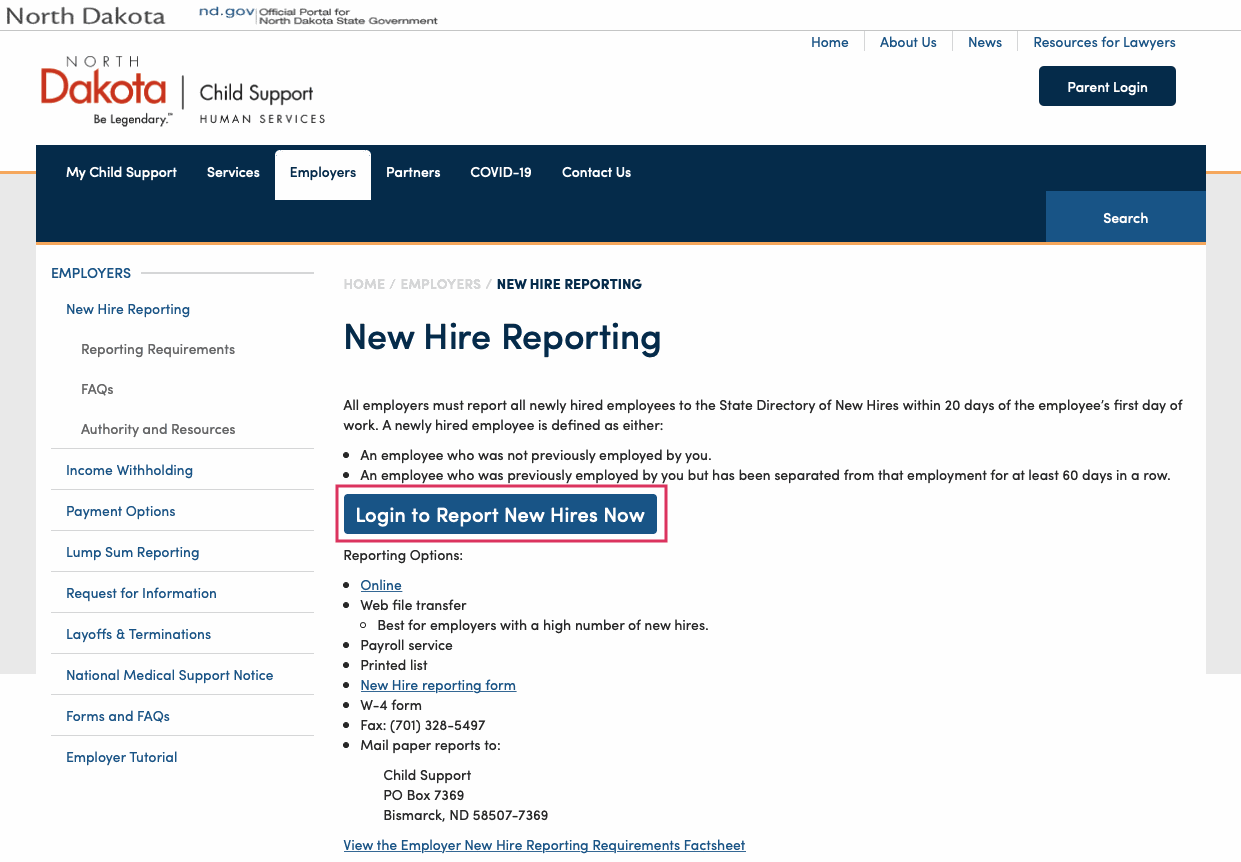 If you employ fewer than 25 employees, you are still encouraged to report online through the State Directory of New Hires. However, you can also report through a payroll service, or by submitting a New Hire Reporting Form, a printed list, or a W-4. You can send or fax the report to:
Child Support
P.O. Box 7369
Bismarck, ND 58507-7369
Fax: (701) 328 5497
For more information, please refer to the Reporting Requirements page, the New Hire Reporting Requirements factsheet, or the FAQs page on the State Directory of New Hires website. You can call the Child Support office at (800) 231 4255.