Hibou Odoo Suite

:
Helpdesk RMA
Purpose
The purpose of this document is to review the functionality of the Helpdesk RMA module from the Hibou Odoo Suite Enterprise. 
Getting Started
First things first! We need to install the module. Navigate to the Apps application, remove the Apps filter in the search bar and then search for "Helpdesk RMA". When ready hit the Install button. 
Good to Know!
The Helpdesk RMA module requires the Helpdesk application and the Hibou RMAs module. However, if you do not already have these modules installed, Odoo will install them for you during this module's installation. 
Processes
To get started, navigate to the Helpdesk application. 

Select the Tickets button for the support team that you want to view the tickets for. Select a ticket. 
If the customer associated with ticket that you are viewing has any RMAs in the system, you will see the total number of their RMAs listed on the  RMA smart button on the top right of the ticket.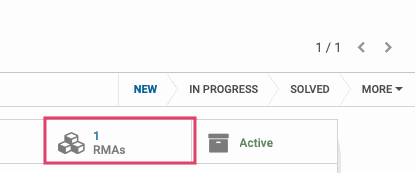 If you select the  RMA smart button, you will be taken to a list view of the customer's RMAs and can review them as needed to resolve the ticket inquiry.