Documents

:
Documents Overview
Purpose
Documents and videos can be stored and sent from Odoo. With digitalization, it's possible to import an invoice from a vendor or customer and create a correlating record in Odoo. Sign templates for employee hiring and tax forms can be initiated through this app as well, streamlining your onboarding process.
Process
To get started, navigate to the Documents application.

Settings
From the navigation menu, select configuration > Settings. Within the settings of Documents, you will able to activate three folders that link to other applications within your Odoo database.
Products, Projects, and Accounting all have specific, top-level folders that enable the sharing of documents to these other apps. It is possible to create folders within the Document app that do not interact outside of it, as well.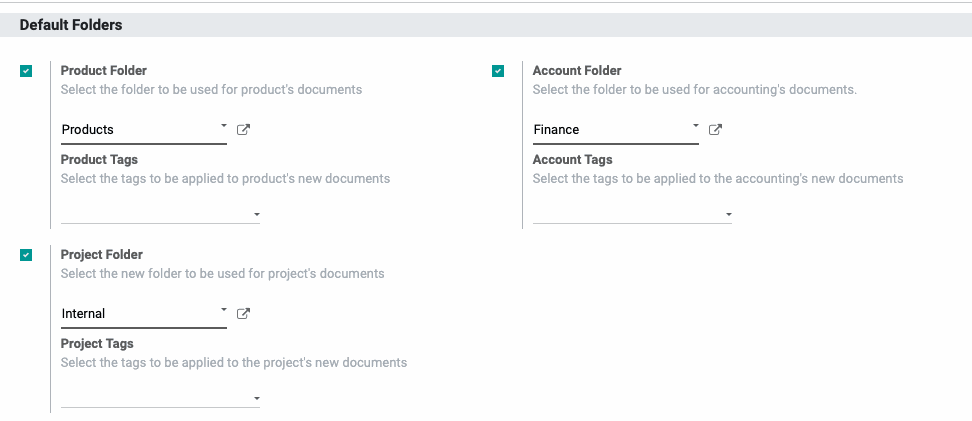 Once a folder is activated, you will be able to assign a default tag to the documents added. These tags are customizable and the rulesets they entail will be covered later in this document.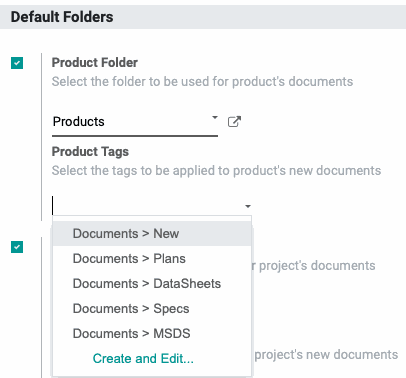 Document Overview
The first screen you land on in the app is the Document Overview workspace, where you will be able to preview, edit, and share documents contained in your database. To the left are the Folders, Tags, and a quick sort option to filter documents that have a task or no designated source. Documents can be quickly uploaded by dragging and dropping into the center column.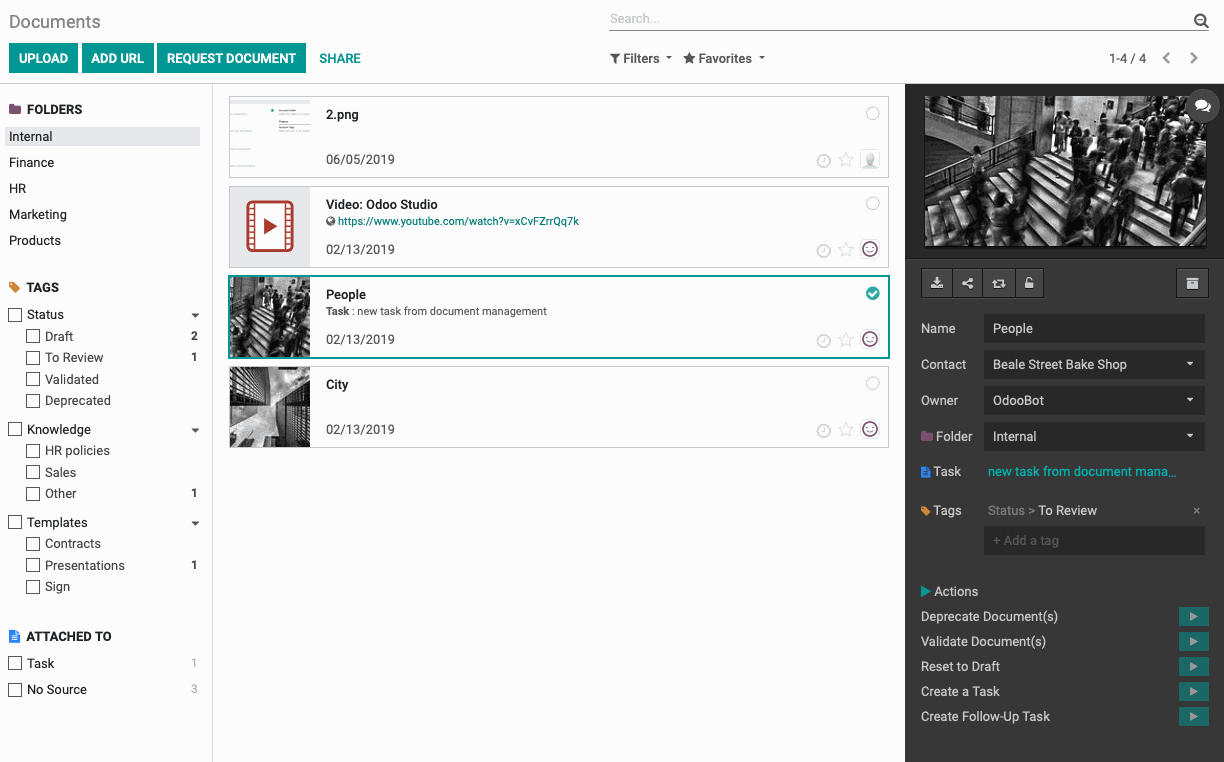 The right of the window contains a gray column with the available document actions.
Chatter  : Hidden in the top right corner, this opens the generic chatter feature of Odoo.

Download  : Save the file to a local computer.

Share  : Create a link to share this document outside of your database for a specified timeframe.

Replace  : Update the document's contents without changing its criteria.

Lock / : Allow editing of the Document.

Archive  : Remove the document from view without deleting it.
Below that are the changeable fields used to organize the document within Odoo. It is very easy to edit the Name, Contact, Owner, and  Folder from this list. Associated  Tasks will appear as a green link following the fields section, and below that are the  Tag and  Action modals, discussed in more detail later in this document.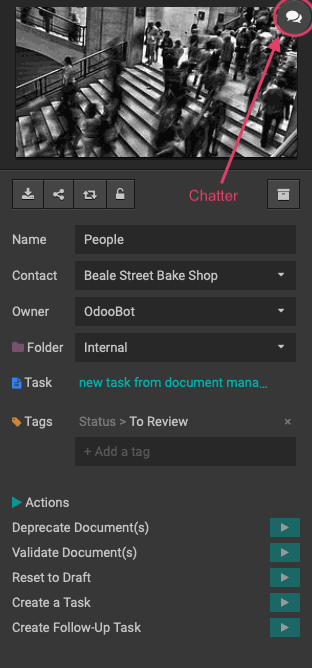 Folders
To edit the available folders, navigate to Configuration > Folders. Folders are the method use to sort and organize your documents into various departments. As you can see below, new folders can be assigned a parent folder to allow for nesting. 
Nested folders will inherit the tag categories of the parent folder, but will allow you to add more specific tags as needed that will not be reflected in the higher level folders.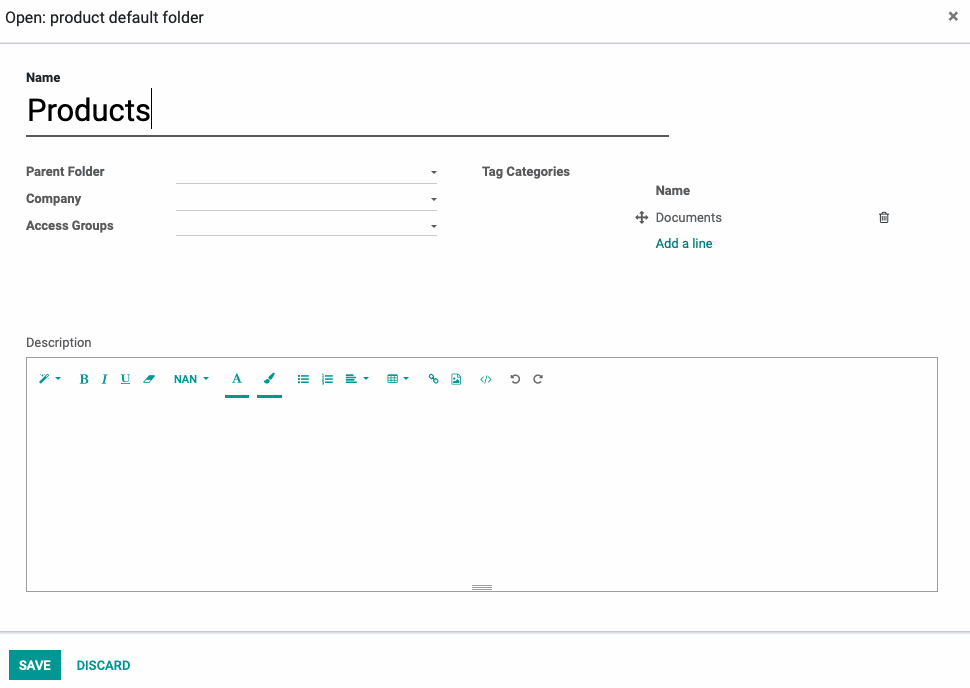 Name: The title of the folder.

Parent Folder: If applicable, select the folder this folder belongs to, i.e. Marketing > Content Marketing.

Company: Used in multi-company databases to distinguish important files between companies.

Access Groups: Select the user groups that will have access to these documents.
Tags will be discussed later in this document, but serve as a workflow organization tool for documents in Odoo. They are created in sets and assigned to folders as needed. Tags, coupled with Actions, provide quick and easy options to manage the degree of attention a document receives. 
Tag Categories: Select the tags appropriate to this folder's workflow.
Below is an example of how folders appear in the Document overview screen.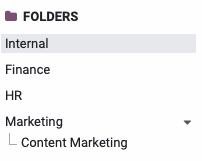 Tags
To edit the available tags , navigate to CONFIGURATION > Tags. Tags are organized into categories that function as either descriptors or workflow stages. It is possible to add several tag categories to a folder at once. In the below example, there are three 'Status' categories assigned to various folders, and each may contain a variation of tags dependent on the document strategy.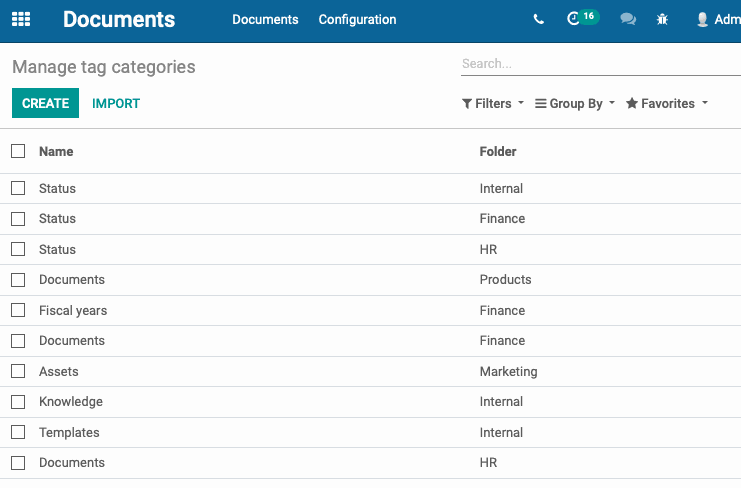 To create a new tag category, navigate to Configuration > Tags , and click the create button.
Title your category, and select which Folder you'd like to apply it to, and provide a Tooltip to describe its use case. 
In the Tag section, add as many descriptors as you'd like and then Save.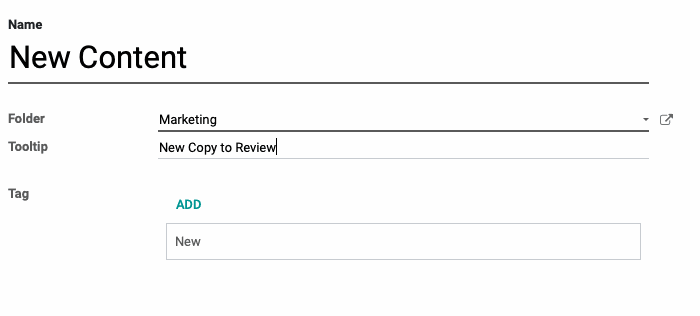 In the Document Viewer, the tags will appear below the Folder list in the order they were created. If it is a status category, they should be rearranged to reflect the status workflow of the document. To the right of the tag, the number of documents currently using it is visible.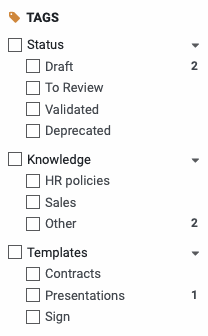 Actions
To edit the available actions, navigate to CONFIGURATION > Actions. Actions can be customized to perform a number of tasks from a document source. 
Below is a sample of some stock actions within your Odoo database. To start a new, customized action, click the CREATE button.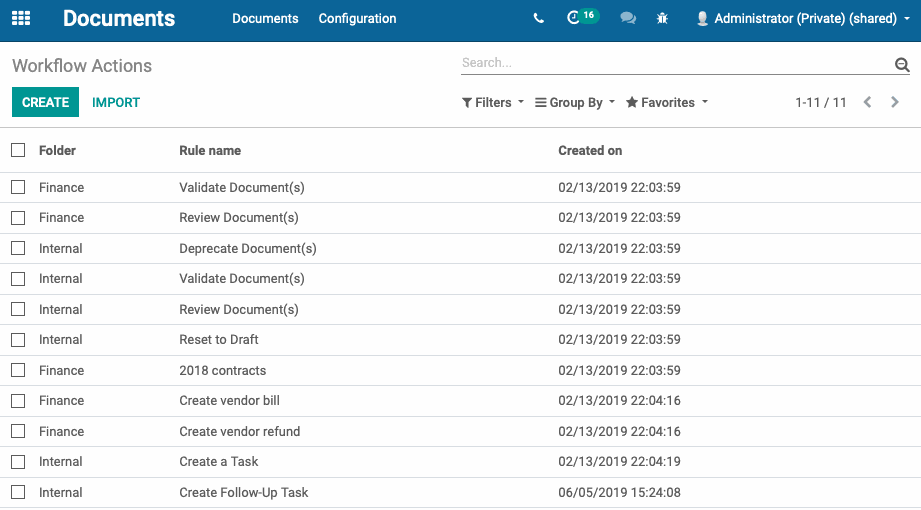 Good to Know!
To make the choice for Criteria or Domain, you'll need to be in debug mode.
Criteria
On the Conditions tab, choose whether you're changing a Criteria of the document or creating a new Domain filter. Creating a new criteria action will require an assigned folder, and you have the option of choosing under what circumstances this action will appear in the Tags section. 
Operator: Decide whether this action will appear when a certain tag is present or not.

Category: Select the tag Category.

Tag: Select the tag.
If desired, a Tooltip, Contact, and Owner can be assigned here as well. Note, that if a contact is assigned, the action will only appear when the document is linked to that contact, allowing for a large degree of customization.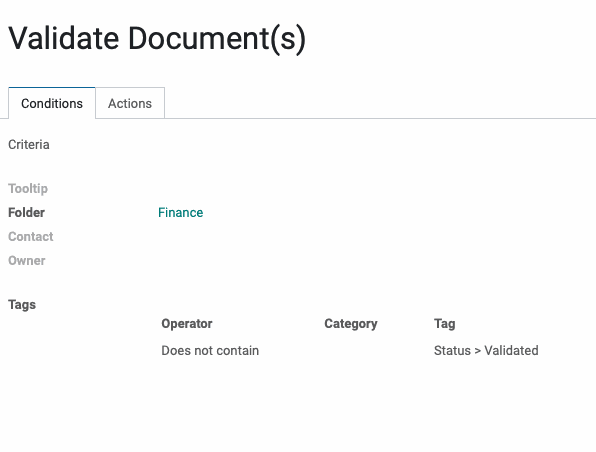 The Actions tab allows you to define what you like this action to do. 
Create: Select either Product Template, Vendor Bill, Credit Note, Vendor Credit Note, or Task.

Set Contact: Choose the contact associated with this document and action.

Set Owner: Choose the employee that own this action and document.

Move to Folder: Choose where the document will be saved once action is completed.

Set Tags: Edit the final tags to be applied when the action is used.

Mark All Activities as Done

Create a New Activity

If selected, an Activity section will appear below the checkboxes, allowing you set the Type, Summary, Due Date, and person responsible for completing it.
Domains
Domains allow you to set specific filtering rules on the action so that it only appears on eligible records. Hibou can assist with the configuration of this step if needed! The same options appear on the Action tab regardless of which format you choose.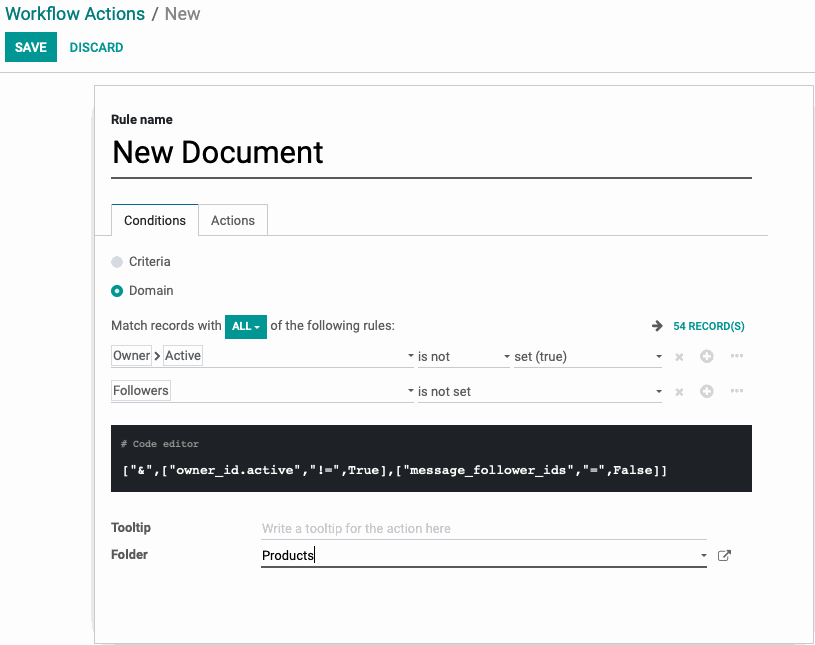 Digitalization

Documents can be uploaded and assessed by Odoo to find relevant data and create a correlating record. When a vendor bill is uploaded, for instance, the action Create Vendor Bill  will present the following blank record with a new smart button.


Select Send File through OCR to trigger the digitalization. A banner will appear warning that the process can take up to 60 seconds.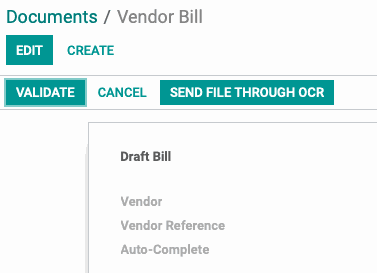 Once complete, the data pulled from the document will populate in the fields, and the draft can be saved and validated as normal.
Actions will be available to you in the bottom right of the screen once a document is selected.
Shared Links
It is possible to share both individual documents and entire folders with clients and vendors outside of your Odoo database. When you select a document and click the  Share option, you will be presented with a modal window.

You will be able to copy the link directly from the modal window using the  Copy Text button.
Name: This is the title of the link as it appears to the recipient.

Valid Until: Set an expiration for external access to these files. 
When finished select done. 
Shared links can be edited if they are not set to automatically expire. To see all of your shared links, navigate to Configuration > Shared Links.
Depending on whether you've shared the Domain or the file, your clients will see one of the following: