Team Hibou
Virtual workforces are becoming the new norm, and Hibou is no exception. Our team members come from a variety of different backgrounds, and are scattered across the United States.
When working with remote companies, it's always helpful to put a face to a name, so we welcome you to the next entry of our Employee Spotlight pieces!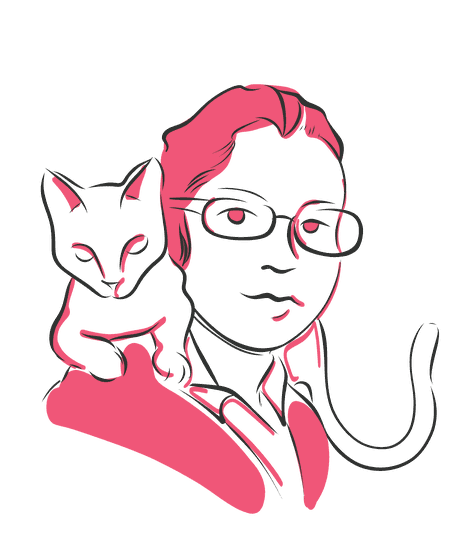 First things first, phonetically, her name is pronounced "Mi-shy-ul." Not that she's picky about it, Mishael responds to just about anything so long as you put some respect on her name. Mish, DLC (a play on her last name De La Cruz, and also a nod to gaming, one of her many hobbies), Padawan, she answers to all with the same level of attention and helpfulness. She joins us on our Slack calls from Wisconsin, but has lived and visited many different places. As one of the newest Owls in the nest of Hibou, let's get to know Mishael!
What is Mishael's role at Hibou? What does that look like on a daily basis?
As a Junior Project Manager, Mishael makes sure to assist the primary PM in any way that she can. This can include taking notes during meetings, helping to research and troubleshoot issues that arise, creation and adjustment of documentation for training, and even create and monitor tasks for projects that she participates in. She keeps a keen eye on Slack and email for any communication from clients and coworkers for anything she can assist with. She also trains regularly on her reaction time to have one of the fastest clicks in the company when it comes to responding with an emoji. 
What was Mishael up to before coming to Hibou?
For the past five years, Mishael studied Systems Engineering alongside her fiancé, in Trujillo, Peru. Just before Covid hit, she became extremely ill and developed pericarditis, a swelling and irritation of the tissue that surrounds the heart, and was forced to move to the US for the last semester of her college degree. As fate would have it, she had mere days before the borders closed, but luckily, her university went into full online mode and she was able to finish her degree a few months later. 
While recovering, she started working as a Coordinator/IT Assistant Manager for a company called Breezy Hill Nursery. After graduating, she began working closely with an Hibou Senior Project Manager, Mara, and the two worked well together to accomplish many tasks and put together training sessions for her colleagues. Mishael had been using Odoo for IT equipment management and helpdesk tickets, but working with Mara gave her the opportunity to learn even more about Odoo. The two worked so well together in fact, that it opened a door that Mishael had not even fathomed to have existed, which led this small owlet to leave Breezy Hill and take flight to then land in Hibou's nest. She now sits as a young apprentice, learning from the masters, and watching the entire team soar to new heights. She hopes to one day soar alongside them as a full fledged member or the Hibou team, and be recognized for her courage, perseverance, and humility. 
As optimistic as she is, she does have a couple strikes against her. She has been told that she has a sort of "Spidey-Sense" when it comes to inadvertently finding a persons weak spot. If you have a bruise, or recently gotten a shot in the arm, Mishael has a way of hitting that area, apparently unaware of your sore spot. It has also been noted that she once bought raspberries, forgot about them, and had to throw them away completely uneaten after they had rotted.  She is a member of Hibou to be watched for the promise she shows in her work, but also, to make sure she doesn't punch you when you have an owie. 
What is Mishael's favorite thing about being on Team Hibou?
Mishael really enjoys the fact that everyone on the Hibou team is self-driven, and are excellent teachers, each with a different style and area of expertise. This makes for a diverse team, and an excellent resource for learning. On top of all that, everyone has a unique sense of humor and for the most part, she gets a good laugh out of some of the topics posted in our #random Slack channel. We have a very fun but diligent and hardworking team, and she is glad to be a part of it. 

What's something new or helpful Mishael has learned since joining the company?
Mishael was pleasantly surprised by how closely we work with our dev team as Project Managers. She personally enjoys getting to learn from them and hopes to understand more about how Odoo works from a dev perspective so she can properly communicate issues with them, and offer better solutions for client tasks based on that knowledge. 
Enough about work! Outside of Hibou, what sorts of things does Mishael like to do with her time?
With her father's family from Peru, and her mother's from Mexico, traveling is an added bonus in life for Mishael. With one older brother, and two younger sisters, loneliness and boredom are pretty seldom! With such a background, she has basically inherited the ability to cook delicious food, and an appetite for adventure! With family in Peru, Mexico, and across the United States, Mishael enjoys traveling and hopes to one day visit Korea and Japan. 
She enjoys shooting, an activity her family has a history of participating in competitively, and that she too hopes to soon take part in. She also has a love of martial arts, having practiced Judo, Taekwondo, and Kickboxing from a young age. Don't be mistaken, this woman is dangerous!
Mishael has so many hobbies! From soccer and basketball to puzzles, board games, and listening to audiobooks, and let us not forget paper craft, a hobby that has seen her build a couple of pokemon characters and hopefully, a large Link and Zelda later this year. Yes indeed, she somehow has time for video games too, which she enjoys playing with her Fiancé, who introduced her to the Legend of Zelda games she now enjoys so much. 
While she enjoys comedy and action movies, a couple of her favorites are The Princess Bride and Kung Fu Hustle. Excellent choices, if I do say so myself. Regardless of her own martial arts training, Mishael is just too scared to watch horror movies, and the general sappiness of romantic movies have an equally horrific cringe factor that keeps her away. She does, however, love criminal and detective thrillers, particularly Korean films in this genre, as the story lines, plot twists, and interesting messages are often unique. 
If Mishael could have any superpower, what would it be and why?
She basically wants the powers of Marvel's Black Panther, super strength, agility, and a sick black and silver costume! And if we are just handing out superpowers and hypothesizing, she would also like to live in Wakanda. Wakanda forever!
And that's it for now! Thanks for checking this post out and don't forget to explore my awesome teammates' Spotlight articles!